(AJNews) – The Halpern Akiva Academy in Calgary is pleased to welcome their new principal Mrs. Caitlyn Cameron. Mrs. Cameron is returning to Calgary after teaching for 7 years at Edmonton's Menorah Academy, where she taught grades 7 to 9 as well as all of the core subjects as a lead teacher. She holds a Bachelor of Education and a Master of Educational Studies both – from the University of Alberta.
Alberta Jewish News caught up with Mrs. Cameron and asked her these questions.
 Q Tell us about your background.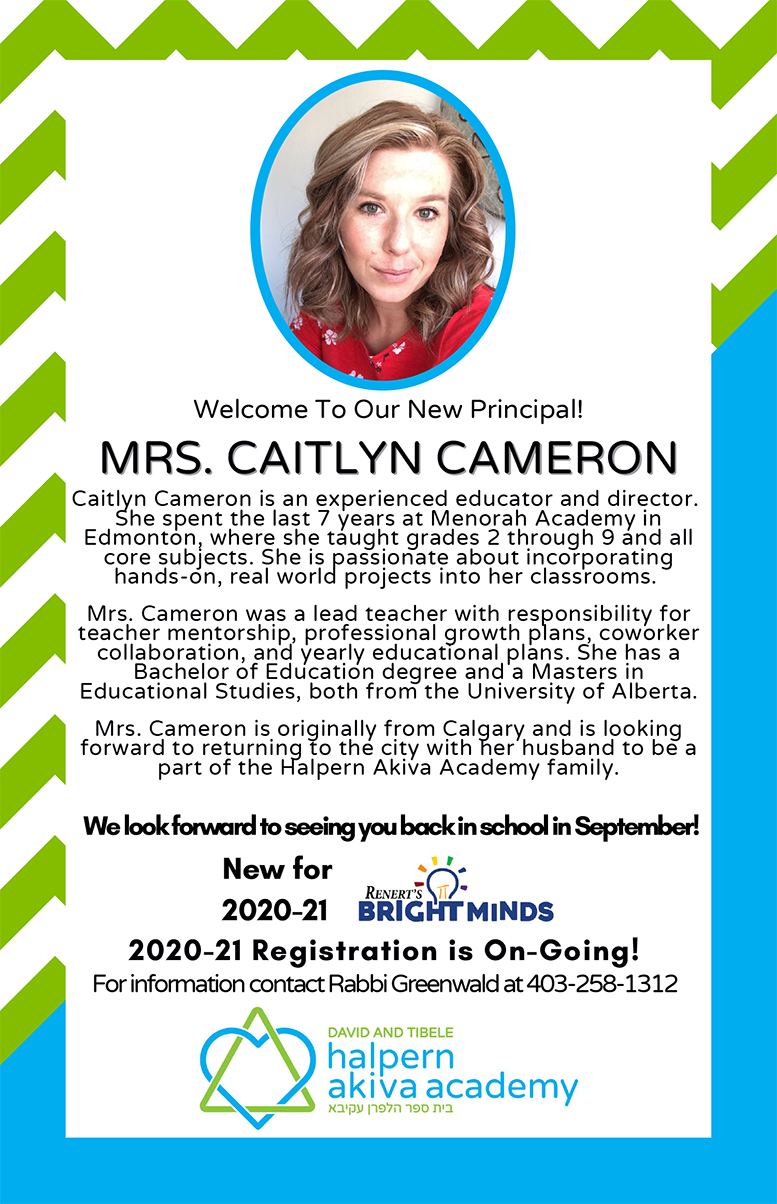 Before working at Menorah Academy I was a daycare director for YMCA before and after school programs, which instilled in me the ability to work with large groups of children of various ages and challenged me to find activities and programs to keep over 50 students at a time, engaged, safe and happy. This experience also gave me the opportunity to work on my managerial skills such as payroll, staff recruitment and mentorship, and adhering to multiple stakeholder concerns such as parents, licensing and accreditation officers. I took these skills into my classroom at Menorah and working in that environment enabled me the opportunity to teach a variety of grades and subjects, which propelled me to become an expert in the Alberta Program of Studies. Whenever possible I strive to instill independence in my students and I enjoy finding ways for them to interact with material in a variety of manners. As a lead teacher I discovered a passion for mentoring and guiding teachers, finding engaging resources and helping coworkers weed through the red tape of teaching in order to feel successful and as in love with this career as I am.
 Q What are your favourite subjects?
My favourite subject growing up was science, my grade 7 science teacher instilled in me an interest in scientific concepts and theories and my high-school biology teacher compounded that passion for discovering how things around me work and interact, which lead me to major in biology during my undergraduate degree. As a teacher I have discovered more of a passion for teaching math (something I never thought I would say). I enjoy how the subject lends itself to be related to real world concepts so students can easily see why this is important and how it will impact them later in life. I like using manipulatives, videos, games and projects to reinforce math concepts.
 Q What are you most excited about in coming to Halpern Akiva Academy?
I am so excited to come to Akiva because I immensely enjoy being in a small school where I have the opportunity to create close relationships with parents, students and coworkers that last throughout the years. I am delighted for the opportunity to be part of a progressive team that is willing to take on new challenges such as the BrightMinds Math program in order to increase student engagement and success.
Q What do you anticipate the upcoming school year will look like? Covid-19 impact?
This school year may look a little different than some we have seen in the past but it will still be filled with important and meaningful learning experiences. Everyone who is a part of our school community will need to pitch in to help keep our students, staff, parents and community members safe and healthy. By remaining flexible and addressing issues as they arise, we will be able to get through this together.
 Q How would you describe your teaching philosophy?
My philosophy of education revolves around building relationships. I believe that students learn best in safe, caring and inclusive environments. In order to create this type of classroom I work hard to build positive and supportive relationships with my students and between my students. Once strong relationships have been fostered through various strategies a space is created where risks can be taken, and learning can be accomplished. In my classroom I like to focus on the unique and special differences between students while guiding them to have an appreciation of their own and others' strengths. I emphasize treating others the way you would like to be treated through showing respect and appreciation for our individual differences and similarities.
Through building relationships with my students, between my students and with my co-workers I am able to be a more effective teacher and therefore positively influence student success. Positive relationships between students, staff members, teachers and parents lead to a safe space where everyone can flourish.  I always have the best interests of my students in mind and aim for the school to be as effective as possible in the goal of establishing in students, an excellence in academics and character.
 Q Most important question: Flames or Oilers?
This is the most challenging question yet!! It has been a topic of hot debate between my husband and I since we learnt we were moving cities. He is a diehard Oilers fan born and raised in Edmonton, I however being born in Calgary but moving to Edmonton in Junior High have been on both sides of the fence, so I look forward to going back to my Flames roots and beginning a family rivalry.