(EJNews) – It's that time of year again…winter is almost over, and we are starting to prepare for Passover and spring. It is also the time for Festival Hatzafon, a true celebration of Israeli culture and local art that is sure to entertain community members of all ages and affiliations!
Festival Hatzafon, which translates as "Festival of the North", started seven years ago as a showcase of Israeli dance talent and continues to  be a true collaboration of a few different Jewish organizations this year  with a series of wonderful events – something for everyone!
The Festival will return to ATB Financial Arts Barn, Westbury Theatre on March 17-18, 2018, and will open on Saturday night, with an improvised performance by Rapid Fire Theater, sponsored by J.CORE.
Rapid Fire Theatre is proud to be Edmonton's premiere destination for improvised comedy! In 2015 RFT was honored with three awards from the Mayor's Celebration for the Arts, including The ATB Financial Ambassador for the Arts award.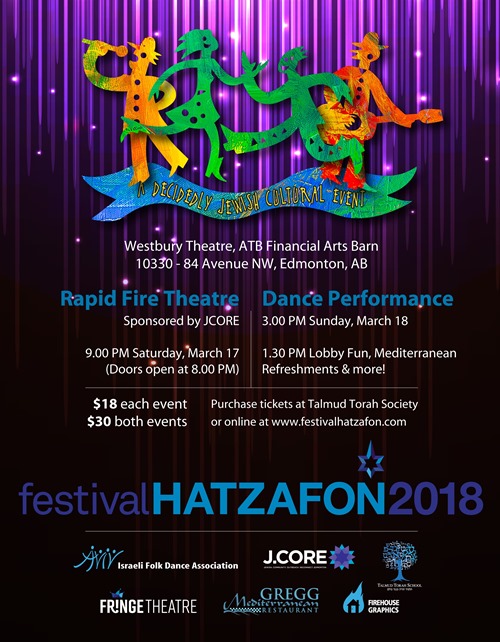 The show will start at 9 pm but the venue will open at 8 pm for guests to savor a drink and delicious cuisines by Gregg Mediterranean's, enjoy schmoozing and other surprises.
On Sunday, a 3 pm performance of dance and song will be held but guests should arrive early again to enjoy the atmosphere in the lobby. In addition to Gregg Mediterranean's delicious food, visitors may take a moment in the photo booth to capture a souvenir, pick up kosher Passover chocolates sold by Talmud Torah kids to give friends and family, and enjoy other surprises. Younger guests may also take pleasure in participating in activities held by BBYO.
The main performance will include the Aviv Dancers, teen groups Mayim and Shemesh who are very excited to launch new choreographies and beautiful costuming as a result of an amazing long weekend workshop this fall with Roger Weiger from Miami.  The younger dancers from Rikud Academy children's groups are always show stoppers and sure to delight!
After being impressed and inspired by the experience of rhythm, movement and color of the dance show, visitors have an opportunity to experience the joy of Israeli Circle Dance which is the heart and soul of this festival.  Israeli Circle Dance is open for everyone and beginners are welcome.
We would like to take a moment to thank the volunteers who have been working tirelessly to put on events of this magnitude, we couldn't have done it without you.
Tickets are available at festivalhatzafon.com or the Talmud Torah School office.  Saturday night show tickets and dance performance tickets are $18 each or you may purchase a package for both shows for $30. For more information contact festivalhatzafon@gmail.com