By Rochel Matusof
(AJNews) – As the summer season is fast approaching, some families find themselves thinking about what form of entertainment and fun they are going to need to organize for their children. Do we send our children to a camp according to their ever-changing interests? Do we send them to a program able to stimulate their learning while not being physically in the classroom? All these thoughts can be answered with Camp Gan Israel – both in Calgary and in Edmonton.
Camp Gan Israel is ready to be your summer camp of choice for 2021. The camp is a leader in providing the most exhilarating, educationally stimulating, safe, activity driven, and caring camp experience for ALL children. Camp Gan Israel is a truly exciting program instilling Jewish values that live in your children's' memories for many years to come. With six weeks full of fun both indoors and outdoors, you are ensured that sending a child to Camp Gan Israel is setting your child up for a summer of success.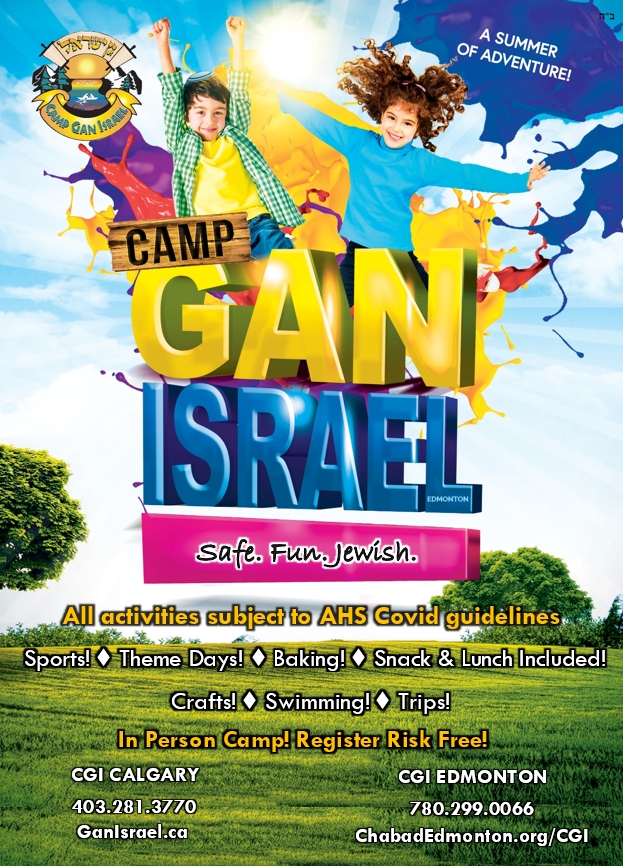 This is a camp like no other – providing all snacks, all lunches, and so much more at NO additional cost! There is no longer a concern about scrambling in the morning in preparation for the day. Camp Gan Israel has you covered, not only providing an incredible experience for the children but also a very warm and welcoming atmosphere for parents and families.
The Covid Pandemic has left families not knowing what might be when summer arrives, and ultimately what that will look like for your family. Camp Gan Israel is dedicated to allowing you the option to plan – with affordable rates as well as a refundable policy (due to Covid-19). In addition, the Chabad Campus has made it our number one priority to ensure your children are having a safe summer, in following Covid-19 protocols while simultaneously, providing our campers with tons of fun! Your children can get excited and look forward to a safe camp following guidelines provided by AHS.
Camp Gan Israel is not bound to a single set of activities that cater to a single interest, but we have the option for your children to try everything. The campers choose their passion through open electives, sports, free outdoor playtime, swimming, off-campus trips and tons of other activities throughout the day. This incredible diversity makes this camp a summer home for every child. Every child is welcome here and we have made this a core philosophy at Camp Gan Israel.
This is a summer experience you don't want to miss! By securing a spot, your child is guaranteed a summer full of fun, great experiences with staff and friends, and a lifetime of beautiful memories here at Camp Gan Israel. Get ready for the best camp ever.
For more information contact: CGI Calgary – New and improved website www.ganisrael.ca or call 403.281.3770. CGI Edmonton – ChabadEdmonton.org/CGI or call 780.299.0066.