by Maxine Fischbein
(AJNews) – Renowned professor and historian Deborah Lipstadt will speak via Zoom on January 27 at 7 pm at a special program sponsored by the Calgary Public Library with the Calgary Jewish Federation.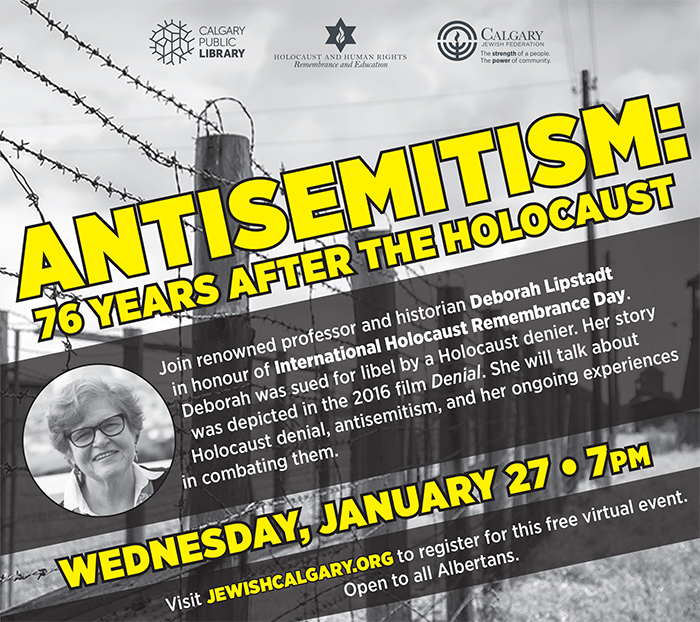 The event is entitled "Antisemitism – 76 years after the Holocaust" and it coincides with International Holocaust Remembrance Day. Register free at jewishcalgary.org. 
Alberta Jewish News caught up with Professor Lipstadt earlier this month for a fascinating interview. Read  the article here.
We also interviewed Calgary Public Library Community Learning Advocate Patrick Mealey about the multifaceted Holocaust Education program that the library is launching. Read that article here. 
Did you know?
Beginning in 1984, an annual Holocaust Education Symposium  for Calgary and area high school students has taken place at Mount Royal College (now Mount Royal University), typically at the beginning of May.  The Symposium is co-sponsored by Calgary Jewish Federation and MRU in partnership with the University of Calgary, and local public, separate and private schools. Some 3.600 students participate each year.
Due to the COVID-19 pandemic, the 2021 Holocaust Education Symposium will be delivered virtually.  The format and content will remain the same with presentations by historians, screening of a Holocaust-related documentary and testimonies by Holocaust survivors as well as second and third generation speakers. Teachers will be able to access the various modules for a full week as well as supplementary educational materials and resources.
The Dianne and Irving Kipnes Holocaust Education Symposium – presented annually by the Jewish Federation of Edmonton – is usually held in March.  The half-day program for Grade 12 students typically attracts 1,000 Edmonton high school students and their teachers and is similar in format to the program offered in Calgary.
Thanks to a partnership between Calgary Jewish Federation and the Jewish Federation of Edmonton, schools in Alberta's capital city will be participating in Calgary's virtual Holocaust Education Symposium this May.  Some Lethbridge schools will also be logging in and organizers are sharing the opportunity with schools throughout Alberta.  Further projects linking Calgary and Edmonton are in the works.
The Holocaust and Human Rights Education Department of Calgary Jewish Federation is in the midst of producing an evocative, museum-quality photo exhibit and book featuring local Holocaust survivors and those who live elsewhere but are connected to the Calgary community.
For more information on these and other Holocaust and human rights initiatives, contact Marnie Bondar and Dahlia Libin at holocaustedu@jewishcalgary.org.
Maxine Fischbein is a Local Journalism Initiative Reporter for Alberta Jewish News.