by Maxine Fischbein
(AJNews) – Albertans will have the unprecedented opportunity to commemorate International Holocaust Remembrance Day – January 27 – with world-renowned American historian Deborah Lipstadt who will speak in a 7 pm live virtual address presented by the Calgary Public Library.
Mayor Naheed Nenshi will bring greetings on behalf of Calgarians while Councillor Diane Colley-Urquhart will read the city proclamation declaring this year's observance of International Holocaust Remembrance Day in Calgary.
Dr. Lipstadt's talk kicks off a year-long partnership between the Calgary Public Library (CPL) and Calgary Jewish Federation's Holocaust and Human Rights Education Department that will see a range of Holocaust-related programming by CPL as well as new acquisitions pertaining to the Shoah, say Calgary Jewish Holocaust and Human Rights Education and Commemoration co-chairs Marnie Bondar and Dahlia Libin.
Lipstadt's presentation, Antisemitism: 76 Years after the Holocaust, is being held on the 76th anniversary of the liberation of Auschwitz, the date designated in 2005 by the United Nations General Assembly as International Holocaust Remembrance Day. The event is generously supported by Barb and Ron Krell and Lily and Bill Lister and is open, free of charge, to Albertans who register in advance.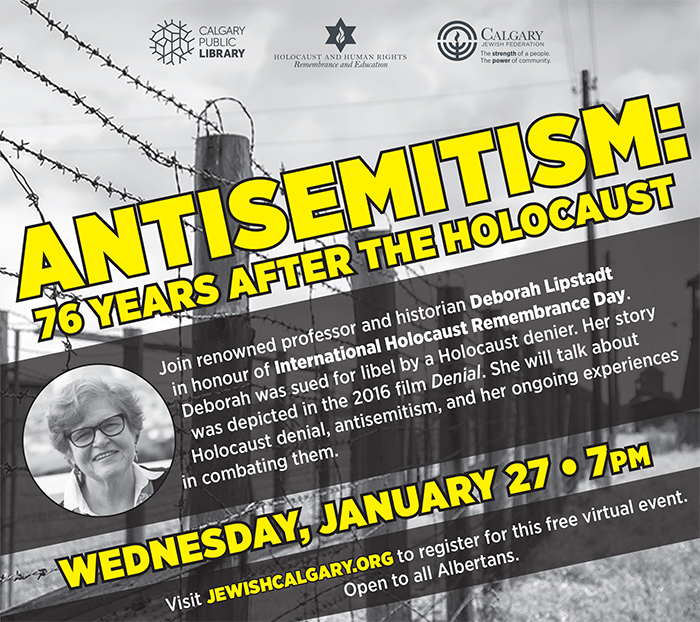 Lipstadt is well known in both academic circles and popular culture as a tireless warrior against Holocaust denial.  Her book History on Trial: My Day in Court with a Holocaust Denier tells the story of the libel lawsuit brought against Lipstadt and Penguin UK by Holocaust denier David Irving in the English courts.  The events were retold in the 2016 feature film Denial, starring Rachel Weisz.
The Dorot Professor of Modern Jewish History and Holocaust Studies at Emory University in Atlanta Georgia, Lipstadt is also the author of The Eichmann Trial, Beyond Belief: The American Press and the Coming of the Holocaust and Antisemitism: Here and Now.
Why are we still talking about antisemitism more than three quarters of a century after the Shoah?
"Sadly, it is still a problem," Lipstadt told AJNews last month.
"As much as we'd like to imagine that antisemitism would have gone away, that it would have disappeared by now, it hasn't."
In terms of structure and "the content of the charges" antisemitism has remained the same, Lipstadt told Alberta Jewish News.
"What's different is our understanding of the dangers of antisemitism.  We were reminded 76 years ago in a graphic way and we are much more sensitive.  It's like someone who has been repeatedly abused or repeatedly raped or repeatedly beaten up; they're much more sensitive to the warning signs," Lipstadt said.
"We're surprised today at the way it is manifesting itself, that it is so prevalent.  It has caught many people by surprise, even those of us who study it, even those of us who look at it closely, even those of us who spend much of our lives immersed in grappling with it," Lipstadt said.
Like COVID-19, antisemitism and racism are highly contagious and potentially deadly.
"It's a pandemic that has been around for a lot longer (than Covid-19) . . . . Antisemitism has been called, and rightfully so, the longest or oldest hatred. We continue to fight it . . . . Each time we should be better prepared."
During her talk, Lipstadt will discuss various historical and current aspects of antisemitism including Holocaust denial.
Lipstadt calls out antisemitism when she sees it, with no exceptions for those in high office.
This includes the August 2017 torch-lit Unite the Right rally that took place in Charlottesville, Virginia when neo-Nazis and skinheads took to the streets in a show of force that led to the death of one counter-protester and injuries of 19.
"Charlottesville was horrible and [President Donald Trump's] attempts to make it sound like it was two groups equally fighting each other – nice people on both sides – was equally horrible . . . . It's very disturbing."
AJNews spoke to Lipstadt before the violent insurrection on Capitol Hill that once again demonstrated the need for anti-hate education and action.  Neo-Nazis and white supremacists emboldened by the President of the United States were among the perpetrators in the assault on democracy and human rights that took place in Washington DC on January 6.  It is important to note that similar organizations are active in Canada, underscoring the urgency of tuning in to experts like Deborah Lipstadt whose life is devoted to exposing and opposing racists and anti-Semites and showing others how to do the same.
While Lipstadt decries right-wing extremism, she does not limit her criticism to one side of the political spectrum.
"[Antisemitism] comes from the right and from the left.  It comes from Israel haters and it comes from white supremacists. It comes from both sides, and my challenge to the audience, my challenge to my students, my challenge to people who read my books, is the need to take both sides seriously and not to only see antisemitism when it is on the other side of the political transom."
"You have to be aware of it when it is right in front of you, assumed by people with whom you agree on other issues. There might be a tendency to say, 'well, in that case I'm going to ignore it.' No, you can't ignore it.  You've got to call it out."
For many, Holocaust denial seems a perplexing and even absurd manifestation of antisemitism especially given the thoroughness with which the perpetrators documented their acts and how determinedly Holocaust survivors, liberators and some bystanders have shared their eyewitness testimony.
Lipstadt says it is important to identify and oppose both hard core and soft core denial.
"Hard core denial is when you deny the facts.  Soft core denial is, in quotation marks, squishier.  It takes different forms.  Sometimes they invert it so that the Jews become victimizers and others become the victims."
Soft core denial, while less obviously sinister, minimizes the Holocaust in a seemingly subtle – but ultimately dangerous – progression.
Lipstadt harshly criticised US President Donald Trump's inner circle for soft core denial in 2017 when the White House released an International Holocaust Remembrance Day statement that intentionally omitted reference to the murder of six million Jews during the Shoah.
"Soft core denial is something that our kids are facing more and more when they go off to University these days," said Calgary's Holocaust and Human Rights Education Co-Chair Marnie Bondar.
"Listening to Deborah's perspective is hopefully not just good learning for Albertans but also empowering in teaching us how to respond," Bondar added.
Lipstadt says legitimate criticism of Israeli government policies is sometimes wrongly perceived as antisemitism. She points out, however, that it is problematic when Israel is criticised for certain actions while similar wrongs by other nations are overlooked.
While she supports Israel, Lipstadt has criticised Israeli Prime Minister Benjamin Netanyahu for courting the leaders of Hungary, Poland and Lithuania, countries that have attempted to whitewash antisemitic policies and their Holocaust histories.
Lipstadt leapt from academic and literary acclaim into popular culture when Rachel Weisz portrayed her in Denial.
"The fact that producers in Hollywood, that the BBC, that the media thought my story was worth telling was a trip. . . . It certainly brought it to the attention of millions of people and that's quite something," she said.
"It had me fighting with my lawyer much more than I actually fought with my lawyer and things like that, but by and large it was very accurate. The screenplay writer, David Hare, knew this was a story about truth and knew he couldn't play with the truth.  It would be hypocritical to write a screenplay about truth that depended on things that weren't true."
Lipstadt has high praise for Rachel Weisz.
"She is a consummate professional. You asked how it felt to be portrayed by her . . . it was a great privilege."
And it will be a rare privilege for an Alberta audience to hear Deborah Lipstadt.
"We really hope that the audience will find it informative and that it gives everyone the opportunity to reflect on the Holocaust, where we're at and what's happened over the last 76 years," Holocaust and Human Rights Education Co-Chair Dahlia Libin said.
"We are at a critical point in our history . . . . There is a tremendous confluence of antisemitism," said Calgary Jewish Federation Co-President Jared Shore – who will be moderating the Lipstadt program. "Holocaust denial and antisemitism are not exclusively Jewish concerns."
"The partnership with the Library and the City exemplifies this," added Shore, who praised the work of Bondar and Libin as Calgary Jewish Federation "doubles down on Holocaust education."
"The community should stay tuned for some very powerful events and programs," Shore said.
Deborah Lipstadt will speak via Zoom on January 27th at 7:00pm.  Calgary Public Library members can register at calgarylibrary.ca/events-and-programs/programs/antisemitism-76-years-after-the-holocaust. The event will also be live streamed on the Calgary Public Library Facebook page.
Other residents of Alberta are asked to preregister at lstcharles@cjcc.ca (subject: Antisemitism: 76 Years after the Holocaust). For more information about the event, contact the Holocaust and Human Rights Education Department of Calgary Jewish Federation at holocaustedu@jewishcalgary.org.
 Maxine Fischbein is a Local Journalism Initiative Reporter for Alberta Jewish News.