by Maxine Fischbein
(AJNews) – Calgary Public Library Community Learning Advocate Patrick Mealey's outreach to Marnie Bondar and Dahlia Libin less than two months ago has culminated in a dynamic partnership between the Library and Calgary Jewish Federation's Holocaust and Human Rights Education Department.
The first fruit of their labour will be the highly anticipated live virtual talk by renowned historian Deborah Lipstadt on January 27 – International Holocaust Remembrance Day – the starting point for further Library initiatives that will make Holocaust education and literature more accessible in Calgary and beyond.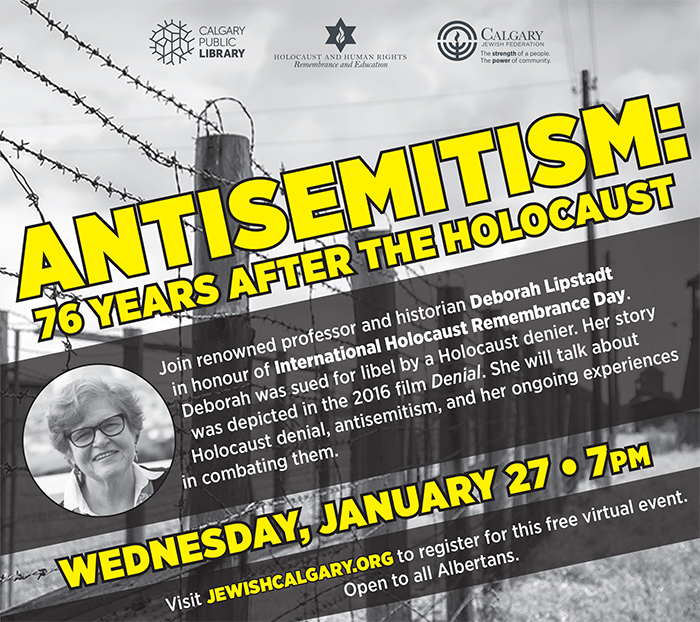 Bondar and Libin were pleased to step up when Mealey contacted them to tap their expertise.  Around the same time, Mealey experienced a "happy coincidence" when he discovered that funding was available through the Calgary Public Library Foundation thanks to generous donors who want to support Holocaust and human rights initiatives.
While Mealey looks forward to a Library event with the potential to attract thousands of participants, he is keeping his eyes on the big picture when it comes to Holocaust education and resources.
"In my mind, it is the kind of thing that needs to be an ongoing process," Mealey said.
"So one of my initial thoughts is to follow up the January 27th event with a history-based series on the Holocaust.  It would really provide enough time to learn but also enough time to think and reflect."
Mealey says his goal is a program that allows Calgarians to "explore the roots of the Holocaust."
"Developing a sense of the cultural, political, philosophical roots of the Holocaust is important . . . it needs to be learned and re-learned by each generation," Mealey said.
The Library is also planning Holocaust-related programs for teens.
Active in sharing her late Babi Freda Plucer's experiences during the Shoah, Bondar has spoken to teens in Calgary and area high schools and comes with experience that will be invaluable in the planning, Mealey said.
"Teens are notoriously difficult to attract.  When you go to a high school, you have a captive audience but to get them to voluntarily come to a library program isn't always easy.  However, when they do come, they are committed," Mealey said.
The Library hopes to bring the Holocaust into focus for an even younger audience through story times with age appropriate books including some recommended by the United States Holocaust Memorial Museum.
For now, the Library is planning virtual programs, with the hope that participants can come together face-to-face once COVID-19 recedes, Mealey said.
Click here for a list of recommended reading materials for adults, teens and children related to International Holocaust Remembrance Day.
Once it is possible to assemble, the Library hopes to feature one or more exhibits, including a Yad Vashem-produced exhibit displayed last year at City Hall when the local observance of International Holocaust Remembrance Day was first proclaimed.
Calgary Public Library and Calgary Jewish Federation are working to establish local connections by planning programs delivered mainly by Calgarians.
"That's what's going to make a big impact, that the Holocaust is important to us right here in the city of Calgary. Whether the local presenters are survivors, local authors, novelists, scholars or experts  . . . I really want to make sure that it's brought home," Mealey said.
"It is really exciting to be able to create programming, not just for our Jewish community but for the greater City of Calgary," said Marnie Bondar.  "It lets us reach far more people."
"We're really touched by the library's interest in this," Dahlia Libin said. "It's an incredible relationship. They are so good to work with."
For details on upcoming Calgary Public Library programs go to calgarylibrary.ca/events-and-programs/programs/.
 Maxine Fischbein is a Local Journalism Initiative Reporter for Alberta Jewish News.