by Jared Paull
(EJNews) – Covid-19 has presented many challenges for an event videographer – a halt to all social gatherings has required a sharp pivot. However as gatherings start up again – some large and some intimate – it's time to turn one's attention to capturing the special moments on video.
Never let a wedding videographer`s confidence fool you. The service itself is relatively very young, and we are constantly inventing the medium as we go. Furthermore, folks don't always know what they are seeking from this type of service. One thing is certain, the expectations are high. Couples want the events properly documented, and with the accessibility of in expensive HD equipment, there is no reason why it can't have the look of a Hollywood movie. I can tell you one thing, there is no tougher Executive Producer than a Bride, and no tougher shoot than a wedding.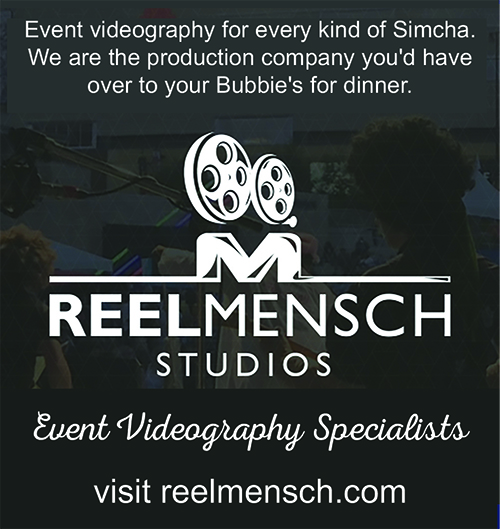 The exciting thing from an artistic perspective is that before the videographers even arrive, there has been tens of thousands of budget dollars put towards set design, props, makeup and wardrobe to create a sensational world to capture. Also, there is no need for contrived emotion, because all of our key players are experiencing something genuine and exciting.
When our company – Reel Mensch Studios – began creating wedding videos, we needed a way to separate ourselves stylistically, so that potential shoppers would see our work, and need to have it. Our company is very versatile. In a normal week, it is very possible that we will be working on a television commercial at the same time as a safety and orientation video, or a music video, or webcasting events around the world.
Style has always been a derivative of the function of our work. So when creating a style for our product `wedding video`, we created the term `romantic, cinematic, documentary.' This term has driven the style of our wedding videos for the past 12 years. The `romance` is derived from the subject matter, so that our narrative is always about love. Our `look` is cinematic, meaning the shots are always carefully composed, with broadcast quality cameras, and movement tools such as stabilizers and dollys- the very same equipment used in our TV commercials. The `documentary` aspect is our capture style. Our shooters act as flies on the wall, not interfering with the event, but documenting it. We don't create beautiful moments, we skillfully capture them, and present them romantically and cinematically.
The biggest trick to succeeding in this industry is right there in our company name- You`ve got to be a Mensch. I often remind couples when choosing photographers and videographers that the most important thing is to pick somebody you wouldn't mind having around you on the most important day of your life.
We are almost twelve years into this business, which has taken on a life of its own by now, but it wouldn't have without a lot of support from our community, many of whom gave us a shot before we had much professional experience. I had my first videography gig at the age of 9 and I haven't put the camera down since. To keep tabs of the work we are doing, go to reelmensch.com or like Reel Mensch Productions on facebook.
Jared Paull is president and head producer at Reel Mensch Studios.