By AT Events Design
(AJNews) – Event planning on a good day is a challenging course to navigate. In the COVID-era it may seem at times overwhelming. As restrictions lift and the world begins to open up, now is the time to build an event planner into your budget. A planner will ensure all details and precautionary measures are taken into consideration, add tasteful elements that protect guests but don't encroach on your celebration, and handle all the bumps along the way.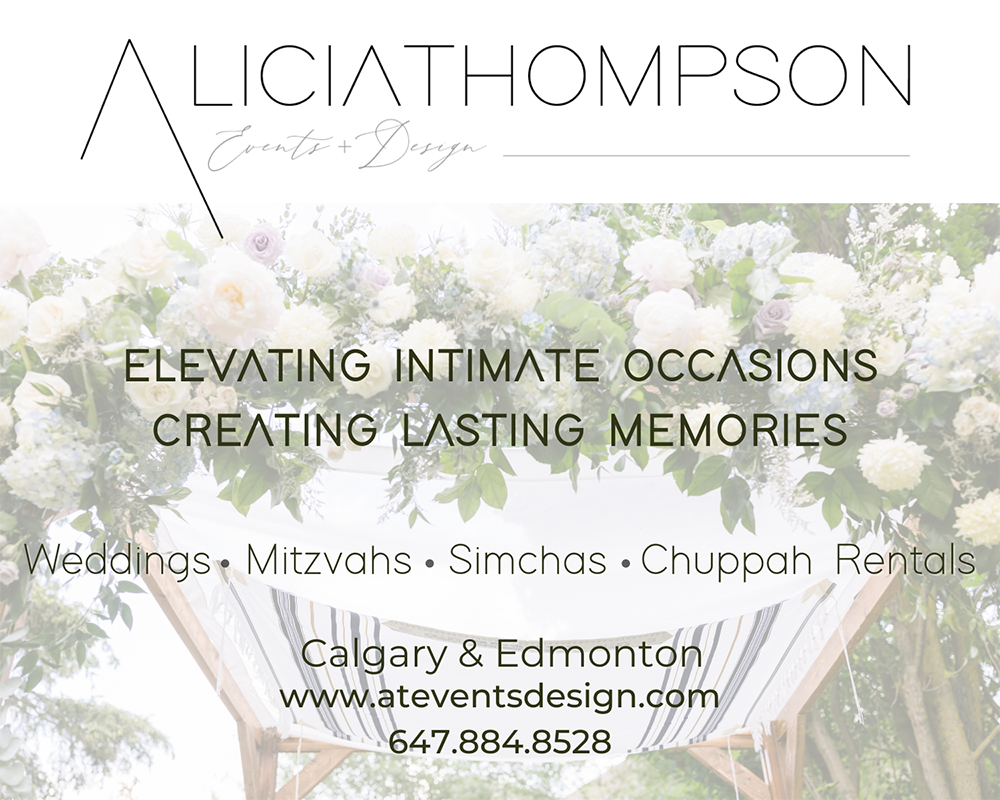 No one knows the challenges of planning an event during COVID-19 better than Calgary native, Alicia Thompson, nee Silver, who has been working in the event industry for over 20 years in Calgary, New York and Toronto. Alicia has planned everything from simple and elegant intimate parties to extravagant affairs. She believes that no matter how big or small, all occasions deserve to be thoughtfully designed and executed to perfection. Alicia gets the same joy designing and planning intimate dinner parties, weddings and mitzvahs, as award shows and non-profit galas.​
One thing Alicia always stresses to friends, family and prospective clients is: invest in hiring a planner. Event planners live and breathe events, offering clients an abundance of resources to ensure their event is unique and goes off without a hitch. If you've been toying with the idea of hiring an event planner, but are unsure about what this person can do for you, review the following perks of hiring an event planner.
Find Vendors with Ease
Planners are responsible for finding the best vendors out there for you. Your planner often gets discounts and extras due to their working relationships, and is able to negotiate on your behalf. They will also be on-site on your big day to ensure contracted services are executed to perfection.
Differentiate Your Event from Others
Imagine if all you did day-in and day-out was design events for people with varying tastes, visions and budgets. Event planners have seen everything, and it is their business to know what is trending when it comes to entertaining. When hiring a planner you get access to all the great things they've spent years researching and refining, and are guaranteed that your event will be unique to you and your family.
Save Time, Money and Energy
A good planner knows the ins and outs of the hospitality industry. They will inform you of things that may have never crossed your mind such as: hidden costs on liquor, electrical requirements, event flow and site logistics to name a few. Having a planner throughout the planning process, and most importantly day of, will ensure money is saved and that things run smoothly.
 As the owner and lead designer at Alicia Thompson Events and Design, Alicia wants her clients to enjoy their events. She knows how much thought, time and money goes into hosting a memorable affair and believes that her clients should enjoy the celebration as much as their guests. Whether it is your wedding, your child's Bar Mitzvah or a large family seder, Alicia hopes to bring her experience and industry expertise to your family's simcha, and let you enjoy the event with your loved ones.
Alicia can be reached at alicia@ateventsdesign.com or (647) 884 8528. For more information visit www.ateventsdesign.com.