by Regan Treewater-Lipes
(AJNews) – The electric force of artistic creativity is a wave that long-time 'show biz' veteran Leonard David Stone continues to ride as his playwriting career gains momentum. Many in the Edmonton Jewish community may remember Stone as the author of Truman's Jew, which debuted as a staged-reading at Beth Israel Synagogue in December of 2017. Truman's Jew chronicled the celebrated narrative of President Harry Truman's historic actions to support the founding of the State of Israel, and the lesser-known story of the Bostonian Jew, David Niles, who had his ear. The performance was met with great enthusiasm by theatrical connoisseurs and history buffs alike. Stone's first foray into the limitless world of dramaturgy was haled as a success!
Several years, and one global pandemic later, Stone is still bringing significant moments in Jewish history to the theatrical stage through a combination of creative vision and meticulous research – but this time, it is a far darker chapter he has chosen to undertake.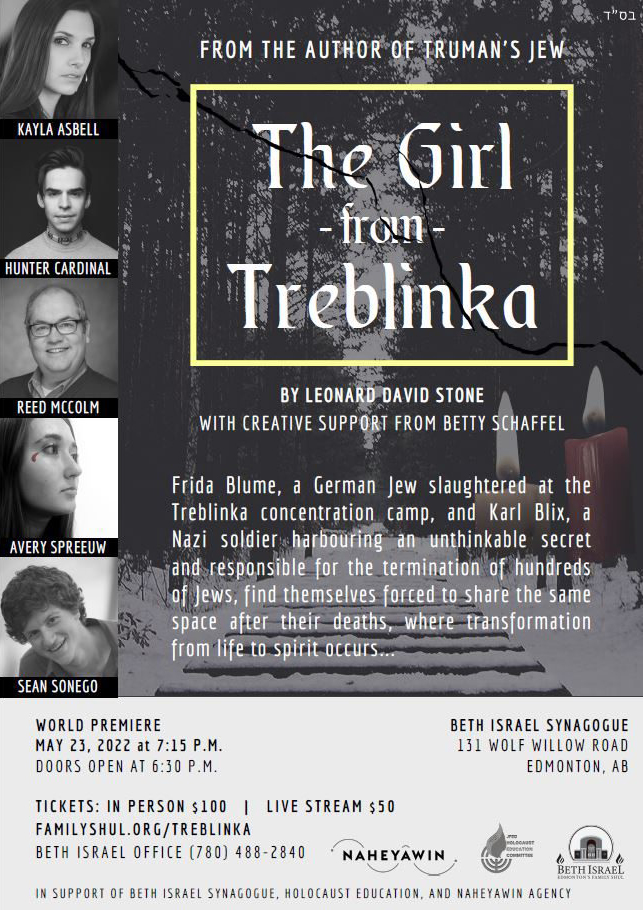 "Growing up I had interactions with young men and women who were Holocaust survivors. They came to Canada, and many other places too. They would enrol in schools and start new lives, and I became very aware of the tattooed numbers on arms," said Stone in a recent phone interview.
'While the Holocaust was taking place, I was very comfortable and very secure in my parents' home in Winnipeg, and so only knew about it from my interactions with survivors and reading history."
Approaching literary creation with the Holocaust as a backdrop or as inspiration for expression is a monumental undertaking. Much like Leonard David Stone, acclaimed Jewish novelist and short-story writer Cynthia Ozick also felt compelled to envision a fictionalized narrative dealing with this horrendous period of human history when she wrote "The Shawl" in 1989. "When I look back and see 1942 to 1945, I am bewildered by my own happiness," Ozick once said when describing her adolescent years in New York. In a similar way Stone describes feelings of being deeply haunted by the perpetration of modern history's most ghastly crime against humanity, so far away, and yet so close to home. He needed to find an outlet for everything he had to express.
The inception of his latest play, The Girl from Treblinka, can be traced back to 1984, Berlin, in what was then West Germany. "While I was in Berlin, I went to a place that I was told was, in a sense, a Jewish museum – for Jewish artifacts and history – a preservation of Jews of Berlin. It wasn't an exclusive museum," explained Stone remembering the meagre offerings on display. "It was a few rooms attached to an existing municipal museum."
"In one of the displays there were a series of diaries that had been rescued from the rubble of bombed Berlin. And since I couldn't read German, I didn't have any idea what the diaries were about" he said chuckling.  "So, I called one of the security people over and asked him if he was aware of their contents.  In his broken English and my Yiddish, we were somehow able to communicate.  I pointed to one diary, and I have no idea why I pointed to that specific one, but he said he was familiar with it and its contents and that it had been written by a young Jewish woman in Berlin."
"The diary ended after Kristallnacht," said Stone pausing for a moment of reflection and recollection. "And every now and then, going through the years, I would ask myself, why did it specifically end after Kristallnacht?  Like almost all the other Jews in Berlin, she would have eventually been sent on to the camps – this is just supposition on my part."
Decades later, Stone, a self-described "night hawk," was watching television at 2 am. "CSPAN was televising, live, the Polish government's, commemoration of the 75th anniversary of the liberation of Auschwitz. It was done with grace, sincerity, and with dignity. And at that point I said to myself, 'self, you are now a writer, you have this diary haunting you – why don't you write about it?' So, that was the genesis; this is why I needed to write about the Holocaust," concluded Stone.
On May 23, The Girl from Treblinka, Stone's second play, will make its debut at Beth Israel Synagogue as a staged-reading.  Beth Israel's President, Shane Asbell commented: "We are so grateful for Leonard Stone's creativity, talent and especially for his generosity in enabling us to produce his play."
This time, as the actors ascend to the bimah turned stage, there will be a familiar face to note.  Kayla Asbell, Shane Asbell's sister, will assume the leading role of Frida Blume. Kayla Asbell, a graduate of New York University's prestigious Tisch School of the Arts, is based in Brooklyn, and along with her fellow actors, will take on the challenges of Stone's gripping and poignant subject matter for one night only.
"We will all arrive early in the morning, we will move what is moveable from the bimah to transform it into a stage, we will read through the script, do blocking, rehearse – and then perform in the evening – then we pack it all in," Stone said with an audible smile. "Between now and the day The Girl from Treblinka is to be staged, the actors all have my number in case they have questions," finished Stone with dramatic flare.
"When the Holocaust is discussed 'Auschwitz' is the immediate word that enters the dialog," said Stone with gravity. "And rightfully so," he added.  "However, Treblinka, in my mind at least, was unique because it had a very short lifespan – just fifteen months. Most camps operated for several years, and in Treblinka's fifteen-month timespan they murdered 900,000. This set Treblinka out singularly as the most horrifically efficient of the extermination centres," expressed Stone. "Unlike many of the other camps, nothing of the original Treblinka exists. All you have is a huge field."
Indeed, visitors to Treblinka are not met with the same lines of tourists or security checks as those found at the Auschwitz-Birkenau site. There is little more than a small visitor's centre with a modest museum to indicate any official administrative body at a place where so many were brutally murdered.  Uniform rectangular stone slabs indicate where a train track once lay. To reach the main camp location one must follow this shadow of the train's path to an open field surrounded by forests where a sea of small, jagged stones encircle one taller stone monument – upon each stone is the name of a place from which victims were transported.
Nazi perpetrators did all they could to conceal the unimaginable magnitude of their heinous crimes by raising to the ground sites like Treblinka, Sobibor, Belzec and Chelmno. Currently, researchers like Professor Carline Sturdy Colls, of Staffordshire University are working to archaeologically uncover what lies beneath the stained soil of the Treblinka. As the greater global consciousness of Holocaust history continues to be influenced largely by Hollywood renderings, stories from locations like Treblinka are far less prolific.
On February 19, 2016, Samuel Willenberg passed away at the age of 93 in Israel. He was the final survivor of the Treblinka death camp. As the number of survivors left to share their testimonies dwindles with each passing year, diligent research-minded artistic innovators like Stone assume the role of historical guardians. Works like The Girl from Treblinka will play a prominent role in promoting understanding and awareness of this excruciating era in modern memory. This is most definitely a not-to-be-missed Edmonton event!  Ticket proceeds will help Beth Israel Synagogue continue to engage the Edmonton Jewish community with enriching programming and outreach.
Tickets for  The Girl from Treblinka  are available for an in-person performance on May 23 at Beth Israel Synagogue in Edmonton and live stream tickets are also available. For more information visit familyshul.org.
Regan Treewater-Lipes is a Local Journalism Initiative Reporter for Alberta Jewish News.