By Regan Treewater-Lipes
(AJNews) – Mama Roza's Garden Childcare is one of Edmonton's newest innovative early-learning facilities. When dynamic sister-duo, Frida Pesin and Esta Karpulis, first envisioned their new daycare business, they dreamed of a nurturing oasis of early childhood learning; now this dream has expanded to include a program to serve the needs of Edmonton's Jewish community!
"We have built a daycare that emphasizes the importance of early development through guided play," commented CEO, Frida Pesin in a recent interview. "Collectively, our team has decades of combined experience under their belts, so there is a great deal of practical knowledge that we have to offer."
When Edmonton's religious institution of pre-school, elementary, and secondary Jewish learning, Menorah Academy, closed its doors in 2021, the community lost a school governed by immersive and observant Jewish values for their children's educations.
"There are other options, but we knew that with Menorah's closure, that there would be a void for many people that would need to be addressed," elaborated Pesin, whose son Moshe was a student in the school's final high school graduating cohort. This left many families exploring options for how to provide their pre-school-aged children with a meaningful and robust environment of religious Jewish learning.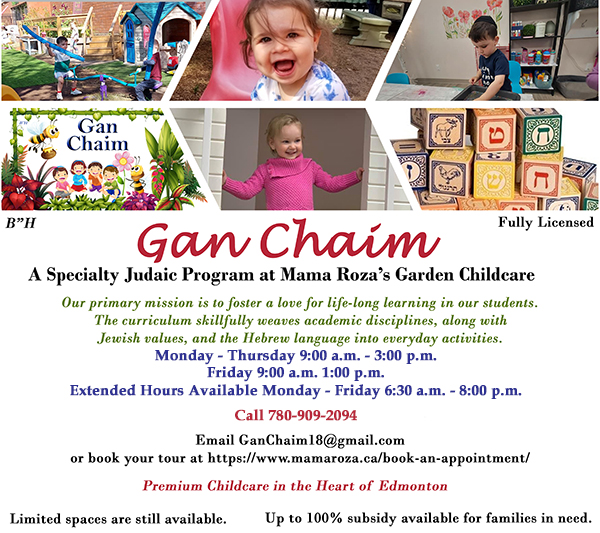 "I was approached by parents from the community who were brainstorming and exploring options to address this need," explained Pesin. After much planning and discussion, it was decided that a Jewish daycare could be founded as part of the Mama Roza's Garden facility.  Located in the core of Downtown Edmonton, close to major public and commuter transport arteries, Gan Chaim daycare offers Jewish families a pre-school option steeped in Jewish values and religious teachings.
"In addition to helping our children reach regular pre-school milestones, we also incorporate into our activities Hebrew letter recognition, learning about the weekly Torah portion, and Jewish holidays. We try to instill in them a pride in their heritage and love of who they are," said Rebbetzin Devorah Pinson, one of the Gan Chaim educators.
"Gan Chaim has a very high staff-to-child ratio and is extremely warm and friendly. We love each child for who they are and do our best to help them grow while fostering their own talents and interests and allowing them to choose fun activities in a way that interests them," she elaborated.
The Gan Chaim room is bright and colourful with an impressive variety of engaging toys geared toward the development of key pre-school skills. A charming loft-style treehouse provides children with cozy spaces for reading and make-believe that even an adult would appreciate.  When speaking about her daughter Chana's experience at Gan Chaim, Rebbetzin Pinson said: "One of her favourite activities is watching vegetables and herbs grow in our Tower Garden and dressing up in our drama corner. She really enjoys putting on all the costumes and acting out the different roles from what we are learning – or just enjoying playtime with her friends."
Overwhelmingly, parents are thrilled with the programming provided at Gan Chaim. When asked what she thinks makes this experience special, Tanya Ghermezian commented: "The hallmark of a positive school climate is that both the students and teachers are excited to go in each day. Gan Chaim is the embodiment of this principle."
It is true; those who work at Gan Chaim do so out of a dedication and love for Jewish education.  "The teachers have so much love and passion for what they do and really tailor their initiatives to the individual needs of each child," she explained. "I am so grateful that my daughter is part of this unique preschool."
From 9am to 3pm Monday through Thursday, and 9am till noon on Fridays, the Gan Chaim team works to cultivate an enriching atmosphere of growth and discovery guided by the teachings of Jewish culture, values, and faith.
"For parents that need extended childcare hours, there are options," explained Pesin.  "Children can spend pre-Gan Chaim time, or stay afterhours in the regular, age-appropriate Mama Roza rooms. This would be outside of the Jewish program's operating hours. Our regular facility operates from 6:30am to 8pm. This way families can offer their children meaningful Jewish learning experiences, and still work their regular employment hours." It is a win-win situation for Edmonton's Jewish families looking to provide their children with the best in focused Jewish fundamentals while still keeping professional workhours.
As a fully licensed and accredited daycare facility, Mama Roza's Garden Childcare, and Gan Chaim as an extension of this, is eligible for government grants and bursaries. Those who qualify for the government childcare subsidy could pay as little as $367.33 a month. Not only does this make a pre-school Jewish education logistically accessible, but affordable as well. And as the Gan Chaim community grows, the potential for self-organized carpooling cuts down on the frequency of driving adventures downtown.
"There is a chance that we might explore options for moving the Gan Chaim section of the daycare to the West End in the future," explained Pesin. "But there's nothing definite at this point."
For now, each day, Gan Chaim welcomes an enthusiastic group of eager Jewish children. They vary in age, but the trained Jewish educators tasked with inspiring their young minds, know exactly how to nurture each child. From weekly challah baking, to acting out the story of Purim, complete with dazzling costumes, the Gan Chaim team does it all – and with an innately loving Jewish flare.
"Chana is absolutely loving the Gan Chaim experience. She came home from school and told me that she wants to do school twice a day," commented Rebbetzin Pinson.
The little ones are guided and nurtured as they reach all their developmental milestones, just in a Jewish way. Space is still available in the Gan Chaim program and interested families should contact Mama Roza's Garden Childcare at: 825-797-0545.
Regan Treewater-Lipes is a Local Journalism Initiative Reporter.