Here is a peek at the feature films that will be screened at the upcoming Edmonton Jewish Film Festival, from May 6 -9 and May 13 -16 at the Landmark Cinema 9, City Centre. For ticket information and to look at the trailers visit jewishedmonton.org/filmfest.
Fanny's Journey (2016)
Director: Lola Doillon (France, Belgium)
Language: French w/ English subtitles
Genre: Historical Drama
Sun, May 6 at 3 pm (94 min)
Based on a true story, "Fanny's Journey" is an incredible tale of bravery, strength and survival. It is 1943, and 13-year old Fanny and her sisters are sent from their home in France to an Italian foster home for Jewish children, in order to save them from the Nazis. When the Nazis arrive in Italy, their caretakers desperately organize the departure of the children to safety in Switzerland. When circumstances suddenly leave them on their own, these eleven children, led by the intrepid Fanny, do the impossible to reach the Swiss border in order to survive. See trailer.
On the Map (2016)
Director: Dani Menkin (USA)
Language: English and Hebrew w/ English subtitles
Genre: Documentary
Sun, May 6 at 7 pm (85 min)
ON THE MAP tells the against-all-odds story of Maccabi Tel Aviv's 1977 European Championship, which took place when Israel was still reeling from the 1973 Yom Kippur War. The film recounts how an underdog Israeli basketball team prevailed over a series of European basketball powers, including CSKA Moscow, a team that repeatedly refused to compete against Israeli competitors. Israeli-American basketball hero Tal Brody became an indelible part of a young country's history. The film will mesmerize basketball fans and capture the spirit of a nation triumphant against all odds. See trailer.
A Quiet Heart (2017)
Director: Eitan Anner (Israel)
Language: Hebrew w/ English subtitles
Genre: Drama
Mon, May 7 at 7 pm (92 min)
The Chop (2015) will also be screened.
In present day Jerusalem, Naomi, a secular young woman, seeks refuge from the pressure of her life in Tel Aviv as a concert pianist. In "A Quiet Heart"  she quickly makes two unexpected connections ­– one with a musically gifted Ultra-Orthodox young boy who lives in her building, and the other with Fabrizio, a charismatic Italian monk and organist. While these relationships allow Naomi to reconnect with her love of music, they also make her a target in her new community. Faced with escalating isolation and violence, Naomi must learn to use music as a bridge to overcome towering religious barriers. See trailer.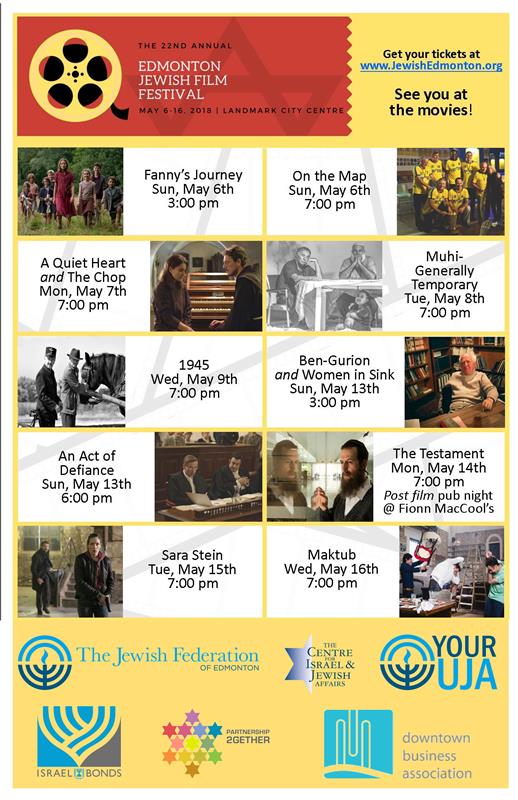 Muhi-Generally Temporary (2017)
Director: Rina Castelnuovo (Israel, Germany)
Language: Hebrew w/ English subtitles
Genre: Documentary
Tues, May 8 at 7 pm (89 min)
For the past 7 years, Muhi, a Palestinian child from Gaza, has been living in an Israeli hospital, accompanied only by his grandfather. To save his life, Israeli doctors had to amputate his limbs. He cannot return to his family in Gaza because there is no appropriate medical care available there. "Muhi Generally"  explores Muhi's complex and often contradictory world, torn between two homes and two identities. It tells an evocative story of the Israeli-Palestinian conflict, in human terms, while also offering a universal message about courage, resilience and the power of friendship. See trailer. 
1945 (2017)
Director: Ferenc Török (Hungary)
Language: Hungarian w/ English subtitles
Genre: Drama
Wed, May 9 at 7 pm (91 min)
In 1945, an Orthodox man and his grown son return to a village in Hungary. The townspeople – suspicious – expect the worst and behave accordingly. The town clerk fears the men may be heirs of the village's deported Jews and expects them to demand their illegally acquired property back. The film "1945" paints a complex picture of a society trying to come to terms with the recent horrors they've experienced, perpetrated, or just tolerated for personal gain. A superb ensemble cast, lustrous black and white cinematography, and historically detailed art direction contribute to this eloquent drama. See trailer. 
Ben-Gurion, Epilogue (2016)
Director: Yariv Mozer (Israel, France, Germany)
Language: Hebrew and English w/ English subtitles
Genre: Documentary
Sun, May 13 at 3 pm (61 min)
Women in Sink (2015) will also be screened
In the great depths of the Steven Spielberg Jewish Film Archive at the Mount Scopus campus of the Hebrew University of Jerusalem, six hours of interview footage was discovered of one of modern history's greatest leaders — David Ben-Gurion. It is 1968, and he is 82 years old, five years before his death. Ben-Gurion's introspective soul-searching is the focus of "Ben Gurion – Epilogue" and his clear voice provides a surprising vision for today's crucial decisions and the very future of Israel itself. The New York Times has called this film, "A wistful ode to a lost generation of leaders." See trailer. 
An Act of Defiance (2017)
Director: Jean van de Velde (Netherlands, S. Africa)
Language: English and Afrikaans w/ English subtitles
Genre: Historical Drama
Sun, May 13 at 6 pm (124 minutes)
"An Act of Defiance" takes us to 1963 when the South African police raid a farm in the village of Rivonia. Nine black and white leaders of the banned ANC and the Spear of the Nation are arrested. A tenth member is added who had been arrested earlier: Nelson Mandela. When the families of the suspects try to find a lawyer to defend the accused, the potential candidates are afraid or unwilling to take the case. The widely respected lawyer Bram Fischer takes the case and puts his own life and the lives of his family in jeopardy. He succeeds in preventing Nelson Mandela and the others from going to the gallows. See trailer. 
The Testament (2017)
Director: Amichai Greenberg (Austria, Israel)
Hebrew, German, English w/ English subtitles
Genre: Drama
Mon, May 14 at 7 pm (88 min)
In "The Testament" we meet Yoel, an international expert in Holocaust research, who has spent over fifteen years diligently studying the Nazis methods of annihilating Jews in Austria and Hungary. In the course of his archival research concerning the site of a massacre in a Polish town during the war, he discovers classified documents which hint at the fact that his mother is living under an assumed identity. The further he plunges into his research, the more he doubts his mother's Jewish identity. At the same time, he struggles with his own identity and the decision to risk everything to discover the truth. See trailer. 
Sara Stein Shalom Berlin – Shalom Tel Aviv (2016)
Director: Matthias Tiefenbacher (Germany)
Language: German w/ English Subtitles
Genre: Drama/Thriller
Tues, May 15 at 7 pm (88 min)
Set in vibrant, contemporary Berlin, this gritty crime "Sara Stein" drama will resonate with those who like Netflx series such as Fauda or television crime dramas. With so many Israelis living in Germany, Jewish criminal investigator Sara Stein is trying to solve the murder of Tamar, an Israeli DJ and star of the Berlin club scene. While the suspicion focuses on Tamar's Palestinian boyfriend Khalid, political and religious factors influence the case, but will they lead Sara to the killer? Helping her is an Israeli pianist who wins the affections of Sara and prompts her to think about her identity as a secular German-born Jew. See trailer. 
Maktub (2017)
Director: Oded Raz (Israel)
Language: Hebrew w/ English subtitles
Genre: Comedy
Wed, May 16 at 7 pm (100 min)
In "Maktub" we meet Steve and Chuma, thugs who collect protection money for a Jerusalem-based crime organization. At the end of their collection rounds they survive a deadly attack. Chuma believes that their survival is a sign that they have to stop collecting debts. From this moment on they lurk at the Wailing Wall and pick and choose the lucky notes stuffed in its cracks whose wishes they will help manifest. Unconsciously, through making other people's wishes come true, they find themselves dealing with their own secret wishes too. The good deeds they do reverberate in their own lives, and their secrets threaten to unravel their friendship. See trailer.