(EJN) – The Edmonton Jewish Federation and United Jewish Appeal are pleased to present a very special campaign kickoff event on Thursday September 13 featuring award winning Israeli singer Omer Shaish and acclaimed Israeli composer / pianist Tomer Adaddi. The theme of their performance will be From Israel to Broadway and it will be held at the Edmonton Citadel Theatre.
The evening will also include special guest Karen James, Chair of the board of the Jewish Federation of Greater Vancouver and former Olympic swimmer for Team Canada at the 1972 Munich Games.
The community is very fortunate to have performers of this caliber at the opening event. A special appetizer reception will be held at 6 pm and the show will begin at 7 pm.
Omer Shaish started his career as a soloist in the Israeli Air Force Band and performed in military bases and Jewish communities in Europe and Canada. In 2004, he appeared in the National production of "Chicago" in Tel Aviv and later in "The Troupe, Mary Lou and King Solomo" and "Shalmai the Cobbler" at Habima- Israel National Theater.
Omer graduated from The American Musical and Dramatic Academy in NYC in 2008. Since graduation, his theater credits include the "Radio City Christmas Spectacular" (Radio City, NYC), "The VocaPeople" (New World Stages, NYC) the Musicals Tonight productions of "Irma La Douce" and "Tovarich" (Vital Theater, NYC), the US National Tour of "Seussical" and the Israeli National Premier of "Spring Awakening."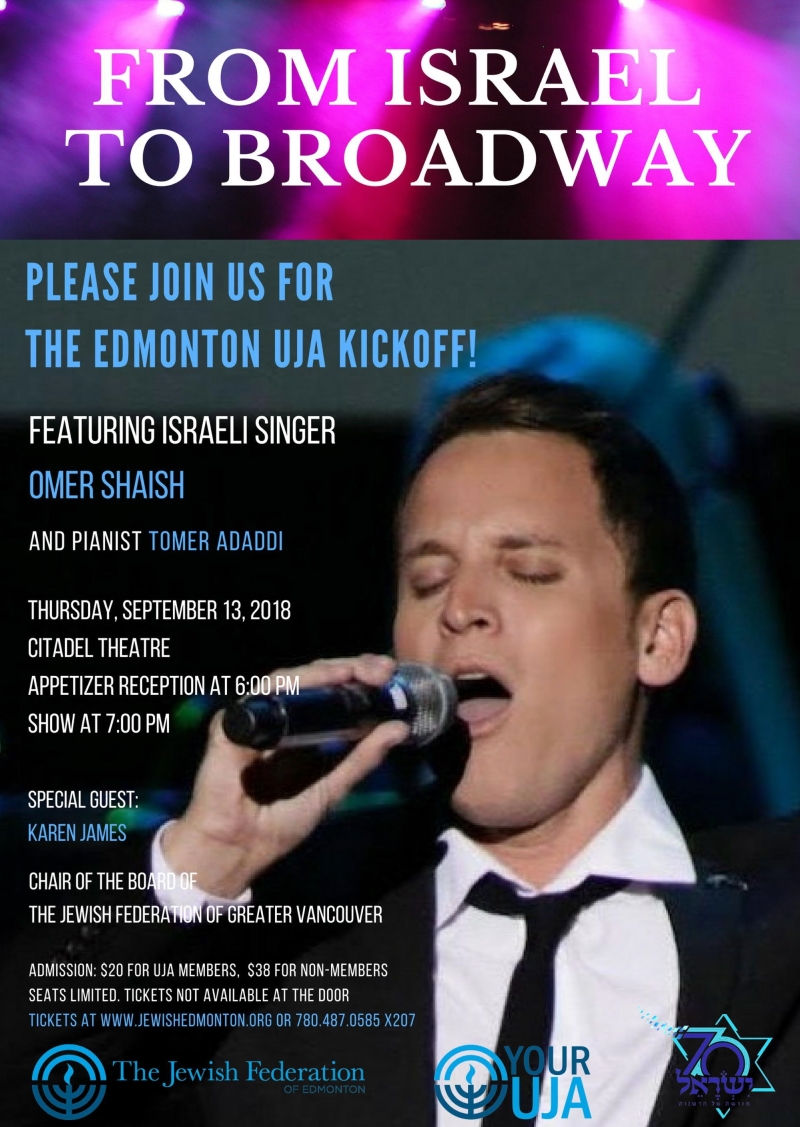 As a performer, Omer was featured as a soloist at the "Celebrity Fight Night" (Florence, Italy), featuring Andrea Bocelli, George Clooney and Lionel Richie. He was titled winner of the "Take-2!" singing contest in NYC, performed as a dancer in the "Broadway On Broadway" concert in Times Square and was featured as a soloist in the "Spirit Productions" musical revues of "Hooray for Hollywood" and "Spirit of Broadway" around the US and Canada.
Omer currently tours around the world as a lead singer in the classical vocal trio Kol Esperanza and has recently completed his new one man show "My Broadway Shpiel."
Born in Israel 1983, composer, pianist, arranger and musical producer, Tomer Adaddi finished his Masters in composition at Mannes College of Music in New York City receiving the Felix Saltzer Techniques of Music Award 2011. He graduated from the Jerusalem Academy of Music in 2009 and in 2010 he composed and arranged the song "Milim" (Words) for Harel Skaat, representing Israel in the famous Eurovision Song Contest, winning 3 Marcel Bezençon Awards including Composer Award.
Tomer has composed songs for famous Israeli singers such as Harel Skaat, Boaz Shara'abi, Shlomi Shabat, Lior Narkis, Izhar Cohen, Gad Elbaz, Shiri Maimon, Liel and Ilanit. He accompanied Israeli singer Rita for three years as a pianist and musically produced albums for different Israeli singers such as Ilanit, Shai Gabso, Boaz Shara'abi and others. Internationally, in 2007, he arranged and conducted the "Jerry Lewis Telethon Orchestra" in Las Vegas for singer Liel. In 2008, he musically produced and arranged the 10th anniversary of the Peres Peace Center honoring Israel's President Shimon Peres, working with international artists such as Andrea Bocceli, Mercedes Sossa, Eliiot Yamin, Dave Koz and others.
Tomer worked with the legendary band "The Scorpions" performing their famous hit "Send me an Angel" all over the world. He arranged and orchestrated Leonard Cohen's "Hallelujah" for the album of "The Canadian Tenors" published nationwide by Universal music and together with the legendary Grammy-winner producer Barry Eastmond he has worked with American rising star Karina Pasian.
Tomer's Piano Concerto no.1 was premiered in New-York City at Mannes Concert Hall by Pianist Natalie Tenenbaum and Conductor Isaac Selya with the Mannes "Green" Orchestra. The same Piano Concerto had its Israeli debut with the Israeli Chamber Orchestra and Conductor Roi Azulai.
Tomer has performed with his project "The Piano and the Jewish prayer" on different stages all over the world. He also worked with 16-Grammy-Award winning producer Humberto on the 2012 album "Songs from the silver screen" for America-Got-Talent singing sensation Jackie Evancho and "We are love" for Il Volo.
In 2014, Tomer Adaddi released his debut solo album "Origins"  honouring his native land with a collection of classical interpretations of Jewish melodies for piano and string orchestra. Sentimental, wistful, and at times dark, his romantic piano style lends itself well to this classic format, and throughout Origins' 13 instrumental tracks, he offers an elegant take on these venerable melodies.
The Jewish Federation of Edmonton is presenting this exceptional event on September 13at the Citadel Theatre. An appetizer reception will be held at 6 pm and the show will start at 7. Admission is $20 for UJA members and $38 for non-members. Seats are limited and must be purchased in advance at jewishedmonton.org or by calling 780-487-0585 ext 207. No tickets will be available at the door.