Sponsored article
The holistic approach to wealth management involves creating a made-to-measure wealth plan that adapts to your life goals and aspirations for the future.
 By Megan Martin, ©2021 Postmedia Network Inc.
(Dec. 2021) – Does your financial advisor only help you with your investments? If the answer is yes, then you may be missing out on opportunities to better your financial position and the financial well-being of your entire family. That's because the scope of traditional financial planning is too narrow to capture all the different elements of your wealth equation.
This is where holistic wealth management comes in. The traditional way of managing wealth has focused on straightforward financial solutions like a TFSA or RRSP to meet a client's financial goals. Holistic wealth management is a more modern approach and involves creating a made-to-measure wealth plan that draws on a combination of products and services.
With this in mind, an advisor following the holistic approach seeks to achieve a complete picture of your life, looking at a variety of factors outside of investments that can impact your overall financial well-being. This can include not-so-obvious factors like lifestyle choices, family health and any furry friends, but also your personality, hobbies and causes close to your heart.
"We take the time to get to know a client's unique situation from every angle, beyond just the numbers," says Robert Rothenberg, CEO of Rothenberg Capital Management. "A client's vision for their future, past experiences, current interests and personal values become just as important to us as the current state of their finances and the performance of their investments."
Only by considering all aspects of your individual profile, both financial and human, can your advisor develop an in-depth understanding of you and your needs and effectively support you in your wealth journey. The result: A custom wealth plan that integrates and coordinates all aspects of your life and can adapt to your evolving goals and aspirations and any unexpected life events.
"Such an approach is 'holistic' in the sense that it involves going beyond investments and managing risk. We simultaneously address tax, insurance and estate planning needs as well," says Rothenberg. "Clients also stand to benefit from services like business succession planning, education planning for family members, long-term care solutions and charitable giving strategies. By aligning all these areas in a cohesive strategy, we can better your chances of achieving your wealth goals."
Establishing and maintaining an open line of communication from the onset of the client-advisor relationship is therefore critical to the success of this approach. By engaging in honest conversations, your advisor gains valuable insights that can make all the difference for your long-term wealth plan. This means that no topic is off-limits and being honest and open is essential.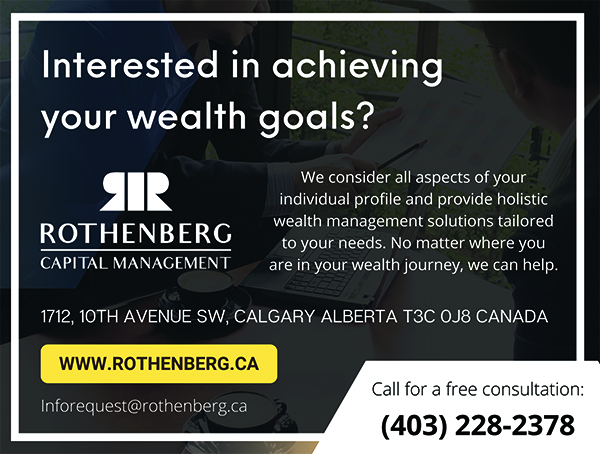 "New clients are often taken aback by the questions we ask as we try to get to know them on a personal level," says Rothenberg. "Some conversations can be uncomfortable, but it's important not to hold back. Sensitive subjects, like family health struggles, debt or divorce, are inevitable topics of discussion. The idea is, the more we know, the better we can help you."
While some information may not seem relevant now, it can have critical implications for the success of your wealth plan. For example, suppose you have a parent with Alzheimer's who may require financial support for caregiving. In that case, your advisor needs to know to ensure the strategy developed for you covers this eventuality.
However, you should not be worried if you forget to mention something or if your circumstances change. In many ways, the holistic approach to wealth management is a continuous process that requires evaluations and adjustments as a client's plans change, and new factors come into play at different stages of their lives.
"In having such conversations, advisors come to know each client, and often their families, on a deeply personal level, with relationships often spanning generations," says Rothenberg.
One of the most significant benefits you stand to gain from the holistic approach is reaching true peace of mind and fulfillment, knowing you have a solid, personalized plan in place to meet your wealth goals. With no aspect of your life neglected and unbiased guidance on a continuous basis, you can feel confident to enjoy life.
"It's really rewarding to help our clients achieve this peace of mind," says Rothenberg. "Working with our clients, and often their children and even grandchildren, and knowing that the solutions we provide deliver not just measurable results but also intangible benefits for their overall wellness is paramount to what we do."
For more information, visit Rothenberg.ca/holistic-wealth-management or call 1-800-811-0527 (Montreal) or 1-800-546-0949 (Calgary).
The opinions expressed are based on an analysis from the time of publication and are subject to change. The information contained in this document does not constitute an offer or solicitation to buy or sell any of the securities and/or financial products mentioned and may not apply to all types of investors. Rothenberg Capital Management is a member of IIROC and the Canadian Investor Protection Fund (CIPF).
This content was produced by Content Works, Postmedia's custom content division.