by Deborah Shatz
(EJNews) – What do Harry Houdini, Emmy Noether and Jerry Seinfeld have in common? They are Jewish role models that were featured – along with many other notable historical and current personalities – at the Heroic Hebrews Talmud Torah Open House and tribute event held on May 31.
The Talmud Torah School opened its doors and displayed a vibrant and energetic school community.  The school was beautifully decorated with wonderful student exhibits and interactive displays that showcased a love of Jewish culture, a tribute to Jewish trailblazers and pride in our Jewish students, their teachers and their school.
The tribute evening was held to celebrate Israel's 70th anniversary and in addition to the colourful and informative student displays, a variety of stations featured the best of Israel, including a spice shuk, a Tel Aviv Café, a candle making factory and a virtual reality tour of Israel. Each station was manned by student interpreters to guide the visitors through the station and maximize the experience. The interpreters displayed an impressive amount of knowledge and enthusiasm about each station.
The event began with Principal Judith Boyle acknowledging that the school is on Treaty 6 Territory and then welcoming all the visitors to the school. Close to 200 people attended the event, including parents, Bubbes, Zaides, and other family members, friends, neighbours and newcomers.
"Welcome to Talmud Torah and our Heroic Hebrews celebration!" said Principal Boyle. "Tonight is the culmination of our almost year-long, multidisciplinary, multigrade project celebrating Jewish women and men who have made great contributions to our world in various fields of endeavour. You will get to see and interact with displays in the areas of mathematics, literature and the arts, science, sport, technology, social studies, and Hebrew.
"We have a short program here and then we'll send you out to explore the world of Heroic Hebrews. A project this large is the result of amazing collaboration and the work of many people.
"Thank you to our teachers for their tireless efforts to plan, teach, coach and guide our students as they learned about the Jewish women and men who we call heroes. Each teacher has gone above and beyond to make this project engaging for students and for you.
"There is one person who deserves special recognition and that is Talmud Torah teacher Robin Marcus. She was the first to embrace the idea and she has shepherded us lovingly and firmly through the entire project. Whether that was engaging our parent volunteers, ensuring we met often to keep ourselves and our students on track, reminding us of our vision, and keeping track of what yet needed to be done, Robin did it with grace and enthusiasm and we thank her heartily."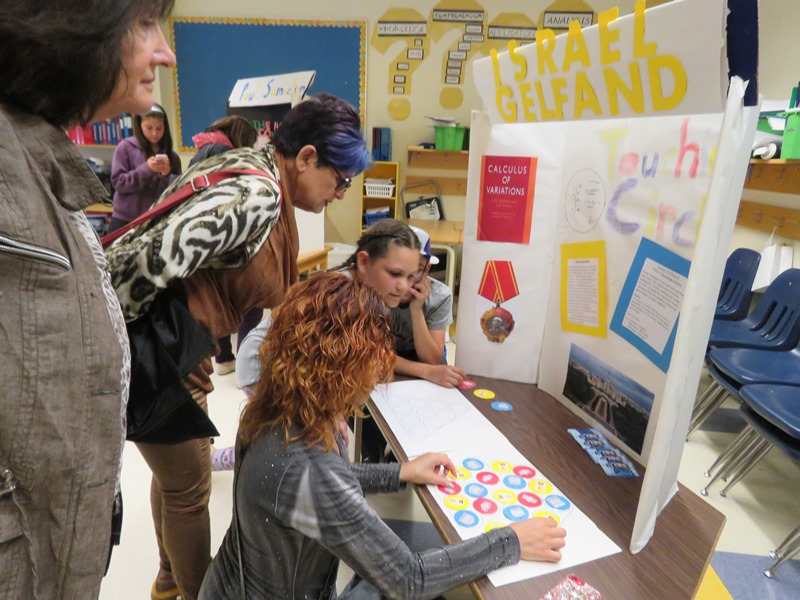 Robin introduced the Grade 1 students and described the events that led up to their performance. She said, "Our Grade 1 children learned a lot about four Zionist leaders: Eliezer Ben Yehuda, Theodor Herzl, David Ben Gurion and Golda Meir. The students will sing Im Tirtzu, based on Theodor Herzl's famous saying, If you will it, it is no dream. This will be followed by a song about Eliezer Ben Yehuda, from an Israeli program called Saba Tuvia. They will finish off with a dance to that wonderful Hebrew song by Ofra Chaza: Ani Od Chai. Enjoy the treat."
The grade 1 students assembled on the stage and under Robin's direction, they performed the Hebrew songs and dance beautifully, displaying their confidence, their ruach, their skills and their joy. The grades 4 – 6 students followed with an exceptional performance, accompanied by teacher Ben Ragosin. Everyone in the crowd was delighted with the students' performances. They were a wonderful expression of Jewish culture and a heartwarming demonstration of what the children are learning at Talmud Torah.
The students led the crowd with the singing of Hatikvah and then everyone dispersed to explore the various stations that had been set up throughout the school.
Talmud Torah School came alive as a relaxed and friendly place to shmooze with friends and family to explore the various stations and sample delicious Israeli foods from Bliss Baked Goods.   The foyer of the school felt like a cosmopolitan centre with visitors speaking Hebrew, Russian and English among themselves and their children, with everyone enjoying the Talmud Torah hospitality. It felt like a cultural hub of Yiddishkeit.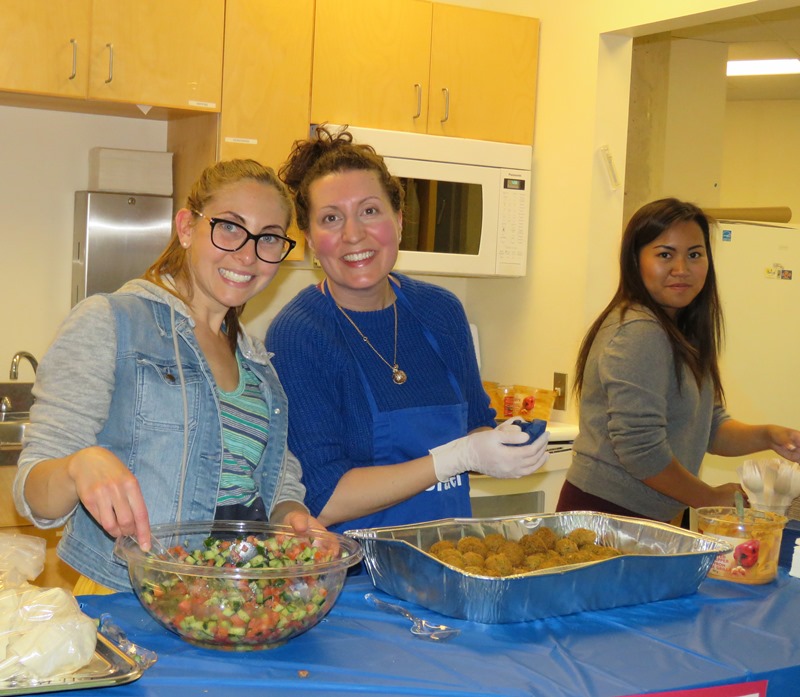 The stations were very impressive but the highlight of the evening was the warm and friendly atmosphere at the school.  For those of us whose children attended Talmud Torah "back in the day" it felt like the place where you'd want to send your kids – where you'd want to meet other parents and build friendships and a sense of community. For those who attended the school in years gone by, the event had an even more powerful effect –  it felt like home.
Yasher Koach to Robin Marcus and everyone else for their hard work and talents in coordinating this amazing evening. "The Heroic Hebrews event was a very proud and exciting evening, as it was the culmination of more than a year of planning, learning and preparation by staff and students and was extremely well-attended by parents, grandparents and many other community members," explained Robin.
"At TT, we have been working to infuse more Judaic Content, throughout our curriculum, and in the school's atmosphere in general. Israel's 70th birthday was a fantastic opportunity to showcase students' learning and to connect it to our desire for more Jewish content around the school."
Robin praised the efforts of all the Talmud Torah teachers and families in collaborating to make the event successful. She said, "We must give a huge thank you to Liora Levin, Talya Shafir and Becky Spanglet for giving their time and creative energies to help bring this evening to fruition. These remarkable women acted as a sounding board as we began to flesh out the ideas and atmosphere for Heroic Hebrews.
"Additionally, Talya and Becky took care of all of the food ordering, set up and serving and Becky designed our beautiful poster which was distributed and seen throughout the community. Under the steady, guiding and enthusiastic leadership of Principal Judith Boyle and Assistant Principal Rachel Miller, our TT Staff were thoroughly amazing and they all pulled together, with many additional hours of meeting, organizing, preparing and set up put in to bring this vision to life. I couldn't be prouder of our students, parents and staff."
Click here to visit our photo gallery.