(Edmonton) – Chai Lifeline Canada is a pediatric support agency that helps families cope with what can be devastating challenges in life.
The charity, which has been helping seriously ill children and their families since it came to Canada 10 years ago, is hosting a special event at the Callingwood Running Room (6655 178 Street in Edmonton) on June 11, 2018 at 7:30 pm.
Drop by and learn more about teamlifeline and how you can make a difference in a sick kid's life. Refreshments will be served.
Being sick changes everything in a child's life. Taking care of an ill child depletes a family's energy and fortitude.  The variable that can keep families from feeling devastated, alone, and isolated is the care, compassion, and action of others.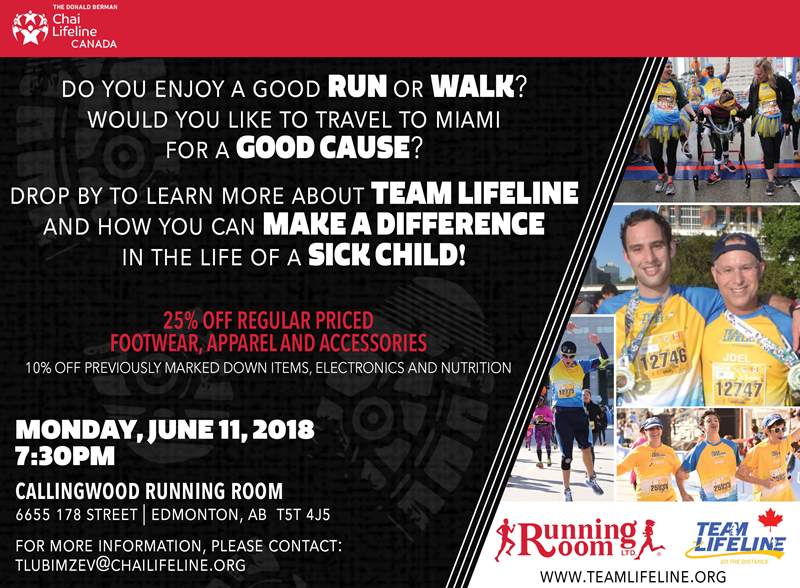 Chai Lifeline began with one program: a summer camp for children suffering from cancer. Camp Simcha gave sick children the opportunity to forget about illness and concentrate on being kids once again. The fun, friendship, activities, and love gave them the emotional strength to withstand the pain and isolation of illness for another year.
The overwhelming response to Camp Simcha was an indication of the tremendous need for such services all year round, not only for cancer victims but for children suffering from all types of serious illness. This held true for children in Canada as well. As more and more children from Canada went to Camp Simcha, the need for localized programming in Canada also came to light.
Chai Lifeline Canada has evolved rapidly, identifying the various needs of ill children and their families, and creating the programs to satisfy those needs. Today, Chai Lifeline Canada, the Canadian affiliate of Chai Lifeline International, has the ability to tap into a worldwide network of programs and services. Chai Lifeline Canada has earned the acclaim of doctors, therapists, and community leaders, as well as the unending gratitude of thousands and Hundreds of children and families.
Chai Lifeline Canada is passionately devoted to alleviating the burden of those facing medical challenge. From the moment of diagnosis, through the arduous months and years, in good times and bad, Canadian families have discovered that Chai Lifeline Canada is a friend for life.
For 30 years, Chai Lifeline has given tens of thousands of families the concrete services and emotional support that enables patients, siblings, and parents to find hope and joy in their lives.
Their programs and services take care of everything from the mundane, like help getting to doctors' appointments and hot food when children are hospitalized, to the extraordinary: medically supervised overnight camps that give children confidence, courage, and life skills they need to fight dreaded illnesses.
But it is their people, the trained, credentialed professionals and thousands of dedicated volunteers, who make the real difference. They transmit the warmth and compassion, knowledge and empathy that transform programs into life-changing events.More than volunteers…more than case managers, social workers, and regional directors…more than Big Brothers and Sisters and counselors…they are catalysts that help children and families say "Chai Lifeline did more than help us cope with our child's illness. They gave us the tools to put pediatric illness in its place."
"When a family gets a diagnosis, such as cancer, the entire family gets put into disarray," said Mordechai Rothman, Chai Lifeline's executive director. "We believe the illness affects the entire family and we take a very holistic approach to support them."
The charity operates in Toronto and Montreal and has satellite services in Ottawa, Edmonton and Vancouver.
Rothman said the agency supports 400 families in the GTA and 150 in Montreal.
It's mostly funded by the community, though there are some government subsidies, he said.
"Our organization works extremely close with these families, one-on-one, to understand how their needs are constantly evolving and changing and provide support to them," he said.
For more information about Chai Lifeline Canada  drop by the Callingwood Running Room on June 11 at 7:30 pm or email Tlubimzev@chailifeline.org.