(EJNews) – On June 10 in Calgary, join Beit Halochem Canada in celebrating 70 years of courage with a fabulous concert and tribute event honouring Israel's disabled veterans.
Musical performers from Israel will join Cantor Alex Stein for a very special Celebration of Life performance at Beth Tzedec Synagogue in Calgary.
Beit Halochem Canada, Aid to Disabled Veterans of Israel is instrumental in supporting the rehabilitation of those 51,000 disabled veterans wounded in Israel's wars and ongoing defence, through the Beit Halochem Centres in Israel. Benefit concerts will be held in Calgary (June 10), Montreal (June 12) and Toronto (June 14).   Personal stories of heroism and overcoming adversity will be showcased at these events told by veterans who have sacrificed their bodies and often their souls in defence of the State of Israel.
The event will honour these four remarkable heroes, direct from Israel: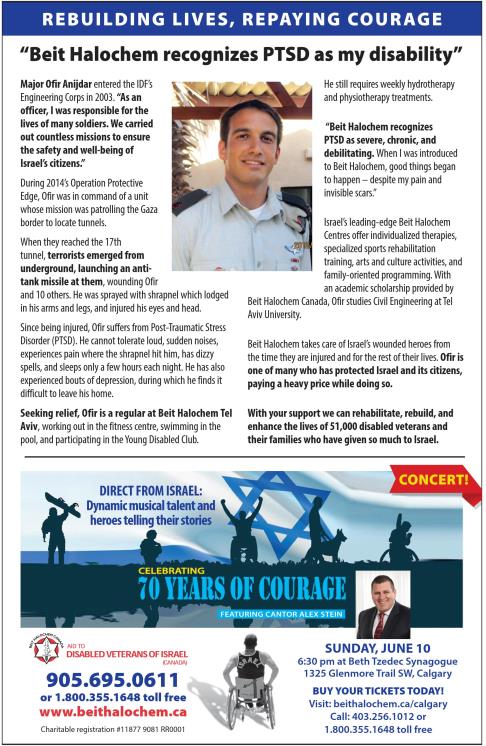 Brigadier-General (Res.) Avigdor Kahalani though seriously injured in the Six-Day War, also served as an Armored Commander in the Yom Kippur War. His battalion's defensive fighting on the Golan Heights against a daunting Syrian force was a turning point in the war. He received the Medal of Valor, Israel's highest military honour for his actions. After retiring from the IDF, Kahalani entered politics, serving as Deputy Mayor of Tel Aviv and Member of Knesset as the Minister of Internal Security.
Tzahi Berkovich was a paramedic in the Paratroopers Brigade during the second Intifada, a time of escalated terror attacks. Following his compulsory military service, he became a Border policeman, again encountering multiple mass casualty terror assaults. Today, despite living with severe PTSD, Tzahi is married, a father of two, and manages the Ein Gedi Field School.
Itzik Dadush served in the Engineering Corps during the 1973 Yom Kippur War. In an instant, his leg and eyesight were lost in an explosion while marking a mine field. For over 30 years, he was in charge of information systems at Bank Leumi. He has been a volunteer distress centre phone counsellor for the last 15 years. Itzik has twice received the Israel Ministry of Defence's "Exemplary Rehabilitation Commendation" honouring achievements of Zahal Disabled Veterans.
Susana Semenduev was a commander in a combat unit of the Border Police. In 2008, she was seriously wounded in a terror attack at a checkpoint on Jerusalem's outskirts. Following major cranial surgery and months in hospital, she continued her rehabilitation at Beit Halochem. Susana graduated with a law degree and, today, is a practicing lawyer in Haderah.
Cantor Alex Stein has performed around the world, delivering unforgettable musical experiences and collaborating with Broadway stars including the late Marvin Hamlisch. Following seven years as Beth Tzedec's cantor in Calgary, he is now Senior Cantor at Toronto's Adath Israel Synagogue, one of North America's largest congregations. Cantor Stein, who grew up in Australia in a family spanning four generations of Jewish musical tradition, is internationally renowned for his unique and powerful tenor and is known as one of today's up-and-coming "Great Cantors."
The Celebration of Life event begins at 6:30 pm at Beth Tzedec Synagogue in Calgary.
Purchase tickets online until noon June 10 at beithalochem.ca. Tickets will also be available for purchase at the door at 5:30 p.m. June 10: Adults $55 and Youth $30.
You can also make a special donation to support Beit Halochem.
Tax receipts will be issued to the maximum amount allowable.