(June 9) – This event has been canceled.
(EJNews) – The Edmonton Schoolboys Alumni Band will be performing a concert in celebration of Israel@70 at the Beth Israel Synagogue on June 10 at 2:30 pm.
The program for this concert includes excerpts from the soundtracks of Fiddler on the Roof and from Exodus.   The exceptional group of amateur musicians will also be performing two Horas (one of course being Hava Nagila) and a few Hebraic folk song pieces.
"My favorite is one entitled To the Life of This People," explained Ray Friedman, a former director of the band.  "It's a collection of folk tunes, arranged by a well-known Israeli composer Nachman Yariv as a piece commissioned by the Israeli Ministry of Education as part of a project to encourage the writing and arranging of Israeli and Jewish music for young symphonic bands.   It is a dynamic piece, a favorite of the band and of audiences."
From 1998 to 2008, The Edmonton Schoolboys Alumni Band played very successful annual concerts at Beth Shalom.  "They stopped when Harry Goldberg z'l moved to Vancouver and I moved to Lethbridge," noted Friedman who is an original member of the band.  "We are attempting to mount a revival, this time at Beth Israel, and making it a tribute to Israel@70."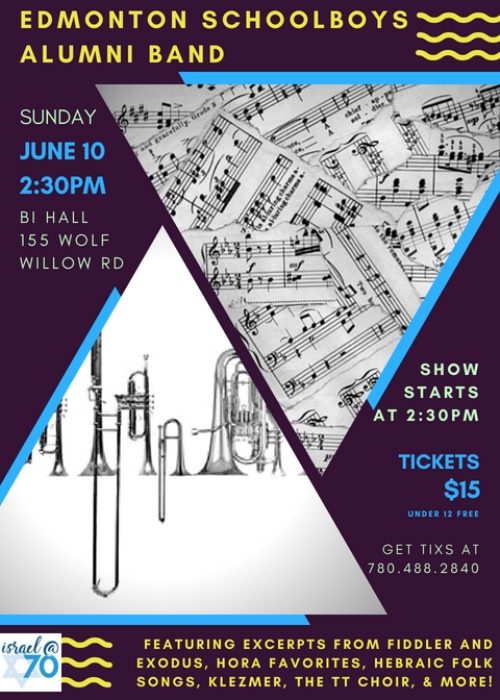 The original group started in 1936 as the music program of Edmonton Public School Board before music programs came to schools.   It ran until 1969, when all schools had programs and the band was turned into the All City Honour Band.   A reunion in 1996 (60 years since inception) resulted in the formation of the Alumni version.
In 1998 and again in 2000, the band recorded CDs and audiotapes under the direction of Mr. Friedman.
"I was the conductor from 1996 to 2001," remarked Friedman.   "We've morphed over the past 22 years, notably, we are no longer all "boys" (ether by age or gender!) and not all "alum." Fourteen of the alumni are left, the oldest in his 90s.   The average age of the members is around 78."
The cost of the concert is $15, children under 12 free.  "And we have a piece planned that will involve the kids….  March of the Kitchen Utensils."
Tickets are available by calling 780-488-2840.