(EJNews) – Spring is in the air in Edmonton and with the good weather often comes a resolve to focus on healthier eating habits. Fresh fruits and vegetables are always a key component of a healthy diet but the quality of the produce at grocery stores can be very disappointing.
"If you want to grow your own fresh fruits and vegetables but don't have the space or want the hassle of a full scale garden in your backyard, Tower Garden is the answer for you," say health experts Don Charnaw and Karen Samuels. "It is a system that gives you more control of your own and your family's health by making it easy to grow nutritious, great-tasting vegetables and fruits at home. And it's a smart choice, both environmentally and economically."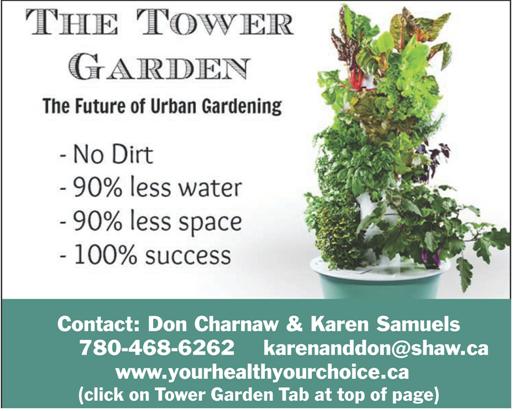 Buying a Tower Garden for your family this spring will also help fund Towers and other school programs for the students at Talmud Torah School. Don and Karen are both Talmud Torah alumni and supporters of the Jewish day school. They are donating a portion of the profits from the Tower Garden sales to the Talmud Torah society so the students can benefit from all of the wonderful learning experiences that accompany growing your own fruits, vegetables and flowers.
"We are happy to give back to the community in a way that promotes healthy diets and healthy families," says Charnaw.
Tower Garden is a state-of-the-art vertical aeroponic growing system that allows you to have a farmer's market right on your back porch. It's a vertical system that doesn't take up much space so it's perfect for rooftops, patios, balconies, terraces – just about any relatively sunny place. Using aeroponics and a specially formulated Tower Tonic plant food, it grows almost any vegetable, herb, or flower – and many fruits – in less time than it takes in soil.
"With vine-ripened produce right outside your back door, Tower Garden makes it convenient to eat more fruits and vegetables," explains Charnaw. "Not only that, because Tower Garden produce is better tasting, better looking – even better smelling – you and your family will likely find yourselves wanting to eat more fruits and vegetables. So you'll reap additional nutritional benefits as well."
It's economical too, he adds. "You can grow up to 20 plants with your standard Tower Garden, and you can grow a wide variety of what you and your family members like to eat, from gourmet lettuces and leafy greens to luscious tomatoes, strawberries, and melons."
Tower Garden is also fun for the whole family. "There is so much satisfaction that comes from growing your own fruits and vegetables and then using them in all your favorite recipes," notes Samuels. "Studies also show that gardening increases children's interest in eating fresh fruits and vegetables."
"Traditional gardening isn't for everyone," she adds. "It can be a hassle. But with Tower Garden®, there's no weeding, tilling, kneeling, or getting dirty. Assembly is easy and no previous gardening experience is needed. Plus, it comes with everything you need to start growing."
"Growing nutritious fruits and vegetables at home using the unique Tower Garden vertical garden system not only saves you money on produce, but is also eco-friendly," clarifies Charnaw.
Each Tower Garden holds 20 plants and can grow anything. Best of all, because of the patented aeroponic growing system, the plants will grow in less time than it would normally take in the soil. It uses less than 10% of the water and land involved in traditional gardening; it reduces the need for pesticides, insecticides, or herbicides and has fewer issues with climate, such as heat, cold, drought.
You can even grow your Tower indoors, says Charnaw. "For the past four months, I've been growing Tower Garden kale, chard, spinach, basil, cilantro and more in the corner of my dining room  (Tower-to-Table, anyone?) – and saving big at the grocery store in the process."
Creating the right conditions for a successful indoor Tower Garden is easy. In addition to typical maintenance tasks, there are just a few important variables to manage, including light, pump timer setting and temperature.
Light: Running your lights for at least 14 hours a day should yield good results. But you can experiment with longer durations, as long as your plants still get 6+ hours of darkness.
Pump Timer Setting: When growing outside, you should set your pump timer to 15 minutes on and 15 minutes off. But in a cooler, climate-controlled environment, plant roots don't dry out as quickly as they do outside. Changing your timer to 15 minutes on and 45 minutes off when growing indoors is a way of both saving a little energy and preventing over-watering.
Temperature: Most plants will grow best between 65-75°F.
"Enjoy healthy eating and healthy savings with your vertical garden," says Samuels. "Tower Garden® is designed to last a lifetime, and most people tell us that it easily pays for itself over 8-16 months. Our vertical garden is not only a better long-term value than store-bought produce, it also can cost less than investing in all the tools and products needed to cultivate a traditional garden at home."
When you purchase a Tower Garden, you'll have a full range of customer support to help ensure a successful growing experience, including their online Resource Centre.
"The easiest way to get started is to give Karen or myself a call to discuss your needs," concludes Charnaw.  "Remember, when you buy a Tower Garden you are promoting your own health and the health of your family. At the same time you are also supporting the Edmonton Talmud Torah Society as profits go back to the society to fund their towers and other school programs."
For more information, contact Don and Karen at 780-468-6262 or karenanddon@shaw.ca ; visit yourhealthyourchoice.ca and click on Tower Garden Tab at top of page.