There are a variety of Purim activities taking place in Jewish communities around the world this week and Edmonton is no exception. There is literally something for everyone.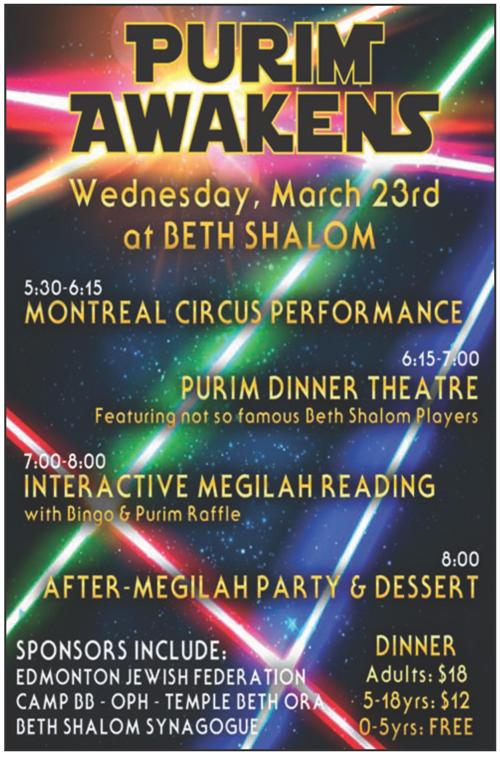 Purim is a festive Jewish holiday that celebrates the deliverance of the Jews from imminent doom at the hands of their enemies in the biblical Book of Esther. It is a holiday that celebrates the triumph of good over evil and we celebrate it with festive meals, masquerades and general merriment among adults and children.  We also recount the story of Queen Esther exerting her influence over the Persian King Ahashverosh to overthrow the evil Haman and we blot out the name of the evil Haman with noisemakers.
In Edmonton, Purim will be celebrated on Wednesday March 23 at the Beth Shalom Synagogue with a wonderful evening of entertainment for the whole family. The event is jointly sponsored by Beth Shalom, the Edmonton Jewish Federation, Camp BB-Riback, Temple Beth Ora and OPH.  The entertainment will begin at 5:30 with a Montreal Circus Performance, followed by Purim Dinner Theatre, featuring the (not so famous) Beth Shalom Players. At 7:00 there will be an interactive Megilah Reading with bingo and a Purim raffle followed by an after Megilah party and dessert.
On March 24 there will be a Chabad sponsored International Purim party that includes a Megilla reading at 5 pm followed by a delicious dinner of international cuisine at 6 pm. The event will include a variety of fun activities for kids of all ages such as a Jumping Castle, Purim Masquerade contest with fantastic prizes, a visit from Karkheinz the BubbleMan and much more.
Also on March 24, the Beth Israel is proudly presenting a wonderful evening event entitled Purim in Shushan. The party includes the Megillah Reading at 5 pm followed by a luxurious Persian feast, a Shushan  Bazaar and crafts, live entertainment and much more.
Don't miss Purim this year. Take in one or all of these wonderful activities. And while it is important to enjoy the holiday and the festivities, it is also important to remember some of the more sombre lessons of Purim.
A few years ago, Lori Weinstein, CEO of Jewish Women International wrote an article in JTA reminding us of the connection between Purim and the global fight against domestic violence. The article was entitled With Esther's voice, fighting violence against women.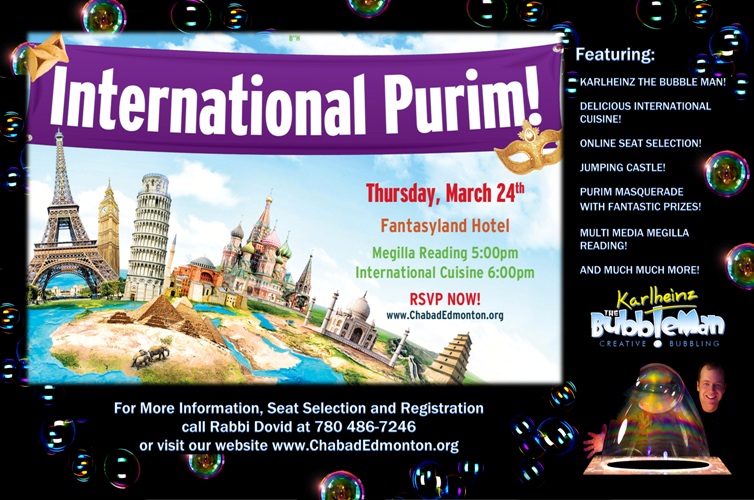 The following is excerpted from Weinstein's article. It is as relevant today as it was then.
"On Mar. 8, we celebrate International Women's Day – a day intended to celebrate the economic and social advances made by women, while at the same time drawing attention to areas that still need action. It is striking that this year the day falls so close to Purim.
"The proximity is not lost on us. We remember Vashti, who was killed for disobeying her husband. We celebrate Esther, who spoke out.
"Not every woman has the ability to speak. Not every woman has access to education. Not every woman can go about her day without fear of violence.
"It is for her that we must now speak.
"We know the stories. We know that one in every three women will experience violence at some point in her life. We know that 1 billion women and girls are affected by violence, including rape, domestic violence, acid burning, human trafficking, dowry deaths and so-called honor killings. In times of conflict, rape is often used as a weapon of war.
"The terrible consequences of this epidemic of violence rob countries of the contributions and talent of half their populations. Violence takes the lives of millions of women and girls and denies countless others their dignity and their right to live safe, productive lives. No country is immune. Violence crosses all national borders and affects women of all ages, social groups, religions and economic, racial and ethnic groups.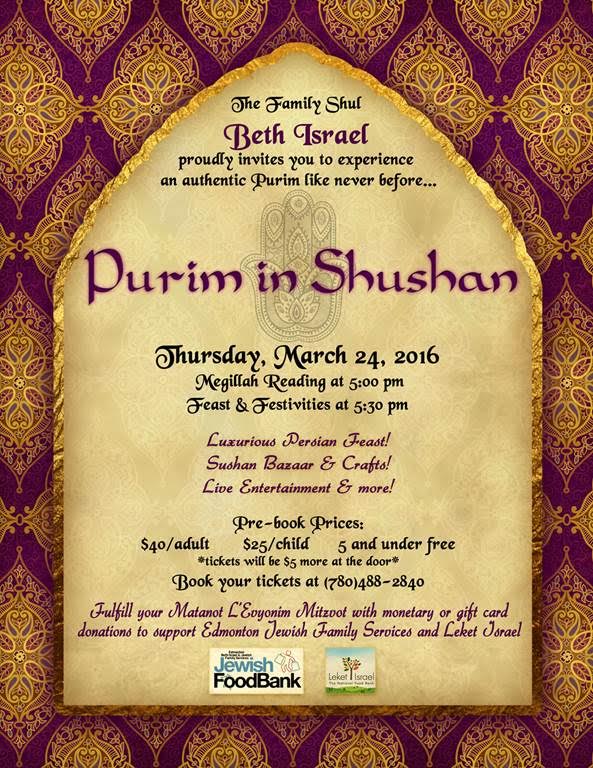 "Addressing violence against women is crucial to global development and stability. When women and girls thrive, societies are more likely to prosper, reduce rates of HIV and AIDS, decrease child and maternal mortality, and increase participatory and democratic governments — all of which makes U.S. assistance dollars go farther. U.S. security — and the security of all countries — is only enhanced when the status of women is elevated."
In Canada, Prime Minister Justin Trudeau recently launched the preliminary steps for a National inquiry into Missing and Murdered Indigenous Women and Girls. Indigenous women and girls in Canada experience higher rates of violence than non-Indigenous women in Canada.  Although Indigenous women make up 4 per cent of Canada's female population, 16 per cent of all women murdered in Canada between 1980 and 2012 were Indigenous women. Indigenous women are 3 times more likely to report experiencing violence.
"We recognize that a number of factors, like racism, marginalization, sexism, and poverty have contributed to the ongoing tragedy of murdered and missing Indigenous women and girls," noted Patty Hajdu, Minister of Status of Women. "This inquiry is necessary to address and prevent future violence against Indigenous women and girls. These women are not statistics – they are daughters, sisters, and mothers – and they have the right to live safely and free of violence."
On Purim, enjoy the festivities but take a moment to remember that domestic violence is a problem that affects us all and the crisis of missing and murdered Indigenous women in Canada is not exclusively an Indigenous problem. We can all make a difference by understanding the systemic problems that are contributing to the crisis.
"This Purim," urges Lori Weinstein, "let's remember Vashti, honour Esther and use our voices to stop violence against women and girls around the globe."