By Jared Paull
(AJNews) – Reel Mensch Studio celebrated our tenth year in business by involuntarily conducting an experiment: What would happen if we went a full year without being able to gather to film anything. Until the pandemic, we had made our living filming at businesses, weddings, sporting events and the likes. Having that portion of work swiftly taken away was scary.  What we didn't anticipate last March was that the shutdown would introduce great opportunity to offer different services that wouldn't have otherwise happened. The Jewish community was integral to this adjustment, just as it had been in helping us get through our very first years in business.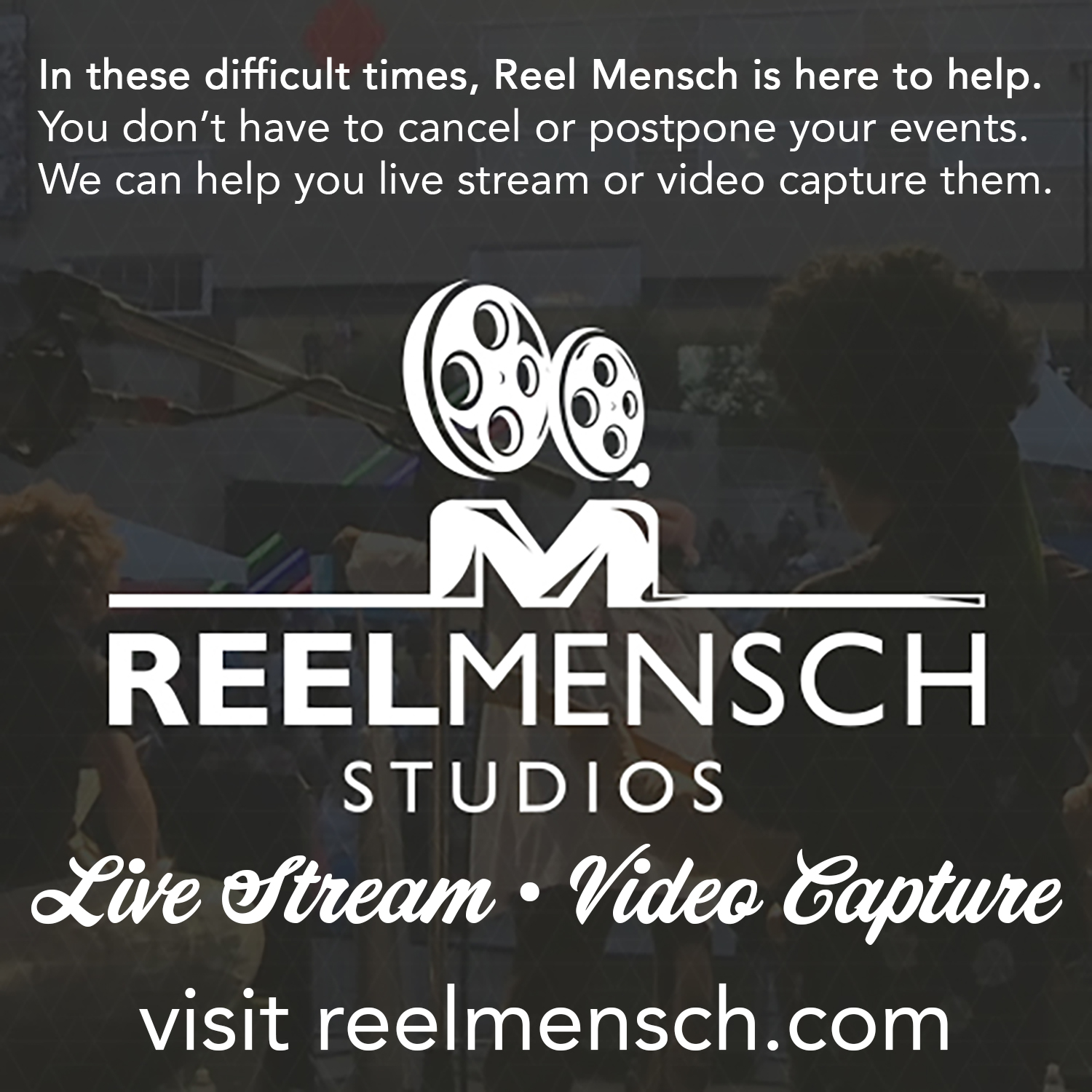 Last March we quickly began to turn some of the community gatherings into virtual events. Along with the highly creative Jay Cairns, we created a very enjoyable JNF Virtual Negev Gala. The forum allowed us to have even more fun with certain characters like honorees Jacob and Odette Masliyah, and also learn more about their history than we could have at a traditional dinner. This event set the framework for the rest of the year. We decided to use the medium of video and the covid restrictions to offer unique privileged experiences.
This was certainly the year of the live stream. Just within our community, we were proud to offer live streams for JNF, Yom Hashoah, Chabad Chanukah, TBO's high holidays, Aviv's Festival Hatzafon, Bar mitzvahs and weddings. We were proud to be involved with setting up Beth Shalom with their own internal streaming equipment in the sanctuary where my grandparents were married in 1950.
The shutdown also saw many people organizing their homes and many video tapes ended up at our Studio for digitization. So now many more families are enjoying scenes from a time when family could get together. Media digitization was a market I was very hesitant to enter, especially since our competition is Costco. My partner Mike Kravetsky was insistent we do, and without this market, the year would have been very difficult. We are now one of Western Canada's highest volume media digitization stores. We transfer everything from VHS and camcorder tapes, to 8mm silent film and photo slides so you can share them with family via email or memory stick. Many families told me they spent their holidays watching home movies on zoom together.
As we look forward to better times, and it feels as though they are coming, we are very grateful to the community who has patronized and supported our biz especially this year, but for the entire decade. The support began for me personally when Deb Shatz (one of the founders of this newspaper) gave me my first paid videography gig when I was 9 years old. The support from the Jewish institutions and individuals has been consistent since then, and is immensely appreciated.
Jared Paull is President and Head Producer at Reel Mensch Studio, reelmensch.com.