(Calgary) – Mr. Lenny Shapiro and his wife Faigel have supported CMDA for almost 50 years.  Recently they donated an emergency medical scooter and an emergency ambulance.  CMDA interviewed Mr. Shapiro for the Passover edition of Lifeline.
An excerpt of their conversation appears below.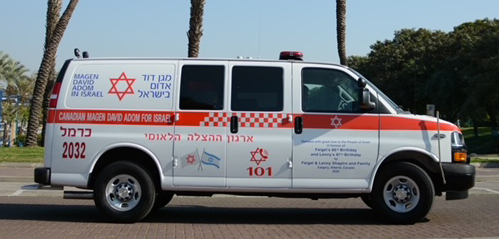 CMDA: Thank you to you and Faigel for your many years of support for CMDA.  Why did you pick CMDA?
Shapiro: It is a remarkable organization, founded 90 years with the mandate to save the lives of all citizens of Israel, regardless of race, colour or social-economic group.   CMDA is there for all Israelis.
CMDA: The organization relies on the work and efforts of volunteers like yourself.
Shapiro:  There are dozens of Canadians doing their part for CMDA but what is amazing is the story in Israel.  Most people do not realize that MDA has more than 25,000 volunteers helping to run the organization.  Without these volunteers, MDA could not function.
CMDA: While Israel has been a world leader in getting its citizens vaccinated against COVID-19, for MDA the challenge continues.
Shapiro: That's right.  MDA has been on the front lines in the fight against COVID-19 in Israel from the very beginning.  Of course as first responders to most emergency medical incidents, our staff and volunteers are coming face to face with many COVID patients every day.  That does take a toll on the staff both mentally and physically.
CMDA: Why is the work of CMDA so vital?
Shapiro:  Let us remember that MDA is Israeli's national emergency medical service but it is funded through donations and the generosity of supporters.  The money we raise in Canada is used to purchase ambulances, emergency medical scooters, and countless other pieces of essential medical equipment.
CMDA: What is the focus for you this Passover?
Shapiro: The need is always growing, but this Pesach we're asking people to support CMDA by contributing to the purchase of life saving portable defibrillators.  We know how effective these devices are at saving lives.  Unfortunately, there is a shortage in Israel so we are asking Canadians for help end that shortage.
CMDA: What other things are CMDA doing in Western Canada?
Shapiro: We are reaching out to the community as often as we can.  In fact, I am so proud of the efforts of Sharon Fraiman, CMDA Director, Western Canada and Don Sharp, Alberta Health Services Paramedic for their dedication in presenting our "First 7 Minutes" program to community leaders and supporters through the west.  While COVID has slowed things down in 2020, the program has been presented to leaders in dozens of communities.
CMDA: is there anything you would like to add Mr. Shapiro?
Shapiro: On behalf of Faigel and myself, I want to wish everyone a very happy Pesach.  It looks like this will be another year of virtual Seders but things are looking better.  I would also like to encourage both past and new donors to find out more about CMDA and to support our efforts in Israel.
CMDA:  Thank you and Chag Pesach samaiach to you as well.
For more information about Canadian Friends of Magen David Adom visit cmdai.org.