(October 2017) – Israel would neither have been founded nor have lasted without the super-human contributions of many individuals: men and women, intellectuals and politicians, spiritual leaders and warriors.
One of those who made a dramatic contribution in current times is on a speaking tour of Canada and will be in Edmonton at 7:30 pm at the University of Alberta – ECHA on October 24, 2017.  The visit is co-sponsored by JNF University, (a branch of the Jewish National Fund of Canada) along with Hillel Edmonton, CIJA (the Centre for Israel and Jewish Affairs) and the Asper Foundation.
He is Noam Gershony, dubbed by some in the Israeli media as "the gold medalist who came back from the dead."
Gershony was an Apache helicopter pilot for the Israeli Ari Force whose helicopter crashed during the Second Lebanon War. His copilot died on the spot and no one thought the then 23-year-old would survive his wounds. "His condition was very bad. He was bleeding from his nose, mouth and ears," the doctor from the IDF's elite search and rescue unit 669 told Ynet news.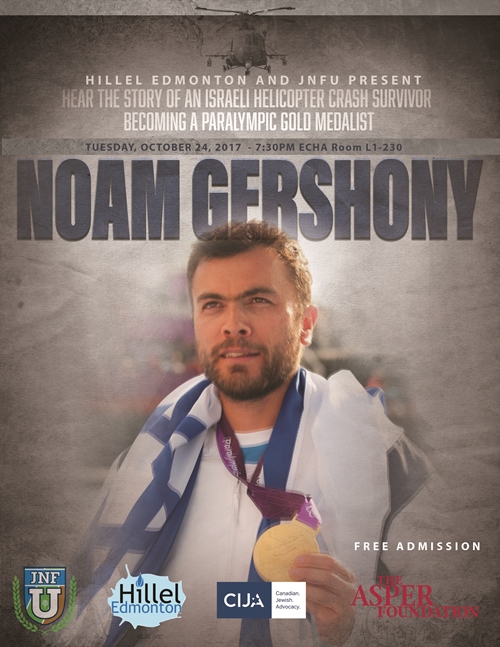 But Gershony did survive. After being airlifted to Rambam Medical Center in Haifa — with an emergency stop at a Safed hospital after a respiratory collapse, and a second one in an open field when his blood pressure dropped to zero — he began the long, arduous journey back to health. And wheelchair provided an opportunity to flourish.
Four years after the crash, Gershony started playing tennis at Tel Aviv's center for disabled veterans, and not long after that — in 2010 — he was good enough to begin playing at international level. At his first Paralympics in London, he won gold.
"I never thought I'd represent the state in anything," Gershony told reporters on the court after his win, a blue-and-white flag draped over his shoulders. "You can't explain the feeling that runs through you when the anthem is played in front of so many people."
Indeed, the 29-year-old, with the toughest mentality, burst into tears as the anthem was played and the Israeli flag was hoisted high. "I'm on top of the world," Gershony said.
Israeli leaders, including Prime Minister Benjamin Netanyahu and President Shimon Peres, telephoned to congratulate and thank him. IDF Chief of General Staff Benny Gantz invited the former pilot to his office upon his return from London. "I salute you," Gantz said.
Gershony's mother, Pnina, compared her family's emotions to those they had experienced six years ago while her son was in the emergency room. "We said that no matter what happened on the court, he had already won," she told reporters after the victory.
The former pilot's coach, Nimrod Bichlar, also burst into tears after Gershony beat the top-ranked wheelchair tennis player, David Wagner of the United States, 6:3, 6:2. Besides being a very talented tennis player, "Noam is also a special person and an Israeli hero," Bichlar said. "I'm proud to be his coach."
Noam Gershony will be speaking at the University of Alberta – Edmonton Clinic Health Academy (ECHA) Room L1-230 at 7:30 pm on October 24. There is no charge for this event. The ECHA is located at 11405 87 Ave NW, Edmonton.