By Lesley Machon
(Calgary) – It is with great excitement that Calgary Jewish Academy is announcing its new outdoor play spaces! These new spaces include sections dedicated to our youngest students (nursery to ECS), as well as special considerations for outdoor learning specific to grades one to nine.
The space was created with many developmental considerations in mind, to support discovery and exploration for all ages, and structures are crafted entirely of wood and natural materials. For what it's Earth, nature is our original medium for self-directed play! Natural play areas provide so many possibilities for imagination, inventiveness and creativity.
Many contemporary theories of education speak about the environment as a "third teacher" in supporting children's learning. A child's physical surroundings make a critical contribution to their wellbeing, creativity, developing independence, and expanding social skills. Natural resources, with their complexity in shapes, textures and colours, provide a diverse range of experiences that promote children's learning and development.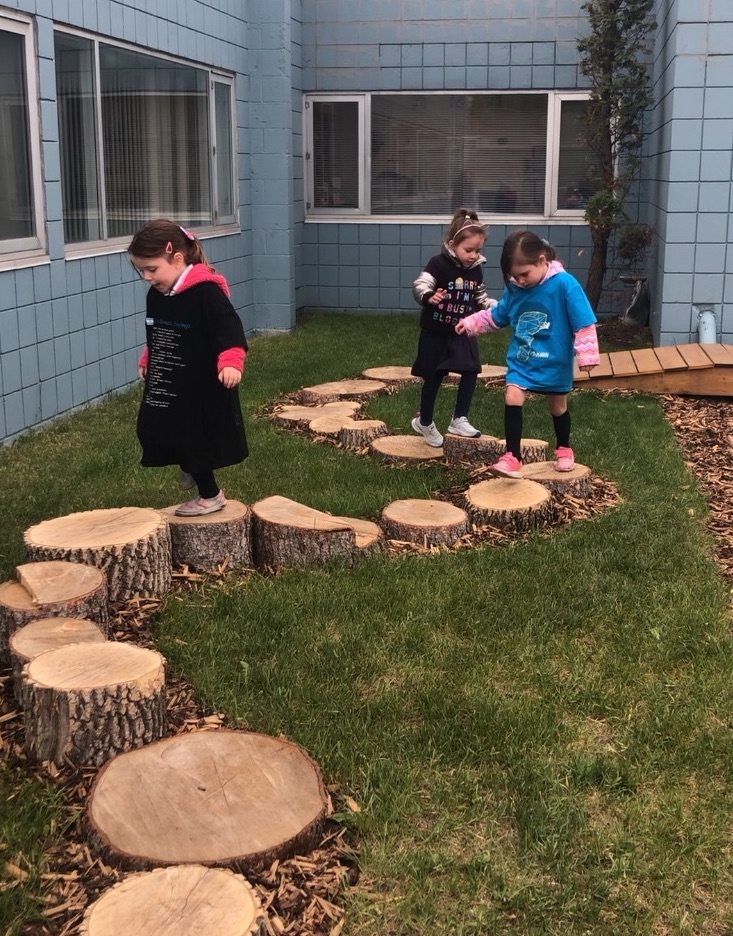 The outside playground will also facilitate children making meaningful connections between the theoretical and the practical, by relating classroom concepts to the tangible, sensory, and aesthetic elements of nature. For example, JK students have an entire unit exploring the life cycle of the butterfly and insects. Engaging in free play outdoors, students can discover spider webs stretched across vine climbers, or hunt for beetles under the shade of a slide, connecting real life to what they're discovering in class.
The Calgary Jewish Academy Nature Space provides opportunities for hands-on learning, sensory stimulation, and a safe learning space for students. The natural outdoor play area is a space to explore, experiment, have fun, and play together. The space will focus on supporting physical development including motor skills and coordination with a wood stump pathway, and multi-level logs as an outdoor bridge. Sensory play elements incorporate a mud kitchen, water table, and sand box separated by sections of grass and bark mulch.
Artistic considerations within the space include a wooden stand-up easel, an outdoor art aisle, and a wooden picnic table for crafts and snacks. The kids will also have a garden space to grow their own vegetables, and flowers, learn about plants, and practice nurturing new life. There are also many elements of STEAM (Science, Technology, Engineering, Arts and Mathematics) built into the space, such as the water table where children experiment with manipulating the flow of water. The entire design of this space supports creativity and inquiry-based learning, teaching kids about art and science the way young children learn best: with lots of fresh air and hands-on activities.
CJA also branched out to include three outdoor classroom spaces for our grades one to nine students. The opportunity to learn outdoors in a safe learning environment is hugely supportive for CJA children, especially after a year of isolation and so much screen time. This includes stump seating areas sheltered by trees, as well as a large gazebo to weather-proof our learning.
Being outdoors and providing a natural environment for children to interact with is also important for self-regulation and mental health. Giving students a chance to escape fluorescent bulbs and blue light to be in nature is a great source of relief for our nervous systems, helping to reduce stress and improve focus. This is especially important post-COVID, and also for children who are neurodivergent, or have complex learning needs.
There are so many benefits to this new space! Simply being outdoors is a great way to offset the cumulative impact of our sedentary lifestyles and traditional learning environments. Nature is such a powerful resource for our minds and mental health that there is a whole field of therapy dedicated to being in relationship with the natural world (ecotherapy).
Facilitating outdoor play and learning is just one of the ways the students at CJA are treated and taught as whole humans, with attention to their mental, social, relational, and emotional wellbeing.
These outdoor learning spaces have been generously supported by the Calgary Jewish Federation through the Jewish Together Fund.
We look forward to seeing your child out in these learning spaces more in September!
Lesley Machon is a Humanities Teacher at Calgary Jewish Academy.