(EJNews) – On Tuesday, May 31st at 7 p.m., Melanie Gall will be performing her one-woman show, highlighting the life, humour and music of Sophie Tucker.  She was one of the most popular entertainers in America during the first half of the 20th century and was widely known by the nickname "The Last of the Red Hot Mamas." Her brash and risqué songs and sense of humour, paved the way for performers such as Mae West, Bette Midler, Cher, Madonna, and Lady Gaga.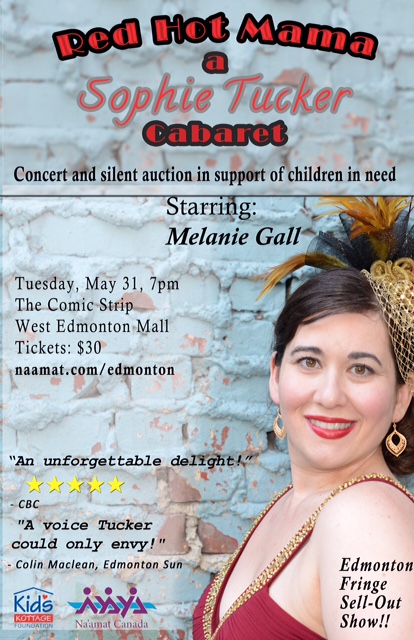 Melanie Gall, originally from St. Albert, was classically trained in New York where she now lives. She is an internationally acclaimed vocalist and world-renowned performer. She has sung at both Lincoln Center and Carnegie Hall and has won several awards for her work. We are thrilled to be bringing Melanie home to perform this cabaret style event at the perfect venue: Rick Bronson's The Comic Strip at West Edmonton Mall.
Along with this fantastic performance there will also be a silent auction.
Funds raised will support the following programs:
Pyjamas to Pyjamas: Na'amat Canada is dedicated to enhancing the lives of women, children and families in Israel and Canada since 1925.  Na'amat  supports 233 day care centres across Israel, caring for 18,000 children of all faiths. Twenty four of them are extended-hours day care centres. The children arrive in pyjamas at 7 every morning and are fed, bathed and cared for, before returning to their homes in pyjamas at 7 in the evening. They come from families with mental and physical challenges, as well as addiction issues. Through Na'amat's efforts, the children are able to spend the bulk of their waking hours in a protected environment.
The "Pyjamas to Pyjamas" theme reflects the comprehensive care provided at Na'amat's 24 extended day care centres in Israel.
"These children need our help," said Darlene Bushewsky, president of Na'amat Canada Edmonton.  "When the kids are sent home ready for bed, they're often sent with food for siblings and parents. We also feel it's important to give back to our community, and this is why we will also be donating a portion of the proceeds to Kid's Kottage."
To learn more about Na'amat Canada please visit http://naamat.com
Kids Kottage: Edmonton's only crisis nursery that offers emergency respite to families in need by admitting children and babies for up to 72 hours free of charge. Parents are helped to develop a plan to cope with their current crisis situation. This approach of goal setting and direct family support has proven effective since Kids Kottage first began. Less than 3% of parents and children who participate in the Kids Kottage program need government child protection intervention. To learn more visit http://www.kidskottage.org
You can help by becoming a sponsor or advertising in the program that will be printed for the event. We are also collecting items for the silent auction. For more information please contact darlene.bushewsky@naamat.com or Maya.Feldman1@gmail.com
Tickets are $30 and are available for purchase online at www.naamat.com/edmonton or from any Na'amat Canada Edmonton member(Tikvah Chapter). They may also be purchased from the Comic Strip.