(AJNews) – This month, Na'amat Canada Calgary presents Na'amART Virtual Silent Auction in support of the School Supplies for Kids project.  The auction officially opens June 6 at 8 pm MT. https://www.biddingowl.com/NaamARTsilentauction .
A 'Meet the Artists' Zoom event will take place on June 6 at 7 pm MT, hosted by Sheldon Smithens, auctioneer and star of Canadian Pickers.  Registration is required at: https://tinyurl.com/3h6py6hx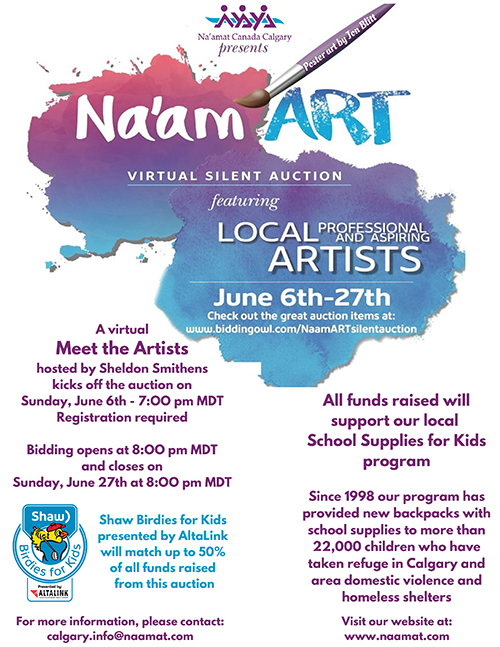 Since School Supplies for Kids' inception in 1998, Na'amat Canada Calgary's community service project has provided more than 22,000 elementary and high school children living in the sixteen Calgary and Southern Alberta domestic violence and homeless shelters with backpacks filled with school supplies appropriate to their grade.
"Our Na'amat Canada Calgary's dedicated volunteers continue even during the current pandemic to make certain these young victims of violence and homelessness have the tools they need to continue their education with pride and dignity. With the support of caring individuals, together we can make these children's lives a little brighter," says Stephanie Sacks, School Supplies for Kids Chairperson.
The June 6 to 27 Art Auction features the works of 31 artists from Calgary and beyond.  Funds raised from this auction will help ensure the continuation of this important project, which annually distributes school supplies to hundreds of children in community shelters.
All funds raised from this auction will  be matched up to 50% by Birdies for Kids presented by AltaLink – a non-profit program run under the Calgary Shaw Charity Classic Foundation.
Na'amART  Virtual Silent Auction
URL: https://www.biddingowl.com/NaamARTsilentauction
 SCHEDULE
June 6 – 7 pm MT  –  Meet the Artists – Registration Required at https://tinyurl.com/3h6py6hx
June 6 – 7 pm MT  –  Auction Officially Opens
June 27 – 8 pm MT –  Auction Bidding Closes