By Gizella Davis
(AJNews) – Having been in real estate as long as I have, you would think I had seen it all, the mass exodus in the early 80's had me shovelling snow from 40+ abandoned listings; the 90's brought the World Wide Web and a revolutionary way of marketing and looking for properties. I remember riding the boom of the oil patch in the early 2000's with competing offers thousands over list price and then surviving the bust less than a decade later. It has been a tumultuous ride providing me with many tools and the experience to handle anything, however I was thrown for a loop when Covid-19 took hold.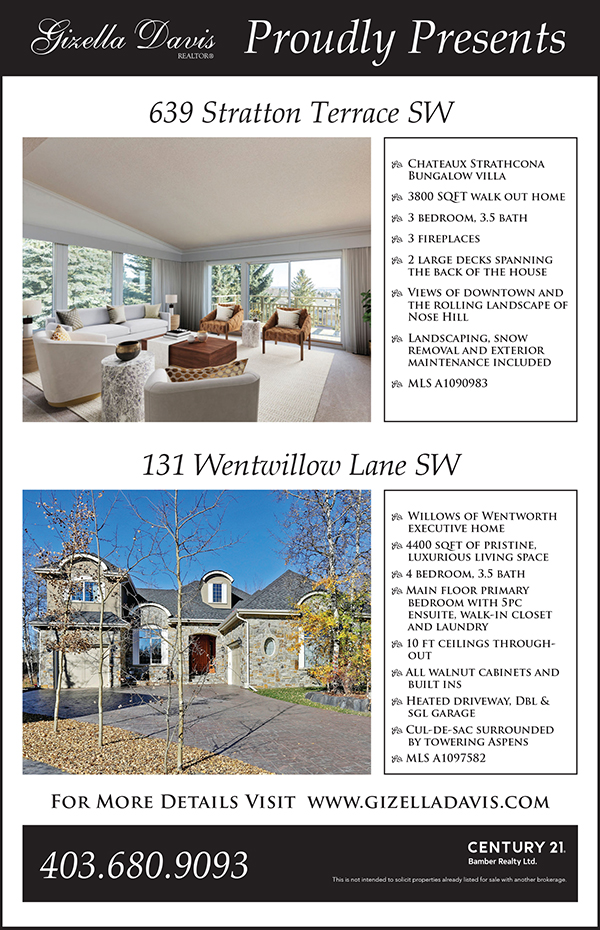 In early 2020 we were hit with news that it would not be business as usual for the foreseeable future, no more open houses, visits were limited to 3 adults including the agent, all parties had to answer health questionnaires and masks and sanitizer were mandatory. These changes led to Realtors® having to quickly move to embrace technology, changing the way we market a home and how we help our buyers find one. Many of us invested in 3D virtual tours, crash courses in Social Media Marketing, previewed homes for our clients while on Facetime with them and moved to conducting our meetings and negotiations via Zoom.
"Necessity is the mother of invention," and one especially fun and innovative tool we came up with was to invite our colleagues to participate in online virtual tour scavenger hunts. We could no longer host our renowned catered lunch tours so instead we enticed Realtors® to virtually tour the house while asking them to answer a few questions based on items in the photos and be entered to win a gift certificate. We got rave reviews for this idea and many have implemented their own version in efforts to provide greater exposure for their client.
Calgary is seeing an incredible rebound, sales volume is up, sale prices are up and there is a sense of positivity that I haven't felt for a few years now, a feeling of optimism for when we do come out on the other side and the economy reopens. So far 2021 has surpassed all expectations for the resale market in Calgary and in the surrounding communities. We saw record high sales in April; while I can't say the exact cause, it is likely fueled by potential buyers looking to get into the market while taking advantage of record low interest rates and trying to avoid the new stress test coming in June. With inventory staying low it is definitely a sellers' market at the moment.
As a buyer it still is a great time to consider making that move you've been thinking about but be prepared to decide quickly. Find yourself a trusted Realtor® to have in your corner that knows the market you are looking at and is experienced in negotiations, make sure you are pre-approved for your mortgage, read over a blank offer document so you know what to expect and have your questions answered before you go looking. We are seeing many homes selling the day they hit the market and more and more are getting offers over list price or without conditions. While we don't recommend this, be prepared that it may be necessary to get the house you want.
While all good things do eventually come to an end, I'm not sure that will be anytime soon. I remain thankful that I am still able to be busy as a beaver and well enough to keep serving my clients, come what may. If you have any questions about the market, the house down the street or my puppy Desmond I would be thrilled to chat with you anytime and my cell phone is always on 403-680-9093.
Gizella Davis is a realtor in Calgary. She can be reached at (403) 680-9093. Visit gizelladavis.com.