Submitted by Mike Jamieson
(AJNews) – I am Mike Jamieson and I want to be your next Ward 11 City Councillor. I am a project manager in the Calgary commercial construction industry, handling multi-million-dollar projects. As a born and raised Calgarian, I have volunteered for numerous community organizations including the Calgary Drop-In Centre, Operation Christmas Child, Community Clean Up, and the Erma Fennel Foundation. My wife and I are also foster parents and have two children. I want change in this city and the same opportunities that I had for my children. With a new focus on creating jobs in every sector, I will champion Calgary as the best city to work, live and play.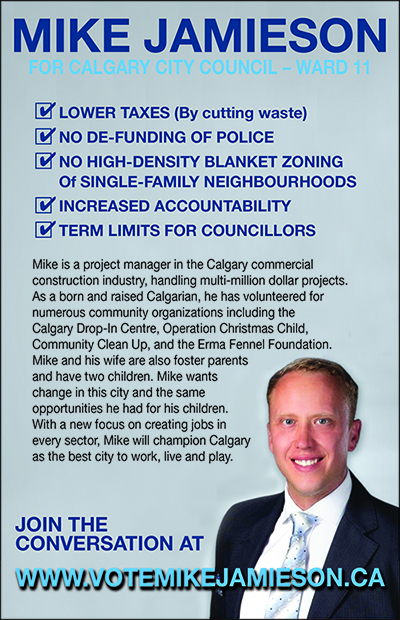 I see so much potential in terms of developing, retaining, and attracting talent from all over the world. The key to attracting and retaining talent will be to reinvigorate downtown as the heart of the city.  People need more than just employment.  They need to know that there is a vibrant place to eat, drink, and enjoy music or the arts. To achieve this, we need to address and lower the tax burden on businesses in and around our downtown.
A rising tide floats all boats.  Very few people if any will be left behind if we can pull out all stops to attract businesses here.  I've heard from many people that it takes forever for City Hall to approve anything.  We need to drastically cut red tape and streamline approvals.  Calgary needs a reputation of saying "YES", not "NO". There are too many managers managing managers at City Hall.  We need to streamline processes and get to "YES" sooner than the cities we compete with.  This will help businesses to start, scale-up, and grow.
More transparency. Politicians are elected to represent their constituents but for far too long, our current council has made many of these decisions behind closed doors. If elected, I will work to reduce in camera meetings and bring back the transparency Calgarians deserve.
I, like many of you, want my children to grow up in a safe community and I recognize the role police play in achieving that. And so, I am strongly against any plan to defund the police. If elected, I promise to make our Ward the safest place in the city, and I will always support the men and women who make that happen. I am also against the blanket densification of single-family communities. They also need to be protected.
Calgary needs term limits for councillors. Complacency is human nature but service should be a privilege not a profession. I propose to limit Council members to 3 terms.
Lastly, we need fiscal responsibility at City Hall. The credit card is maxed out and still our Council spends, spends, and spends. We must bring restraint to Council and run our city the way we run our homes and businesses. Within our means.
I hope to be your next councillor to emulate the great job Jeromy Farkas did in Ward 11.
This is a paid post from the Mike Jamieson campaign.