By Lauren Herschel Campaign
(Calgary) – Lauren Herschel, Calgary City Council candidate for Ward 11, believes in Calgary's potential and that the City needs the right leadership to make that happen. Lauren's top priorities include economic health, affordability, investing in Calgary's future, as well as more accountability at City Hall.
Lauren Herschel believes city council needs to help businesses, the city and economy thrive. To her, this means adapting or eliminating inefficient City practices that deter investment, slow innovation, and limit growth potential. Lauren suggests that Calgary needs to be more competitive and focus on initiatives that encourage new investment in Calgary through job creation, economic diversification and community improvements.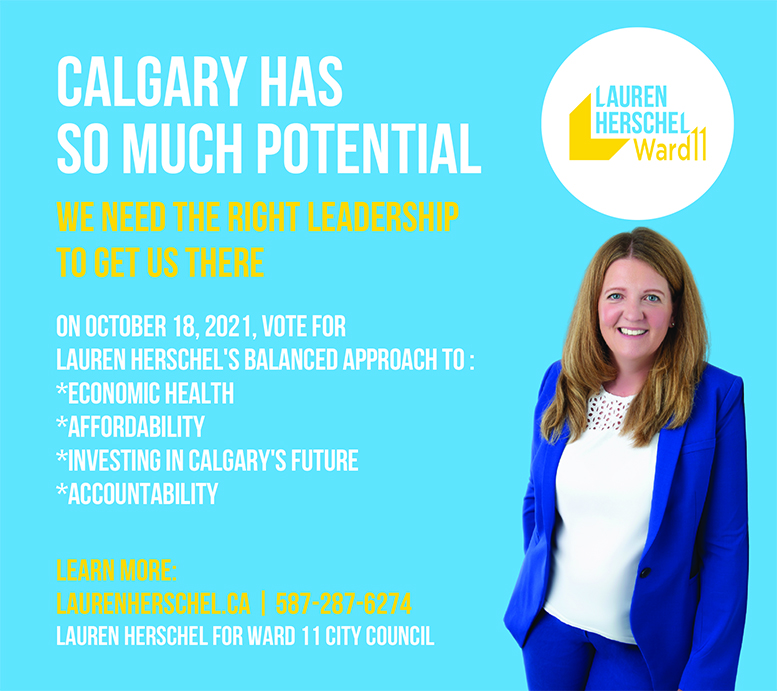 Lauren Herschel also believes that investing in the city's future is critical. She explains "Calgary needs to be adaptable. This means having scalable and sustainable growth plans including appropriate climate resiliency strategies. It also means investing in programs and projects with a forecasted positive return on investment (economic and social) for the City, our communities and Calgarians". Lauren believes these plans must be balanced in both established areas and new communities. She thinks it is key that the City find cost-effective ways to re-invest in aging neighbourhoods and protect key heritage assets.
Lauren Herschel also believes that Calgarians should love where they live and work. "We need to be a city where residents feel like they belong. To achieve this, Calgary needs to be accessible, inclusive, affordable, and safe. More diverse housing choices increase the livability of a community – it's important that all Calgarians can find housing suitable to them throughout the different stages of their lives, regardless of where they live in the city". Lauren Herschel also believes that to keep our communities vibrant, there must be multiple ways for people to safely and efficiently get around the city – whether that means four wheels, two wheels or two feet.
Lauren Herschel's experience in strategic business planning, leadership and community engagement would be an asset to City Hall and Ward 11. She has an extensive background working for several industries giving her a diverse knowledge and understanding of the city. A senior communications leader for over 20 years, Lauren has worked in commercial real estate, banking, residential homebuilding, food service as well as non-profit organizations like Calgary Public Library. In many of these roles she has directly engaged with city departments. Lauren Herschel has experience in leading teams, budgeting and project management. She has a demonstrated track record of building strong relationships, navigating change and delivering results. Lauren is also a proud volunteer in the community, with Heritage Calgary, Big Brothers Big Sisters and the Canadian Transplant Association.
A resident of Oakridge, Lauren is running for Ward 11 Councillor because she believes Calgary needs fresh ideas. Having had many rewarding experiences since moving to Calgary 15 years ago, Lauren wants to serve on council as a meaningful way to pay it forward. She is excited for the opportunity to serve her fellow ward residents, and help move the city forward. Learn more about her platform at LaurenHerschel.ca.
This is a paid post by the Lauren Herschel Campaign.