by EJN Staff
– Last summer, Sam and Michelle Marcushamer traveled to Israel on behalf of Canadian Friends of Magen David Adom (CMDA).
The CMDA Edmonton Co-chairs were in Israel for 5 days at the end of July in the midst of rockets flying overhead from Gaza and the Operation Protective Edge defensive to seek and destroy the underground tunnels that have become an infrastructure for terror against Israel.
While in Israel, the couple embarked on a mission to distribute toiletries and care packages to soldiers who were engaged in battle. Everywhere they went, they were met with welcoming kindness and immense gratitude.
They were so moved, that when they returned home they launched an immediate campaign and raised money for over 40 life saving ventilators for Magen David Adom.
At the end of April, the Marcushamers received a letter from Ilan Klein, Deputy Director of International Relations for Magen David Adom in Israel. In the letter, Klein stated, "Please allow me to express the gratitude of Magen David Adom in Israel for the generous donation made towards the purchase of 43 respirators."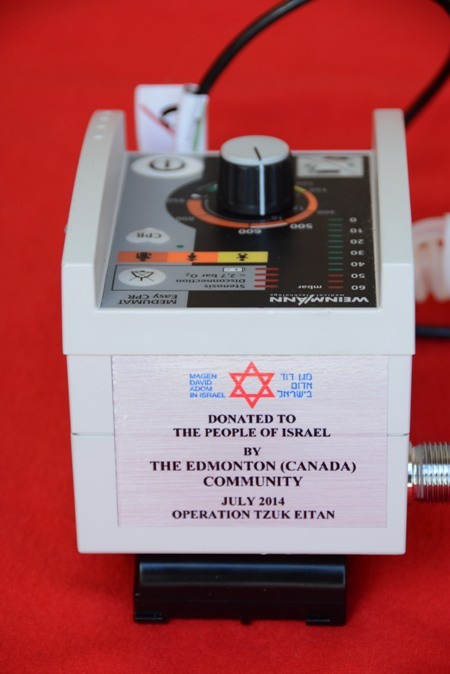 "The respirators are active in various MDA stations, all over Israel, and are used to save many lives," continued Klein. "Magen David Adom provides Emergency Medical Services to the population of Israel in routine and emergencies with the help of life-saving medical equipment. With your generosity you perpetuate the saying: Whosoever saves a single soul…as though he had saved a whole world."
Klein apologized for the delay in sending photos of the Edmonton ventilators that show an inscription. He said that he had personally used the ventilators several times during his shifts. "Because of the great need for ventilators," he explained, "they were distributed to the region first and inscribed afterwards."
"We are most grateful for your support and interest in the humanitarian and life-saving work of Magen David Adom in Israel," concluded Klein.  "Please accept our most sincere thanks for this substantial gift."
Michelle and Sam Marcushamer want to make sure that the Edmonton Jewish Community knows  the extent to which Magen David Adom is grateful for the donations. "We want to thank the whole community, our donors, for the support shown to Israel," said Sam." It is a great feeling that Edmonton has been able to provide quite a significant number  of such lifesaving equipment. It is truly a generous community, and we all should feel blessed and very proud to be a part of it."