By Daniel Moser
– On Sunday, May 31, Jewish Family Services Edmonton celebrated their 60th Anniversary by inviting the community to take part in a celebratory luncheon at Beth Israel Synagogue. The event was well attended, and was an excellent opportunity for attendees to reminisce about the organization, all of the changes it's gone through, and all of the great work accomplished in the past 60 years.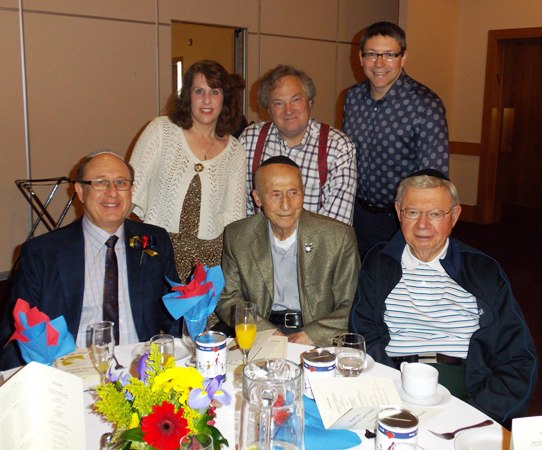 The afternoon began with a welcome address from current Jewish Family Services Co-President Michael Alpern. He introduced the crowd to all of the former Presidents in attendance including Samuel Friedman (pictured to the right), President from 1966-67, who was turning 94 years young, and was overjoyed as the attendees serenaded him in Happy Birthday.
Following introductions and applause for the current and past employees and volunteers of Jewish Family Services, a lovely meal was provided and current Executive Director Larry Derkach took the stage to provide a history of the agency. Going as far back as the 1930s Larry hit all of the milestones important to the organization including the creation of the Jewish Welfare Society in 1942, and its name change to the more familiar Jewish Family Services in 1961.
After expressing his gratitude and love for the Jewish community of Edmonton Larry gave his "surprise" of the afternoon, which was unveiling the Jewish Family Services Pushka Program. With help from volunteers and donations Larry and his team were able to create enough JFSE Pushkas for everyone in attendance. He urged everyone to take them home, and take them to the office, to help raise money for a worthy organization.
The afternoon concluded with wonderful musical entertainment from singers Bert Malo, Dan Rowley, and accompaniment on piano provided by Paul Polushin. Their performances were breathtaking, and you van view and listen to their finale, Hava Nagila below.
Current Co-President Tulane Rollingher sums up the organization in a lovely way, "Jewish Family Services is really a gem for our community that is often out of people's sight. It's worth celebrating the contribution the agency has made to the whole community's well-being over these 60 years. There is something we can all take pride in."
For more information about Jewish Family Services, call 780-454-1194.