(EJNews) – On November 9, the Jewish Federation of Edmonton will be holding an event to commemorate Kristallnacht: The night of broken glass, at the Beth Shalom sanctuary at 7 pm.
The program will feature an address by Dr. Joseph Patrouche, Director of the Wirth Institute for Austrian and Central European Studies. Dr. Patrouch, a professor in the Department of Classics and History at the University of Alberta will speak on pre-world war II Vienna leading up to an horrific event known Kristallnacht that took place on November 9, 1938.
That night and into the next day, a massive, coordinated attack was held against Jewish people throughout the German Reich.
The attack came after Herschel Grynszpan, a 17-year-old Jewish teen living in Paris, shot and killed a member of the German Embassy staff there in retaliation for the poor treatment his father and his family suffered at the hands of the Nazis in Germany.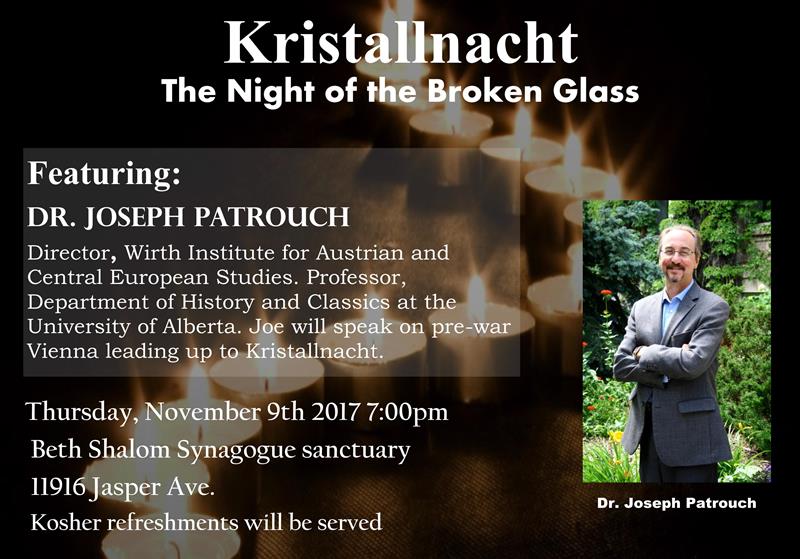 On October 27, Grynszpan's family and over 15,000 other Jews, originally from Poland, had been expelled from Germany without any warning. They were forcibly transported by train in boxcars then dumped at the Polish border.
For Adolf Hitler and Propaganda Minister Joseph Goebbels, the shooting in Paris provided an opportunity to incite Germans to "rise in bloody vengeance against the Jews."
On November 9, mob violence broke out as the regular German police stood by and crowds of spectators watched. Nazi storm troopers along with members of the SS and Hitler Youth beat and murdered Jews, broke into and wrecked Jewish homes, and brutalized Jewish women and children.
All over Germany, Austria and other Nazi controlled areas, Jewish shops and department stores had their windows smashed and contents destroyed. Synagogues were especially targeted for vandalism, including desecration of sacred Torah scrolls. Hundreds of synagogues were systematically burned while local fire departments stood by or simply prevented the fire from spreading to surrounding buildings.
That month, about 25,000 Jewish men were rounded up and later sent to concentration camps where they were often brutalized by SS guards and in some cases randomly chosen to be beaten to death.