By AJNews staff
(Edmonton) – Gayle Tallman is the honouree of the 2021 Edmonton Negev Gala which will be held virtually this summer on June 22, 2021. The JNF team is issuing a call out to everyone – from coast to coast – whose life was impacted by Gayle's amazing work.
"Gayle is a most deserving JNF honouree and we are thrilled to announce and invite you to join us in celebrating such a special member of our community," stated Edmonton JNF Executive Director Jay Cairns, along with Negev Gala campaign team leaders Michael Schayer, Heather Vickar and Jack Schwartzberg.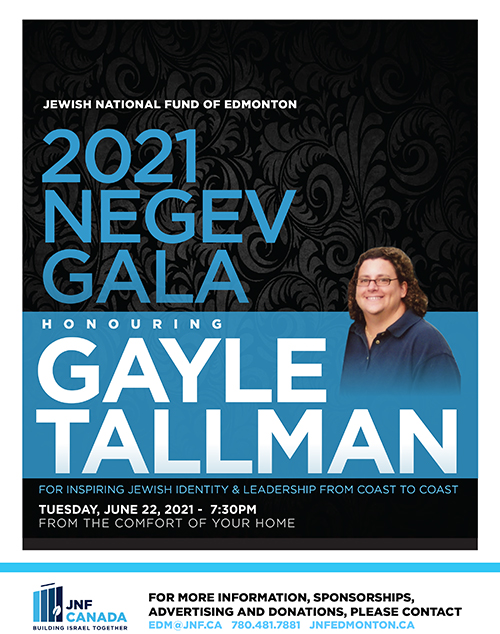 Gayle exemplifies what it means to be a true community builder within the Jewish Community of Edmonton. She has contributed in a significant way to the Jewish education of a generation of community members, sharing with them her love of Israel, and her commitment to community service and human rights.
"JNF is honouring Gayle Tallman this year in a virtual gala that allows for everyone, 'Coast to Coast,' to participate and gather together to pay tribute to an outstanding member of the Edmonton community who dedicated her life to teaching compassion and inclusivity," explained Cairns.
"We need your help gathering photos and videos to honour her. Send in your favourite photo/video clip of you with Gayle when you were in a BBYO program, at Camp BB, in the JCC or from a March of the Living trip."
Tributes should be sent by email to edm@jnf.ca or they can be posted on the JNF Edmonton Facebook page.
Negev Gala Co-Chair: Michael Schayer offered this testimonial: "Gayle means the world to me and my family. Speaking for myself personally, she was instrumental in me being able to cope with the many emotions I had prior to, during and after the March of the Living – a very difficult and troubling experience for myself. Aside from that, whenever I used to visit the old JCC, Gayle's door was always open and inviting for me to come in and chat about whatever. I always enjoyed those conversations and Gayle's silly grin and infectious laugh. I personally am so happy that JNF is honouring Gayle this year as the Negev honouree, I can't think of anyone in our community more deserving. I love you Gayle."
Howie Sniderman wrote: "I just read the article today about the upcoming Negev event honouring our friend Gayle Tallman – we are delighted to see her so very appropriately honoured for her many years of dedication to our community.  She accompanied our daughter Liz on her 'March of the Living' and I think there are a generation or two of young adults (and their parents) in our community who owe Gayle a great debt of gratitude for the time, effort and expertise she put into everything she did – especially taking on the annual role of playing 'parent in situ' for teenagers dealing with one of the most difficult but meaningful experiences in their lives."
If you have any questions or would like more information about the Negev Gala, please leave a voicemail for Executive Director, Jay Cairns at the office: 780.481.7881. Messages will be returned within 24 hours and for more timely responses email  edm@jnf.ca.
Click here to make an online donation.
In the interest of safety and compliance with provincial regulations, the JNF Edmonton office has transitioned to a phone message system and office visits are by appointment only.