By Cheryl Gurevitch and Elliott Steinberg
(Calgary) – The Jewish National Fund of Calgary is proud to announce that Councillor Diane Colley-Urquhart is the 2021 Negev Gala Honouree. Diane is being recognized for her steadfast support of the Calgary Jewish Community. With this honour, Diane has chosen to support the Trauma Resilience Centre in Sderot, Israel, which will provide therapy for children and adults suffering from PTSD and other mental health issues. The Centre is located in a building that is neither reinforced for rocket attacks, nor accessible for those with disabilities, and is too small to accommodate the growing number of clients. This project connects with Diane's values of caring for those in need and her commitment to human rights, and gives us all the opportunity to work with her to help build the foundations of Israel's future.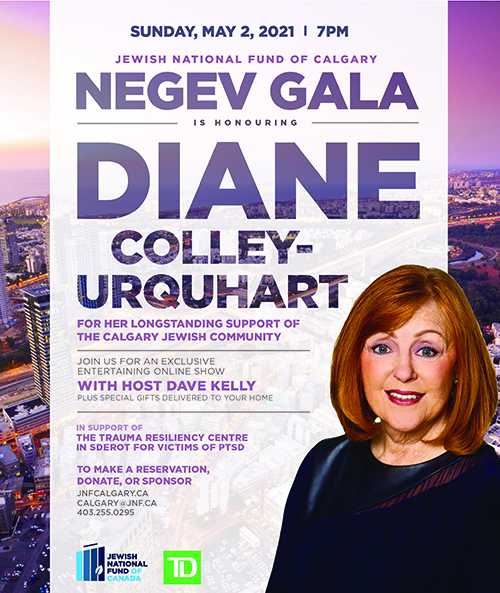 Diane is a 21-year member of Calgary City Council, and has time and time again been a voice for Jewish Calgary. Diane recently put her words into action, by bringing forth a motion to Council to recognize International Holocaust Remembrance Day. The motion was unanimously supported by all of her Council colleagues and was observed for the first time in Calgary on January 27, 2020. Diane has continued to demonstrate her dedication to the Jewish community by striving to adopt the International Holocaust Remembrance Alliance (IHRA) working definition of antisemitism, as well as to the larger community, by recommending a motion to address acts and symbols of racism, hatred, intolerance and violence, all on display at a recent anti-mask rally outside of city hall. This was immediately embraced by the mayor and resolved by Council in a March 1, 2021 resolution. Diane gained significant insight and understanding into racism and antisemitism as a Calgary Police Commissioner for 13 years and as a Human Rights Commissioner in the Province of Alberta for 10. She feels very strongly about educating youth so they understand how antisemitism manifests in our community – in both acts and words of hatred toward Jews.
Prior to her work on City Council, Diane was deeply impacted by her extensive nursing career, spanning areas such as emergency, trauma and long-term care. "My 50 years of nursing experience brings with it a strong sense of service, compassion and fairness in helping to do what is right, and, to do everything I can to improve the quality of life of our citizens." Diane's relationship with the Jewish Community also dates back to her early nursing days at the Foothills Hospital, where she worked with a number of notable Jewish doctors. During this time, she joined the JCC, where her son Bruce was enrolled in 'Jean's' Daycare. Later, Bruce attended the Calgary Jewish Academy, where Diane developed many lasting friendships. At about the same time, she was hired by the Martin Family as the Director of Operations at the Beverly Nursing Home. As the Councillor for Ward 13 for the last 20 years, Diane has represented the core of Calgary's Jewish Community with distinction.
The JNF Gala honouring Diane Colley –Urquhart, will be a virtual event, taking place on Sunday, May 2, 2021. For information on tickets, donations, advertising and sponsorship opportunities, please visit us at jnfcalgary.ca, or contact us at either (403) 255-0295 or calgary@jnf.ca.  Watch for more information in the Alberta Jewish News and JNF Facebook (@calgaryjnf).
Cheryl Gurevitch is currently serving as president of the JNF Calgary Board of Directors.  Elliott Steinberg is the Executive Director of JNF Calgary.