By Tammy Vineberg
(Edmonton) – Food is not only something we enjoy. It can encourage connection, leadership, and the passing of wisdom from generation to generation. When the Jewish Federation of Edmonton heard that Bonnie Stern and her daughter, Anna Rupert, were publishing their first cookbook together, we thought a United Jewish Appeal (UJA) event celebrating this release would be a perfect opportunity to showcase these values. This exciting event will take place on Sunday, November 6.
The mother-daughter relationship that Bonnie and Anna have illustrates intergenerational connections perfectly. Their new cookbook, Don't Worry, Just Cook, is filled with recipes and stories of connection. Anna grew up in the kitchen learning from her mother, who is a leader in Canadian cooking and foodie circles.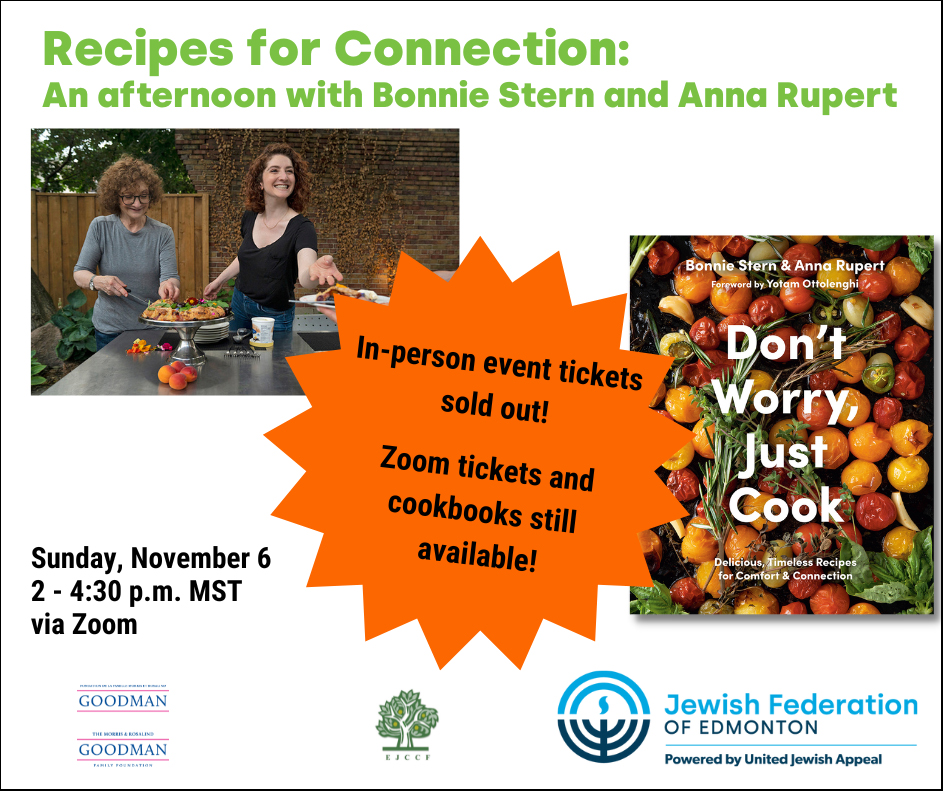 Bonnie is the founder of the Bonnie Stern School of Cooking in Toronto, which she opened and operated from 1973 to 2011. She has studied and taught cooking around the world, hosted three national cooking shows, and for 17 years, wrote a weekly column for the National Post. She has conducted popular workshops for the James Beard Foundation in New York City and leads culinary tours to various delicious destinations. Bonnie is also the creator of a groundbreaking book club in which they invite authors to discuss their work during thematic dinners. She has authored 12 bestselling cookbooks, including Bonnie Stern's Essentials of Home Cooking, which won a coveted International Association of Culinary Professionals award. Bonnie is the recipient of many awards, including the Ontario Hostelry Institute's Gold Award, the Premier's Award, and, in 2021, they inducted Bonnie into the Taste Canada Hall of Fame.
Besides being Bonnie's daughter and sous-chef, Anna is a speech-language pathologist, health and social care manager, researcher, and consultant in Toronto. Anna holds master's degrees in speech-language pathology and international health policy from the University of Toronto and the London School of Economics, respectively. Anna's research and consulting has focused on including rehabilitation services (like speech pathology) in global health systems, health system funding and planning, and the relationship between early childhood mental health, childhood trauma, and communication development. This is her first book.
In Don't Worry, Just Cook, Bonnie and Anna help cooks of all experience foster comfort and connection through food. Like all of Bonnie's cookbooks, Don't Worry, Just Cook doesn't simply give instructions to create a dish, it also shares stories, lessons, and kitchen wisdom that will build your cooking technique and confidence in the kitchen.
There are recipes for special dishes like jeweled roasted salmon with herbs and sheet pan chicken with lemon and olives. You can also aim for simplicity and beauty with dishes like ja'ala herb salad with lemon honey dressing and roasted cauliflower steaks with tahini and z'hug.
The Federation appreciates the Morris and Rosalind Goodman Family Foundation and the Edmonton Jewish Community Charitable Foundation (EJCCF) for sponsoring Recipes for Connection: An afternoon with Bonnie and Anna. Rosalind Goodman devoted her life to philanthropy and making a difference, believing that her greatest responsibilities were to her family and community and to follow the precepts of "Tikkun Olam" (repairing the world). Rosalind Goodman devoted her time daily to philanthropic projects. She was always prepared to join a team and work with her signature approach, that every job was equally important if it contributed to the greater good. Sadly, she lost her struggle to lung cancer. Her daughter, Shawna Goodman Sone, a professional chef and philanthropist in her own right, has been part of several Federation cooking events. Shawna wanted to honour her mother's yartzheit this year by sponsoring this event to inspire the next generation of leaders and philanthropists in Edmonton. Our CEO, Stacey Leavitt-Wright has a close relationship with Shawna, who inspired her early giving and involvement with UJA.
The event committee, led by Chloe Soibelman and Sandy Litman, comprises seasoned volunteers and the next generation of leaders. Some are mother and daughter teams, but we aim this event to inspire and include all people regardless of their gender and age.
The Jewish Federation of Edmonton UJA Fund at EJCCF will benefit from the event's proceeds. This year's theme for the UJA campaign is Now We Go Forward. Recipes for Connection bridges the philanthropic essence of the Goodman family, intergenerational wisdom from Bonnie and Anna, and connecting our Jewish Edmonton.
The Federation encourages all generations to attend. Purchase tickets at jewishedmonton.org via our community calendar or consider subscribing to the weekly e-newsletter for event updates.
Buy tickets or the cookbooks now:
Tammy Vineberg is Associate Director, Marketing and Communications for Jewish Federation of Edmonton.