Submitted by Jeromy Farkas
(Calgary) – Calgary, it's time for change.
For far too long, City Hall has forgotten that it works for the people and not the other way around. If you elect me as your next mayor on October 18th, I promise I will always remember that I work for you.
Just this week, I finished rolling out my official campaign platform. This 10-point-plan follows months of feedback from everyday Calgarians and lays out my priorities for the future of our great city to put it back on top.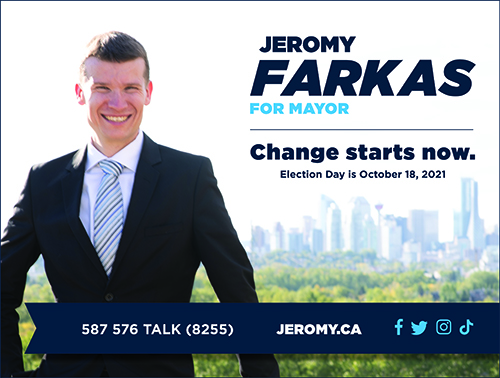 I promised you that I would put forward a plan that focused on getting Calgarians back to work, improving city services, responsible spending and ushering in the next era of opportunity. This 10-point-plan encompasses all of that and will help steer us toward our next, and best, chapter yet.
Thank you for your valuable input, as well as your incredible support.
Four-year property tax relief
My first commitment is to control taxes and city spending, with a four-year property tax freeze for homeowners and businesses.
Calgarians have struggled in recent years with a lack of opportunity, and in the face of significant economic challenges. This four-year tax freeze will throw a lifeline to struggling families, seniors and business owners and give them the certainty they need to get back on their feet.
Support our Calgary Police Services
If elected mayor, I promise to defend our police funding and work toward re-opening our downtown police station, as we are now the only major city in North America without one. Addressing crime and security and rejecting the dangerous defund-the-police ideology is critical.
I want to ensure our emergency services are adequately funded. Our frontlines are the first to run in when everyone else is running out. I want them to know I will always have their backs, while ensuring accountability measures such as body-worn cameras and diversity training are in place.
Scrap City Council's "Golden Pension"
Four years ago, I turned down the Golden Pension. If I am elected mayor, I will turn down the mayor's pension and fix it for good. Scrapping this Golden Pension in favour of a defined contribution model will bring our city more in line with comparable municipalities across the country.
The buck stops here. We need to rein in spending at City Hall and lead by example as elected officials.
Protect Single Family Neighbourhoods
My next commitment is to protect single family neighbourhoods and reverse the controversial "Guidebook."
Calgarians deserve a mayor and council who will put the interests of the people ahead of their own. It's time to set ideology aside. I also promise to work to reverse the "Guidebook" that was rushed through council and drew opposition from over 40 community associations, with record numbers that turned out to the public hearing.
Buying a home is the largest investment most people will ever make, and Calgarians deserve to have a voice in the changes and development happening in their communities.
Improve Traffic Light Synchronization
I am committed to funding and expanding the installation of Adaptive Traffic Light Control technology to better synchronize lights in our city. These improvements will reduce traffic congestion, improve productivity, and reduce carbon emissions with fewer vehicles left idling.
Time spent stuck in traffic is time spent away from home and family. Reducing driver frustration will result in improved quality of life and enhanced road safety.
Open Meetings Promise
I am pledging to implement a policy that promises to conduct as much city business as possible in the public eye.
City Council spends far too much time behind closed doors, making politically uncomfortable decisions away from the watchful public eye.
An open meetings policy would help restore accountability and transparency at City Hall. I have long spoken out against these secret meetings and now it's time to do something about it.
Link downtown to the Calgary International Airport
Calgary is a world-class city that cannot afford to get left behind because we are missing this vital link connecting our downtown to our airport. We can't have conventions, festivals and international business opportunities pass us by because we don't have the transportation options that other cities do.
There are a number of viable possibilities in the works, and I am committed to bringing us into the 21st Century by building this link.
Improve Residential Snow Removal
I am committed to improving snow removal, by extending snow clearing to residential streets during emergencies, to ensure no Calgarian is left behind.
This is a matter of safety of Calgarians. We cannot have our residents barricaded in their homes, unable to get to work or creating barriers for our emergency vehicles.
Protect Our Parks
I pledge to stand up for our city parks and green spaces.
The recent decision by council to sell off Richmond Park in the name of development was short-sighted and tone deaf. It was a prime example of Calgarians getting more of the same.
It's time to send a message that our parks are not for sale and to preserve them for generations to come.
Red Tape Reduction
My final commitment to you is to create a one-to-one Red Tape Reduction policy that will cap city regulations and avoid creating more red tape.
I am committed to removing roadblocks such as onerous permit applications and other unnecessary hoops for citizens to jump through. This will make our city more business-friendly and send a message that Calgary is open for business.
Please visit our campaign website (jeromy.ca) and social media channels for updates.
Thank you for this opportunity to ask to serve as your next mayor.
Change starts now.
This is a paid post from the Campaign to Elect Jeromy Farkas.