By Daniel Heikkinen
(Edmonton) –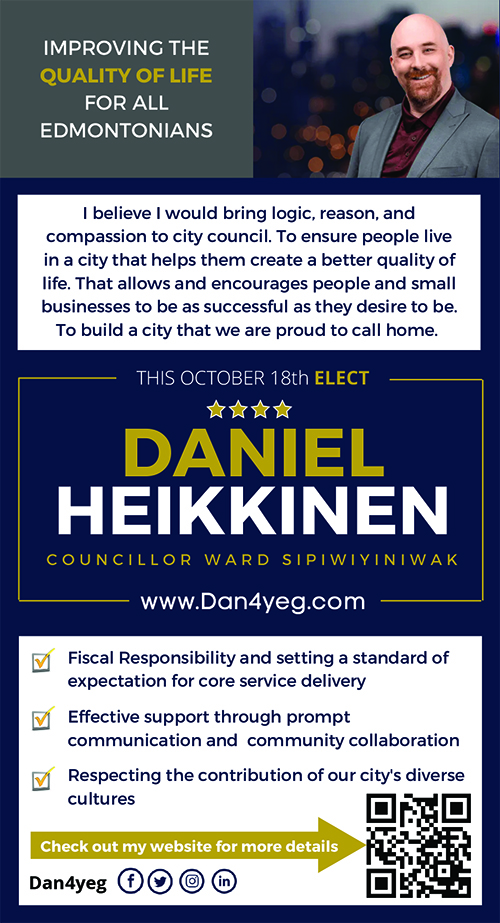 Hello readers. My name is Daniel Heikkinen, and I am running for city council to represent you in ward 5, soon to be ward 7 Sipiwiyiniwak on October 18, 2021.  I wanted to introduce myself and provide my reason for running and why I believe I am qualified to do so.
I was born and raised in the ward, growing up in Lymburn until 18, then moving with my family to the Wolf Willow area for 8 years while I attended University. I graduated with a BSc psychology major and sociology minor, along with courses in economics, political science, and earth & atmospheric sciences.  I believe that this well-rounded education has given me the foundation to understand current issues impacting our city. From drug addiction and homelessness, to perceived fiscal mismanagement and inefficient spending, I have some creative ideas to tackle and resolve them.
I am a small business owner with 3 Benjamin Moore stores located in Edmonton and Sherwood Park. I have 15 employees representing managers and staff, half of whom have been with me since the start in 2015. While my capable staff handle the day-to-day activities, I bring in new business and personally deal with customer service issues.
I have also been a leader in business networking organizations, holding the president, vice president, and mentor roles. I understand the importance of every dollar being spent to bring maximum available value, using good data to drive our decisions, and that collaboration and holding people accountable are some of the keys to success.
More than this though, is my belief of what it takes to be a good councillor. And that is a focus on reaching out to and being a part of the community. We should take a customer service-related approach to city management, as you are our employer and customer after all. Our employer in that your dollars should be spent on clear targets and goals, bringing you value with the services we provide. Our customer in that we should be promptly responding to your concerns and providing the information you request. Finally, we should be making efforts to reach out to all the communities (cultural and regional) of the ward and getting direct feedback on how we are doing, both the good and the bad. Feedback is extremely important to meet your expectations or standards.
In summary, my background in human sciences, self-taught business acumen, customer service, and prior leadership experience are all valuable pieces of the puzzle. But more important is my attitude towards what leadership is. This can be summed up by a quote from Robin Hobb, "A leader is a sacrifice for their people, everything they do should be to enrich the lives of others, not their own."
I hope that you will give me the opportunity to put that into practice. Thank you for your time.  For more information on my platform, please visit my website www.dan4yeg.com.
This is a paid post by the Campaign for Daniel Heikkinen.