By Mike Zabludowski
(EJNEws) – What better way to celebrate summer in Edmonton than a day out on the links and supporting a great cause at the same time.
Beth Israel synagogue is proud to announce that the 2017 Beth Israel Golf Tournament will be held this summer on Thursday, August 17th at Lewis Estates Golf Course.
This will be the second rendition of the tournament last held 4 years ago. The last tournament was a great success, enjoyed by all who participated, and we are looking forward to an even bigger and better tournament this coming August.
We are planning an event with all the bells and whistles of a major tournament, including great food and drink at the course together with competitions and prizes throughout the 18 holes.  There will also be a special "hole-in-one" prize that will be announced soon.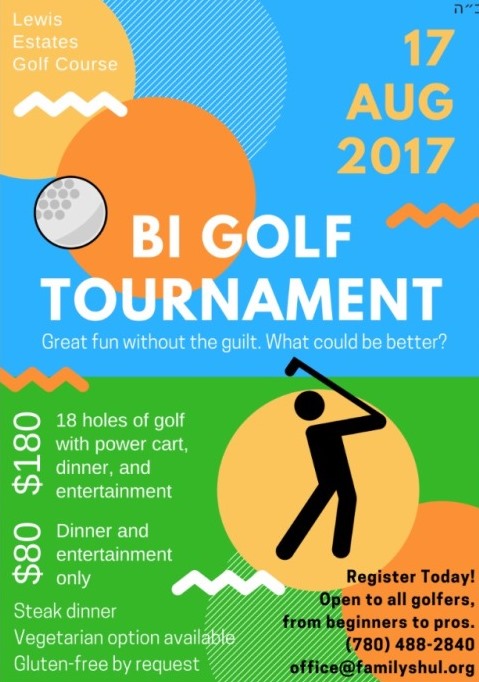 The entry fee of $180 includes:  18 holes of golf at Lewis Estates Golf Course, power cart, prizing, draws, competitions and plenty of refreshments.  In the evening, there will be a sumptuous kosher steak dinner and show, to be held at the Beth Israel Synagogue for the golfers and others who would like to partake.
August 17th promises to be a great day of golf and an evening of great food and entertainment.  For those people who want to skip the golf, you can come out for a delicious steak dinner and great entertainment for just $80.
While enjoying all this, you can be happy to know that the proceeds raised, will be dedicated to the Beth Israel youth programs that have been incredibly successful in engaging children and teens from the entire Edmonton Jewish Community. Whether involved in classes for Mothers and Tots, or teens involved in NCSY programs in Edmonton, Calgary, Vancouver and New York, there are programs available for all ages and interests and are open to the entire Edmonton Jewish Community.
The tournament is open to all levels, from beginners to scratch golfers.
Sponsorship opportunities are still available.
So if you want to register as a golfer or are interested in becoming a sponsor, please contact Luba at the Beth Israel office at 780-488-2840 or by email to director@familyshul.org.
Enjoy these memories from Beth Israel's 2013 Golf Tournament: