(AJNews) – As the weather slowly changes, we are reminded that Festival Hatzafon is right around the corner!  Festival Hatzafon, which literally translates to "Festival of the North," started nine years ago as a showcase of Israeli dance talent.  The Festival is a true celebration of Israeli dance and culture that is sure to entertain community members of all ages and affiliations.  Festival Hatzafon has proven to be and continues to be a true collaboration of different Jewish and community organizations.  It unquestioningly provides a unique opportunity to bring people from many diverse backgrounds together.
The Festival this year is themed 'Jewish Geography' so we only found it fitting to use our compass and head to the MacLab Centre for the Performing Arts in Leduc, Alberta where we can all connect to watch the talented dancers and performers.  We invite all community members to join us on Thursday, March 19th at 7 pm for the performance and a nosh in the lobby to follow.  The centre is located in the Leduc Composite High School.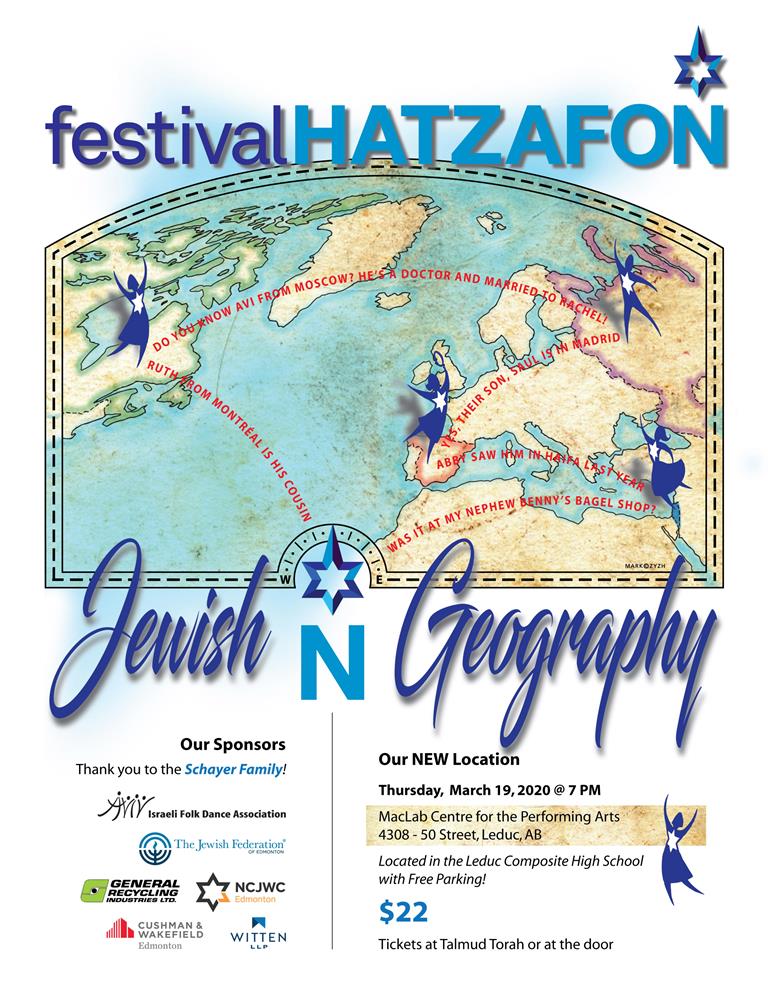 The show's main performance will include the incredibly talented Aviv Dancers and teen groups Mayim and Shemesh.   The show will also include the younger elementary school dancers from Rikud Academy.  The younger dancers from Rikud Academy are always showstoppers and sure to delight.  The dancers' repertoire is growing exponentially, and this year, many new dance numbers will be premiered by the Aviv, Mayim, Shemesh, and Rikud Academy dance groups.   As well, this year we have a special local artist participating!  Emily Levine, an Aviv Dancer alumnus, will be treating us to a vocal performance as part of this year's festival!
The Aviv Israeli Folk Dance Association began as only a handful of adult dancers meeting once a week at the old JCC.  It quickly evolved to become a multigenerational, nondenominational dance academy exhibiting a polished, professional style. The goal of the Aviv Israeli Folk Dance Association is to spread peace, tolerance and understanding to as many people as possible.
The Rikud Academy came into being when Aviv Israeli Folk Dance Association's Founder and Artistic Director Sari Uretsky Leung recognized a need for Jewish youth to unite and engage in an educational and physically stimulating dance activity.
With the advent of Rikud Academy at Talmud Torah, the school halls have been filled with Israeli music and dance, both traditional and modern. The students' enthusiasm often carries over into their recess time where they can be found on the playing field practicing their newly acquired Rikud Academy dance skills! We certainly enjoy seeing our former Talmud Torah students returning as assistant Rikud Academy teachers who pass on their love of Israeli dance to younger students. Talmud Torah is proud of the Rikud Academy Israeli dancers and is excited to invite their school community to support the students at Festival Hatzafon by attending the show!
We would like to take a very important moment to thank the volunteers who have been working tirelessly to put on an event of this magnitude.  Your time and commitment are very appreciated.  Furthermore, without the support of our generous sponsors our Festival Hatzafon would not be possible.  The Aviv Israeli Folk Dance Association and Festival Hatzafon would like to thank The Schayer Family, NCJWC Edmonton, General Recycling, Cushman & Wakefield, The Jewish Federation of Edmonton, Witten LLP, Sobeys Lewis Estates and Firehouse Graphics.  We couldn't have done it without you.  Thank you.
Tickets are available for purchase at festivalhatzafon.com, at the Talmud Torah School office, or at the door for $22.   For more information please feel free to contact us at aifdaedmonton@gmail.com. We look forward to seeing you at the show and for a nosh in the lobby!