(AJNews) – With Purim happening on March 9 and 10 this year, members of the Jewish community are turning their attention to costumes and there is no better place to visit than the Costume Shoppe located on the corner of 42 Avenue and Blackfoot Trail in Calgary.
The Costume Shoppe is an amazing year-round costume store. with a huge selection of costumes and accessories to purchase, and thousands of rental costumes as well.
"We are a Calgary family owned and operated business," noted Costume Shoppe owner Ryan Schoel.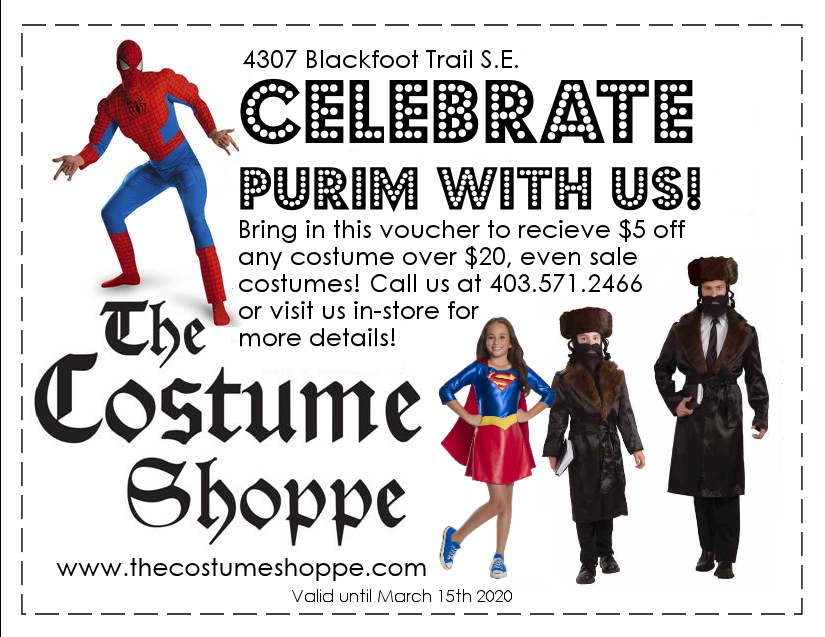 "With over 10,000 costumes to purchase, another 15,000 to rent, along with thousands of different types of accessories and crafting materials, we believe that if you can imagine it, we can help you create it."
Ryan says that the current Costume Shoppe sale is perfectly timed for Purim. "Our sale, that is going on right now, may prove to be even more useful to those celebrating Purim this month," he said.
"I have attached a coupon in this newspaper that people in Calgary can walk in and use, and because we do ship to Edmonton, with the coupon code Purim, the discount is available to all Alberta Jewish News readers."
Not many stores in Calgary have a mezuzah on the front door, but the Costume Shoppe does. "I'm not a religious person," said Ryan, "but I am a member of the Jewish community, here in Calgary."
Born and raised in the Montreal area, Ryan moved to Calgary 21 years ago. "Both my children went to the Jewish day school, Akiva Academy," he noted, "and my wife at one point, for a few years worked at the Jewish Academy and the JCC."
Ryan knows that many people buy their costumes from mega stores but he urges community members to visit his local shop for their costumes and accessories.
"In a perfect world we can talk about a business like mine, its relevance as a brick and mortar store, as well as a force online here in Alberta," he remarked.  "But in addition to that I would challenge community members to look at my pricing, they may be very pleasantly surprised."
The Costume Shoppe is great for Purim and for Halloween, but it is open all year long for countless other events too.
"We are here all year long and can help you create for any type of event," explained Ryan. "Whether that's a local expo, themed night, or perhaps a Murder Mystery dinner that you're attending, we can help you create the perfect look so you can have the perfect memory."
The store is a welcoming place with a knowledgeable staff that are eager to help all customers find just the right costume.
"The Costume Shoppe, its staff and the items that we carry tailor to – and are part of – so many different types of communities from all walks of life.  Everyone from local Cosplayers, to artists, to members of the LGBTQ community, and of course to each and every family or individual that walks through our doors or orders from us online are all welcome here," adds Ryan.
"Come visit us at our store or shop from home on Canada's costume website www.thecostumeshoppe.com; we have free delivery with any purchase over $85.00. You can even order online and pick up in store to try it on! We will have what you expect from a costume store and much more!"