By Deborah Shatz
(EJNews) – The Jewish National Fund of Edmonton hosted a wonderful Negev Gala Dinner on June 19, 2018 in honour of community leaders Lisa Miller and Farrel Shadlyn QC.  The event was held at the Fantasyland Ballroom in West Edmonton Mall.
The ballroom was filled with friends and family who were paying tribute to Lisa and Farrel's exceptional dedication to volunteerism and Klal Israel, their commitment to the arts & sports industries and especially to their strong love for family and community.  The evening put a spotlight on how appreciative they are of their family roots and history and at the same time, the importance they place on passing these values onto the next generation – their three children.
Josh Miller was charming as emcee for the event, introducing the speakers, entertaining the audience with clever anecdotes about the couple and moving the program along at a perfect pace. Catherine Miller and Len Dolgoy co-chaired the gala, remarking, "We are grateful that Lisa and Farrel allowed us to recognize their significant contributions to enhancing our Jewish community in Edmonton. Their impact in the Jewish community is felt nationally and internationally. In addition, they have individually made extensive contributions to the community at large."
Between the two of them, Lisa and Farrel have served on a dozen boards in the local Jewish Community, often serving in leadership roles. Farrel has been practicing law for more than 30 years and has served on numerous boards in the legal community as well. Lisa was the first female sports broadcaster in Western Canada, working for 21 years in television and radio, before becoming an independent producer of documentaries and live awards shows. They have both received accolades in their chosen fields.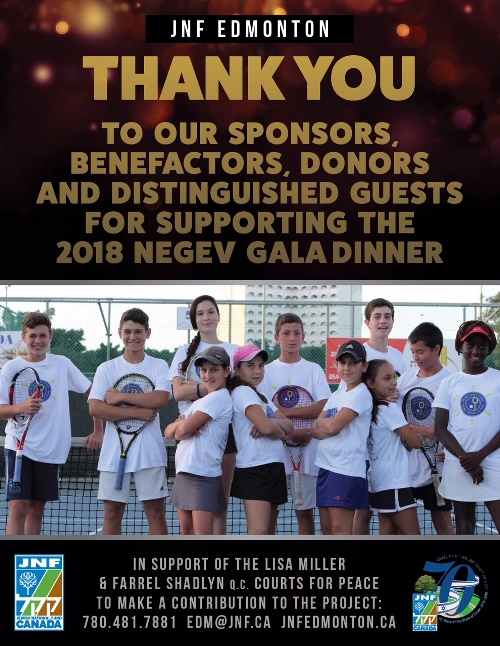 Proceeds from the Edmonton Negev Gala are dedicated to fund the Lisa Miller and Farrel Shadlyn QC Tennis Courts for Peace at the Ettenberg Israel Tennis Centre in Haifa. The centre serves vulnerable youth from low income families, new immigrants and children with special needs and makes the world of sport and tennis accessible to them.  The centre is committed to education, remediation and providing an opportunity for children of all backgrounds to learn a common language and play a common game.
Lance Davis, Chief Executive Officer of JNF Canada thanked the entire Edmonton community for supporting Jewish National Fund as well as the individuals who dedicated their time and energy into ensuring the success of the gala. He also commended the honourees saying, "The JNF of Canada is proud to honour Lisa and Farrel. They are both dynamic volunteers who have demonstrated their philanthropic leadership throughout the community and they are unwavering supporters of Israel."
Davis also showed a short film that described the vital role that JNF plays as the sole agency responsible for the development and infrastructure of land in Israel. Their many programs include land reclamation, reforestation, and road building as well as the development of parks, education and tourist attractions.
The West Edmonton Mall's Fantasyland Ballroom was beautifully decorated and the kosher dinner was truly delicious. Entertainment for the evening was a delightful cabaret medley of Jewish Broadway composers featuring excellent local talent, singer Rachel Bowron and pianist Mark Limacher. The choice of performers demonstrated Lisa and Farrel's commitment to the local arts scene in Edmonton and their support for local artists. In addition to being a frequent performer at the Citadel Theatre, Rachel Bowron is also an active member of the Temple Beth Ora choir – Chavurat Hashir.
After the meal, JNF Edmonton President of the Board Jeff Rubin spoke about Lisa and Farrel in glowing terms. He said, "I cannot think of a more deserving couple than Lisa and Farrel, as their love for the Jewish community, the City of Edmonton and Israel is well known and can be attested by the great success of this gala event."
Rubin added that on a personal note, his relationship with both Lisa and Farrel is "life long and deep rooted in our family's history."
Loving relationships, Jewish values and family history were truly celebrated at the gala.  JNF has been a remarkable constant in the lives of Farrel and Lisa and they have been longtime supporters, attending JNF Galas in Edmonton every year since they married in 1984. Their connection to JNF also runs deep in their family history. Lisa's father, Tevie Miller was an honouree in 1972, and Len Dolgoy and Catherine Miller were Negev Dinner honourees in 2006. The Toban grandparents were also very strong supporters of JNF projects.
Lisa and Farrel's three children, Ariana, Toban and Tevyn, gave a beautiful tribute to their parents. They concluded their remarks with an explanation of why the Israel Tennis Centre is the perfect beneficiary for their parents' gala.
Ariana explained, "The three of us grew up taking tennis lessons at the Royal Glenora and we still find time to play when we are all together during our family vacations.
"Tennis is the kind of game where we can come together in friendly competition. We leave any stresses behind when we step onto the court, we encourage each other to play better, give constructive feedback (and argue who gets Tevyn on their team because he's the best player). The great thing about this sport is that it is versatile and easy enough for Lisa to pack the racquets and carry the balls, enabling us to play anywhere. Tennis has truly become a family sport and we love how the game brings us together. It's really about camaraderie. Needless to say, it was fitting when our parents chose to raise money for the Israel Tennis Centre."
"We have learned that in tennis, it takes a strong partnership to play doubles," added Toban. "Mom and Dad, we admire your partnership in all facets of your lives. Whether it's work, hobbies or advising us, you always do it as a team and love you so much."
"We are eager to be by your sides as you continue to excel and pursue your passions in helping others," concluded Tevyn. "And we promise to continue the legacy you both have created in Edmonton and in the community at large."
The beautiful program book describes in detail the loving relationships that contributed to the evolution of Lisa and Farrel. Both come from strong and caring families that have emphasized respect, love, kindness and tzedakah. They
Lisa and Farrel thanked their families and friends for participating in the event and particularly members of the planning committee and JNF Edmonton Director Jay Cairns and Devorah Matkovcik.  They also thanked their parents, Tevie z"l and Arliss Miller and Harry z"l and Rosalie Shadlyn and expressed heartfelt gratitude that their mothers were both there to join in the simcha. They thanked their children and they also thanked each other for being true partners in life.
They concluded their remarks by reciting a poem (excerpted here) entitled So What is Love?
"Love is patient and love is kind; love is the greatest treasure to find.
Love endures and supports all things, love is central for fulfilment it brings.
Love is not angry or biased or jealous; love holds no threats, grudges or malice.
Love finds beauty in mundane ways; love strengthens and enriches our days."
Farrel concluded the remarks saying, "I think that poem captures what and how we feel about each other and many people here in this room. And I thank my mother Rosalie for writing that beautiful poem.
"Thank you all for this wonderful honour and wonderful evening."
Click here to view the Negev Gala photo gallery.