By Deborah Shatz
(EJNews) – Film producer Avi Federgreen enjoys Jewish themed films, particularly those made in Israel with Hebrew dialogue and English subtitles.  But they are tough to find. The Alberta born and Edmonton raised producer with over 20 years of experience in the film industry has decided to fix this problem by launching a new project, Jewish Films on Demand (JVOD.ca) that will connect the North American audience with quality Jewish audiovisual content.
Federgreen, who moved to Toronto in 1988 has been in the film business since 1994. He has produced over 50 films in Canada. His most notable film is "One Week" which stars Joshua Jackson.  Seven years ago, he decided to become a distributer as well. His company Indiecan has now released over 100 films in Canada, over 50 films in the U.S. and now represents 17 documentaries for International Sales.
"I launched Indiecan Entertainment in 2011 because I saw a need for smaller independent films to get to audiences," explained Federgreen. "And as a lover of Israeli and Jewish cinema, I also wanted to make these films more accessible. They are so hard to find. There has been no easy way for Jewish people in North America to find Jewish films."
It has taken Federgreen five years but he now has a JVOD site with a wide variety of content from many film distributors and sales companies including GoToFilms.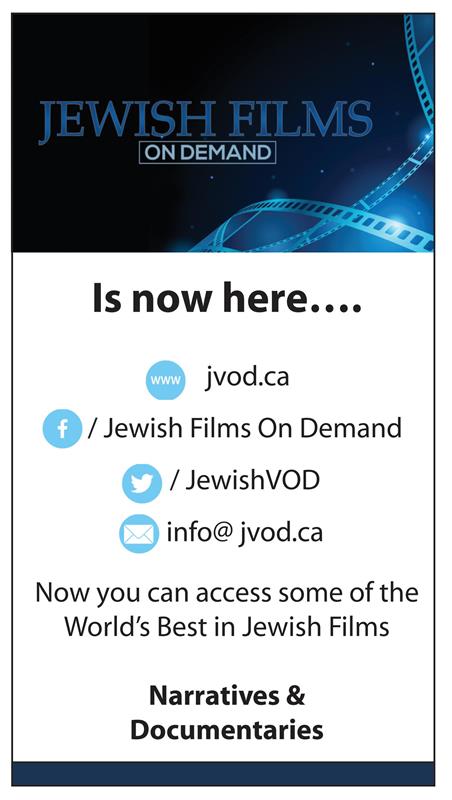 "With the help of Hedva Goldschmidt, managing director of a Jerusalem based company called GoToFilms, we're now partnered with them to host an eclectic mix of Israeli films covering all genres.  The catalogue includes documentaries, long form narratives and soon to be added short films. There is definitely something for everyone."
Two of the incredible documentaries available are "The Dreamers' winner of Best Documentary at the Rehovot International Women's Film Festival in 2011 and "Pinchas" winner of the Audience Award at the Brooklyn International Film Festival in 2009. There is also a selection of new films in the catalogue including the soon to be released documentary "The Promised Band" by U.S. director Jen Heck, and the dramatic film "Land of the Little People" directed by Yaniv Berman – to name a few.
"We currently have 23 films available for purchase or rent on demand on the Jewish Films On Demand site, found at JVOD.ca. And more will be coming soon," assured Federgreen. "Our prices are very economical and competitive in today's market.
"Most important, it is a site dedicated to Jewish Films; it is super important to me that Jewish people have access to Jewish themed films. As a culture, we need to be able to watch Jewish cinema. We need a place we can find and watch films that are important to us and now we have one."
JVOD is a transactional video on demand platform, meaning that the customer acquires or rents each film instead of paying for subscription. To browse the catalogue of films available visit jvod.ca.