by Regan Treewater-Lipes
(AJNews) – It is that exciting time again, and this year the Edmonton Jewish Film Festival (EJFF) celebrates its 26th year bringing the latest in innovative Jewish-themed filmmaking to the silver screen. For its 2022 program, the EJFF will roll out the proverbial 'red carpet,' but this year audience members can look forward to two in-person screenings, giving Edmontonians a much-needed chance to once again enjoy a classic night out at the movies – what could be better!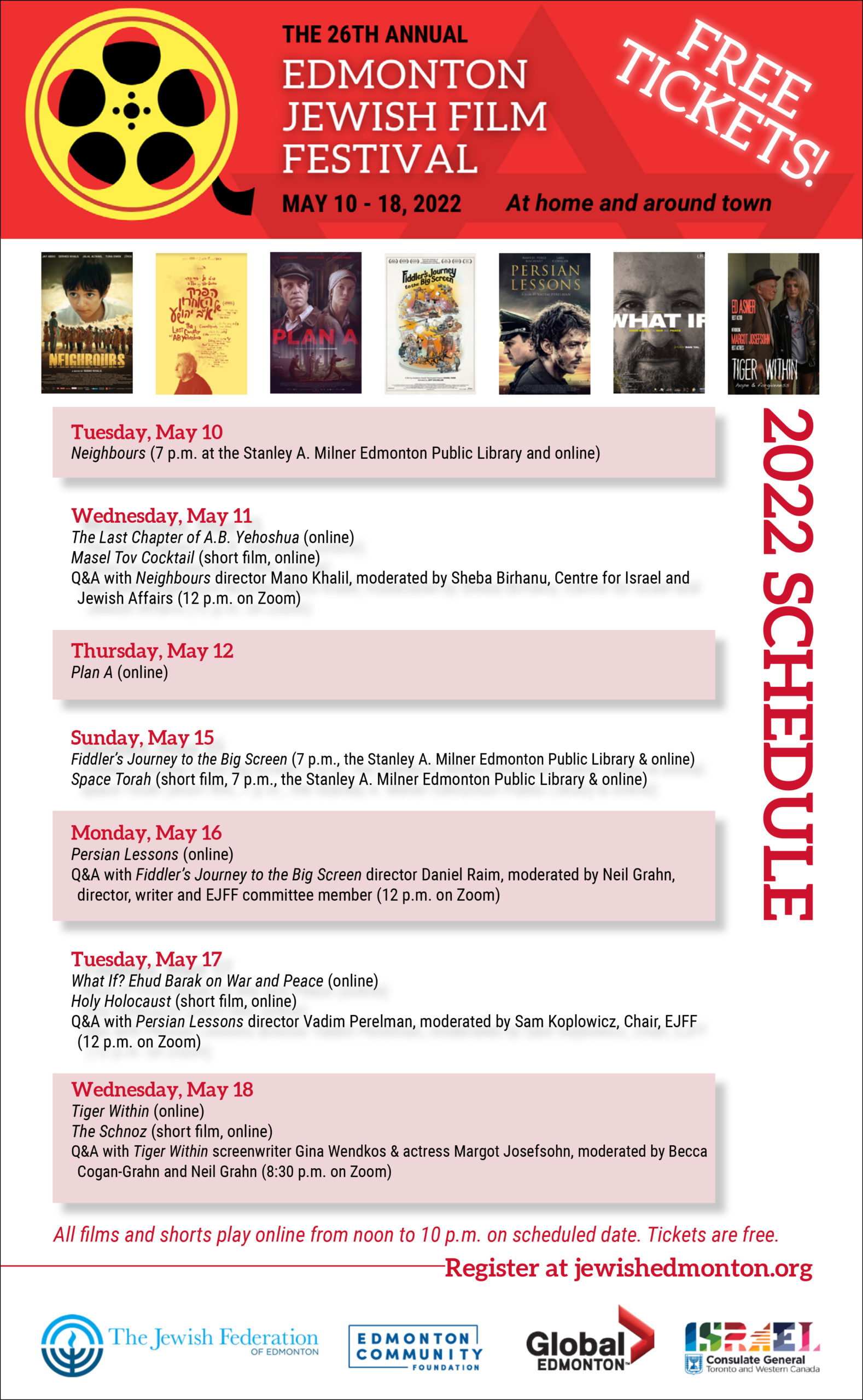 Susan Schiffman, the Jewish Federation of Edmonton Director of Development and EJFF Coordinator, is extremely excited to be able to accommodate a wide demographic of attendees through this season's hybrid delivery format.
"We got a lot of feedback after last year's film festival, and people really liked the flexibility of the online screenings, so in our planning, we always knew that the virtual format would need to be present," said Schiffman. "This accommodates those in the community with small children who are suddenly able to watch without getting babysitters, our aging population that might not feel comfortable driving at night, and youth who juggle the demands of school, but also want to see the films."
As the manifestation of the pandemic has changed several times over in the past year, organizers at the EJFF have had much to take into careful consideration during their months of preparation. "We surveyed the community after last year's festival. Understandably, many really missed the ability to get together to watch the films and talk about them after. There were also quite a few people who communicated to us that they are still concerned about the idea of social gathering. We have found a way to respect the comfort levels of everyone."
EJFF will be presenting all its seven feature films and four shorts online, including two features that will be offered in-person as well as virtually – nobody will miss out. "Being online widened our audience. It gave us the ability to reach people outside of Edmonton. We had people sign in from all over, so our reach was quite expansive. We had geographic distribution, demographic distribution; just in general a lot of people who had not been able to attend the festival in previous years were engaged for the first time. We wanted to continue to build on this," Schiffman explained enthusiastically.
The season kicks off on Tuesday, May 10 at the Stanley A. Milner Edmonton Public Library with a live screening of Neighbours, a heartwarming yet challenging film from Syria.
"We are all thrilled to be able to offer this flexibility of format," explained Schiffman. "We really have found a great way, I think, of recognizing everyone's needs. As soon as it appeared that in-person could happen, we wanted to make sure that opening night would be a live screening. This film really is perfect for the occasion, and the Edmonton Public Library is an ideal venue for bringing people and communities together. Neighbours has a human rights message, something that everyone would appreciate, and we are so happy that we can collaborate with the Edmonton Public Library to offer this."
The EJFF is hopeful to expand its viewership further and engage people who are not necessarily connected to the Jewish community. "These are excellent films, and they can be appreciated and enjoyed by diverse audiences for sure."
The EJFF will also be offering four Zoom question and answer sessions with filmmakers. "For Neighbours, our Q&A event will take place the day after the screening because the director Mano Khalil will be joining us from Europe," explained Schiffman. These virtual events will give movie-goers an opportunity to delve deeper into the films and the creative visions that brought them to be.
The second film that will be offered live is the documentary Fiddler's Journey to the Big Screen on May 15.  "Who doesn't love Fiddler?  We thought this would be an exceptional one for people to be able to share together in-person," Schiffman explained.  Certainly, with such an iconic cinematic phenomenon as Fiddler on the Roof, audience members will instantly be drawn in by the behind-the-scenes insights. "A great many of us have strong memories attached to Fiddler, so there will be something special about a shared group experience of watching this documentary I think," Schiffman concluded.
The independent film Tiger Within will be the EJFF's closing night feature.  Audience members will instantly recognize the familiar face of Ed Asner from late-night reruns of the Mary Tyler Moore Show, but Tiger Within, sadly, was one of the career actor's final performances before his death in 2021. The story is touching and raises significant questions about the importance of passing on history to younger generations.
The Zoom Q&A following will allow viewers to virtually meet the film's screenwriter Gina Wendkos and the young ingenui, Margot Josefsohn who played opposite Asner. The EJFF has arranged for community member Becca Cogan-Grahn to moderate the panel along with her father, EJFF Committee member Neil Grahn. Cogan-Grahn is not a seasoned cinema aficionada, but a young Edmontonian with a passion for good films.
"We have always been committed to engaging younger members of the Jewish community," said Schiffman. "We know that the future of the Jewish Federation of Edmonton is in the hands of our younger generation."
Organizers are pleased to be able to offer this year's Edmonton Jewish Film Festival free of charge. "This is only possible because of our exceedingly generous sponsors and donors," explained Schiffman. "We are so grateful for their generosity." After several difficult years of pandemic pivots, Schiffman and her colleagues know that offering the festival free of charge is something that will do incredibly positive things for the Edmonton Jewish community and beyond. "The films we present are not available in theatres or through subscription streaming.  Our selections are Edmonton premieres, so we are really bringing exciting content to our viewers."
Last year, a portion of donations and sponsorships collected went to support the COVID Relief Fund operated by the Jewish Federation of Edmonton. This year, the festival will return to its roots. "For many years now, the festival has supported the Edmonton Partnership Together Program. P2G is a capacity building partnership between the Edmonton Jewish community and our partners region in the Northern Galilee Panhandle of Israel. In 2022, the EJFF will support a youth centre in Yesod ha'mala and an Arab and Israeli youth partnership program in Metullah."
Although there is no price for admission, virtual or otherwise, donations to the EJFF are always welcome and greatly appreciated. Register now and sign up for a whirlwind tour of contemporary international Jewish-themed cinema. This year, audience members will travel, through film, and be introduced to works from the United States, Israel, France, Switzerland, Germany, and even Belarus!  Do not miss out!
Regan Treewater-Lipes is a Local Journalism Initiative Reporter for Alberta Jewish News.