by John Stobbe and Debby Shoctor
(Edmonton) – As we are experiencing isolation from our friends and family, we can perhaps draw solace from thinking about the wartime teenage diarist and Holocaust victim Anne Frank.
How Anne Frank coped with her two-year isolation whilst in hiding from the Nazis, facing the possibility of arrest and certain death every minute of the day. How Nelson Mandela and Audrey Hepburn's lives were greatly influenced by Anne Frank's diary. The astonishing effect that learning about Anne Frank has had on people in some of the world's most turbulent and violent regions, breaking down long-held prejudicial views. The dramatic impact on British prisoners who have gained a greater perspective on their grievances against society thanks to Anne's story.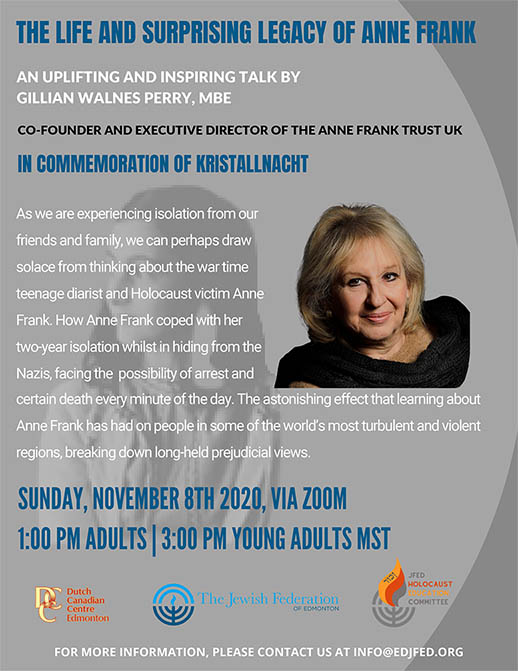 The significant change Anne's diary has made to millions of teenagers who have faced adolescent social problems and has succeeded in raising their ambition and aspirations thanks to learning her story.
This year, in commemoration of Kristallnacht, the Edmonton Jewish community will be honoured to have as our guest via Zoom, internationally renowned speaker and author Gillian Parry, MBE, all the way from London, England. She will host two sessions, one for adults and one for teens on Sunday, November 8 at 1 and 3 pm respectively. Visit jewishedmonton.org for registration and for more information.
Gillian will be giving one of her most popular and richly illustrated talks, on 'The Life and Surprising Legacy of Anne Frank', via a Zoom live streamed event. The talk will be around 50 minutes with time for a short Q & A session. Gillian is a hugely popular speaker and has had many years' speaking, lecturing and broadcasting experience, in locations such as 10 Downing Street, the United Nations in New York, and most recently, the Clinton Presidential Library in Little Rock. As the Co-founder and long-time Executive Director of the Anne Frank Trust UK, Gillian has been privileged to meet many people who knew Anne Frank and shared their personal recollections of her.
In 2010 Gillian was awarded an MBE for services to education and in 2018, she published her first book 'The Legacy of Anne Frank,' available via Amazon and other outlets.
This event is generously co-sponsored by the Dutch Canadian Club (DCC) and the Jewish Federation of Edmonton.
As part of the celebrations to honour the 75th Anniversary of the Liberation of the Netherlands, the Dutch Canadian Club Edmonton has donated a beautiful statue of Anne Frank. The DCC is currently fundraising for the statue, to which JFE and other community members have contributed. The original 1960 version of this Anne Frank Statue is in the Dutch city of Utrecht.  The same mold and form was used to make the Edmonton bronze statue, which is currently erected at the Edmonton Mail Library in the children's section. She will be placed in a spot of prominence in Light Horse Park in Edmonton's Old Strathcona.
The unveiling ceremony will hopefully take place next spring.
Debby Shoctor is the CEO of the Jewish Federation of Edmonton. John Stobbe is a representative of the Dutch Canadian Club and organizer of the Anne Frank Memorial project.