By Judy Zelikovitz
(AJNews) – This past year was challenging for our community. The COVID-19 pandemic forced all of us to be physically distant from our loved ones, while many faced grave illness or terrible loss.
In May of this past year, we also witnessed a dangerous surge in antisemitism that struck at the heart of our communities. Peaceful pro-Israel protestors were pelted with rocks in Montreal, Toronto saw a fivefold spike in antisemitic incidents. This surge in antisemitism attacked every corner of our country, including Alberta, where Hitler Youth flags were flown on rural properties near Edmonton.
And this increase in antisemitism was not limited to physical incidents. A shocking rise in online antisemitic memes, graphics, and messages flashed across the computer screens of our children and grandchildren.
However, notwithstanding the past year's challenges, Jewish Canadians stood tall, proud, and resilient – and united in our shared history, diversity, and strength.
Over the last year, together as a community, we made significant gains to preserve and protect Jewish life in Canada.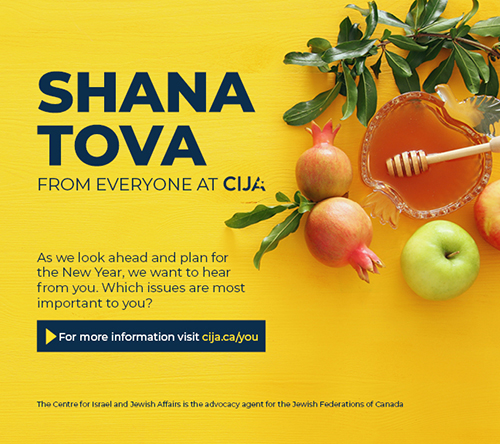 We secured emergency funding for Jewish institutions to help them continue to serve our community throughout the pandemic.
We stood shoulder to shoulder as tens of thousands of Jewish Canadians and many others of good conscience joined CIJA and secured an Emergency Summit on Antisemitism – an important initiative to discuss and develop actions to combat that vile, age-old scourge.
We made gains with the adoption of the International Holocaust Remembrance Alliance definition of antisemitism in Ontario, Quebec, New Brunswick and in many municipalities across Canada, building on our nation's adoption of the IHRA definition in Canada's anti-racism strategy. The IHRA working definition – the most widely respected definition in the world – is an important educational tool to identify and address antisemitism.
Despite this year's challenges, we made progress. And we did these things, and many more, because of you.
Next year, 5782, presents an opportunity not only for reflection but also renewal. The future is never certain, but of this I am sure: if we rededicate ourselves to our community, advocacy, and to one another, we will continue our progress and build a better tomorrow for our children.
As we look ahead and plan for the new year, we at the Centre for Israel and Jewish Affairs (CIJA) are asking to hear from you about what you consider the most important issues to you and your family, what you want to say to elected officials about antisemitism in Canada, and what you would do to strengthen our community's advocacy efforts. Input from Jewish Canadians across Canada is a vital measure informing our advocacy in the coming year. We cannot do it without you.
Please visit cija.ca/you and tell us what you think.
We wish you and your families a sweet, healthy and happy 5782.
L'Shana Tova!
Judy Zelikovitz is Vice President, University and Local Partner Services, Centre for Israel and Jewish Affairs (CIJA).