by Regan Treewater-Lipes
The May 2022 event promises to be the biggest and best ever
(AJNews) – More than two dozen CMDA volunteers and Western Canada Board Members came together in late June to start planning for the much-anticipated May 29, 2022 gala. It's promising to be the most spectacular gala in many years.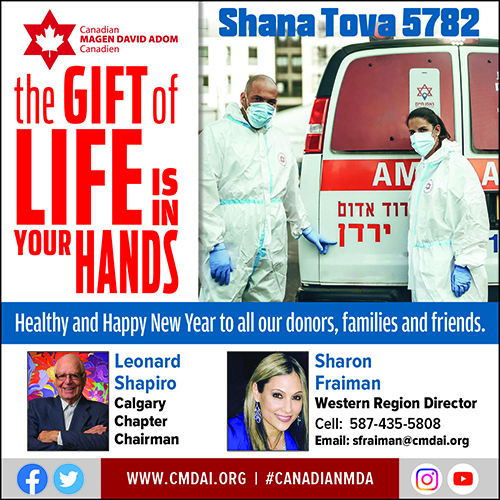 "We're really excited about our plans," said Sharon Fraiman, Western Regional Director, CMDA. "It's going to be an incredible event and we encourage everyone to save the date."
The gala will be held in the newly renovated ballroom at Calgary's landmark Carriage House Inn.
"The 2022 gala will feature a sit-down three course meal," says Fraiman. "And of course, everything will be Kosher so we look forward to welcoming everyone from the community."
The evening will include a special presentation from an MDA speaker from Israel. Cantor Russell Jayne, from the Beth Tzedec synagogue will be performing and the special musical guest will be Barry Shaw and his fabulous jazz and swing band. "It's the chance to dance the night away," adds Fraiman.
This year's gala will honour the late Sam Switzer, a long time CMDA supporter. Mr. Switzer's family recently donated an Advanced Life Support Ambulance to CMDA. The vehicle is now being built for service in Israel later this year.
"CMDA is so grateful to the family of Sam Ousher Switzer OBM for donating a new advanced life support ambulance, in his memory, now ready to go into service in Israel," said Fraiman. "The family is carrying on Sam's long-standing contributions to CMDA and its vital work serving the people of Israel."
The ambulance, manufactured in Canada has just arrived at MDA headquarters in Tel Aviv.
"It's a simple fact that without the support of community leaders like Sam and his family, CMDA would fall short in helping meet the emergency medical service needs for all the citizens of Israel," said Mr. Leonard Shapiro, Honourary Chair, CMDA Calgary. "Our donations here in Canada are critical to fund and supply MDA with essential equipment like ambulances, emergency medi-scooters and ATVs and mobile advanced life support technology."
Sam Switzer was a "larger than life White Hatter" native Calgarian with a flare for business. Sam saw many successes and is famous as a hotelier for building the Summit Hotel, Calgary's first and only round hotel, and as the owner of the iconic Elbow River Casino.
His contributions to the community as a volunteer and philanthropist were many, supporting causes ranging from cancer research, to the Alberta Children's Hospital to the Little Synagogue on the Prairies.  In 2012, the Jewish National Fund honoured Sam for his role in developing recyclable water in Sderot in Israel's Negev Desert. Sam was an active Rotarian and lifetime Calgary Stampede volunteer.
"It's really heart-warming to see Sam's family continue to support the community in his honour and memory," said Fraiman. "It's has been a special privilege working with Sam's daughter Darlene on this ambulance project and I want to thank her for her support and guidance."
The CMDA gala will also recognize the tireless efforts of Honourary Calgary CMDA Chair Lenny Shapiro and his wife Fagel.
"It may be a few months away, but the sponsorship packages are going out in the mail soon and we'll also be soliciting items for our exciting silent auction," says Fraiman. "We already have trips, weekend getaways and ski packages available.
CMDA volunteers from Calgary, Airdrie, Okotoks and Three Hills took part in the planning event which was held at the Grey Eagle Casino. CMDA Board Member Lee Crowchild, former Chief of the Tsuut'ina Nation and candidate for Chief of the Assembly of First Nations was also part of the planning.
"As well as support from rural Alberta, it's important that we reach out to the Tsuut'ina Nation," says Fraiman. "They're our neighbours and we want to engage the Nation, so with Paramedic Don Sharpe, we are planning to offer our world famous "Seven Minutes to Live" lifesaving program to members of the Nation in the upcoming months.
Single tickets for the CMDA 2022 Gala cost $100 each or $150/couple and will be on sale early in 2022.
Regan Treewater-Lipes is a Local Journalism Initiative Reporter.