By AJNews Staff
(AJNews) – Excitement is in the air at the Camp BB-Riback office as plans are taking shape for Summer of 2023 at Pine Lake, AB. Registration and hiring are open now. First session takes place July 9-30 and second Session is August 2-21. This year, Wonderweek is August 2-10 and Wonderweekend is August 9-13.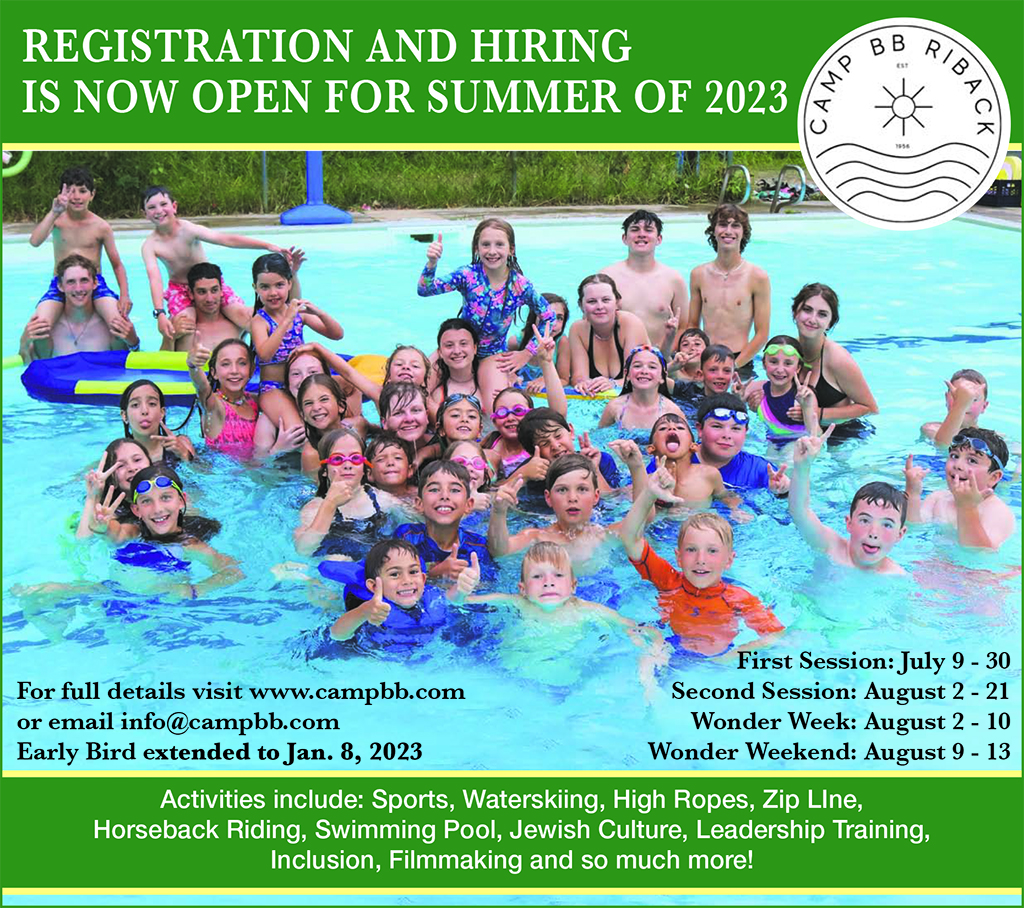 Camp BB-Riback, on the beautiful shores of Pine Lake Alberta is a magical place that provides an amazing opportunity for youth to connect their roots in Judaism with the natural world. Combining tradition, innovation, leadership and the arts, Camp BB-Riback offers not only an unforgettable Jewish camp experience – but an unforgettable life experience as well.
Camp Director Stacy Shaikin says, "We are so excited to open the 2023 camp season. We are thrilled to continue to evolve our programs as we have in the past two seasons. Our performing arts and creative programming has taken massive steps forward and we look forward to doing the same with our sports program."
Shaikin advises parents that the Early Bird Discount has been extended to January 8, 2023. You must pay in full to qualify. He also notes that subsidies are available from both Calgary and Edmonton Federations. Applications will be open in the early spring. Those waiting on subsidy will automatically receive the Early Bird Discount until their application is reviewed, he adds.
There are also a few notable changes this year, says Shaikin. "There is no CIT (Counsellors in Training) program offered for 2023," he explained. "It will return in 2024 for students completing grade 11. LTP (Leadership Training Program) is now a 2 year program and is open to students who have completed grades 9 and 10.
"This year, our Wonderweek Program is a feature of Second Session," he continued. "It is highly suggested for first timers and campers in grades 1 – 4, however the option to enrol in first session for one and two weeks is still available at an extra cost for children in grades 1 through 6."
Once again, camp will provide our campers with an awesome array of activities, notes Shaikin. But parents can rest assured that the health and happiness of their children is the camp's first priority and that Camp BB-Riback is accredited by the Alberta Camping Association.
"We take great pride in creating a loving, welcoming environment for all of our campers," concluded Shaikin. "The Camp Staff are trained at childcare and parents can be assured that their children are in the capable hands of caring, friendly counsellors. Every young person who stays at Camp BB Riback can be assured they will have an amazing summer in an atmosphere of tolerance, safety, inclusiveness and, of course, fun."
So if you're looking for an amazing summer camp experience for your children, look no further. Camper registration and staff hiring at Camp BB-Riback is open. Visit campbb.com.