Solidarity and friendship as Canadian and international cyclists rode alongside Israel's injured veterans on a five-day magical journey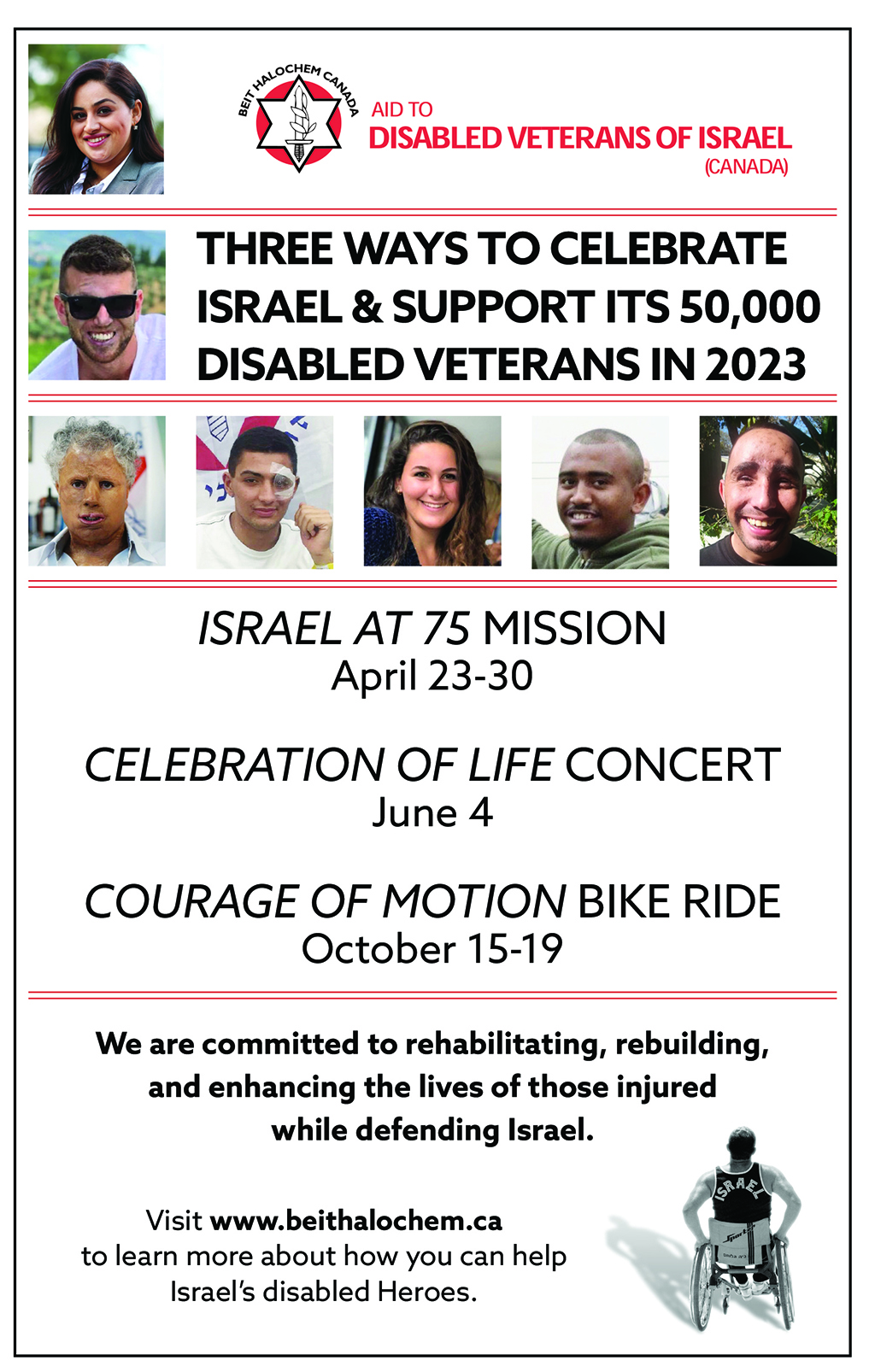 (AJNews) – Beit Halochem Canada, Aid to Disabled Veterans of Israel rolled through southern Israel on a sold-out Courage in Motion (CIM) 2022 from October 23 – 27. During the five-day ride, cyclists from across Canada, as well as the US and the UK, rode alongside Israel's injured veterans, victims of terror, and members of the Israel-Premier Tech Pro Cycling Team.
This year, 100 international cyclists – including several from Calgary – and 120 Israeli disabled veterans rode between 50 – 135 kilometres daily. The fully-supported routes offered varying degrees of challenge and each showcased Israel's diverse landscapes, including the Negev Desert's rugged formations, magnificent views of the Dead Sea, and the hills of Jerusalem.
The ride's fundraising goal was $500,000 and, to date, cyclists have raised over $650,000 with fundraising open until December 31, 2022. Their efforts support the purchase of biking equipment and fund activities, including the popular cycling program, at Israel's four leading-edge Beit Halochem rehabilitation centres. Sponsorships – at all levels – facilitate the injured Israeli veterans' experiencing this remarkable journey.
Outstanding hospitality, including luxurious accommodations in beautiful settings, delicious, gourmet meals enjoyed in nature, and nutritious snacks were offered throughout the ride. Group activities included floating in the Dead Sea, an interactive military experience, Jerusalem night tour, and inspiring evenings, some around the campfire in the desert under the stars, with Israel's Heroes who shared their stories of challenge and triumph.
Lisa Levy is Beit Halochem Canada's Executive Director, CIM founder, and annual participant. She says, "Courage in Motion not only raises much-needed funds for Beit Halochem. It is also a challenging and highly beneficial rehabilitative program for our disabled veterans. Each participant intensively trains for it all year as they look forward to our arrival. A personal highlight for me was welcoming, for the first time, a group of visually-impaired and blind veterans who joined the Off-Road route. Their joy was hard to miss!"
Courage in Motion 2022 participants were moved to write –
This was my 4th Courage in Motion ride, it is an inspiring, exciting and uplifting week. The fund raising aspect is important, however more important, is the experience you share with the wounded veterans and how happy they are participating alongside the Canadian riders. – David Wallach, Calgary
What a wonderful week. We loved the experience. The ride was incredibly organized, the food fantastic, the people outstanding, and the cause inspiring. The attention to details – both big and small – ensured the experience was fantastic for everyone. It was greatly appreciated. Shkoyach and thank you. – Rena and Michael Buckstein, Toronto
We want to thank you and the team for your hard work, care, passion and attention in organizing CIM. We had a tremendous experience that we won't forget. – Brian Green and Marcy Flomen, Toronto
The ride was great success. We rode approximately 450 km and climbed over 3000 metres over five days, alongside injured Israeli war veterans. I, myself, rode in a group that included those who were blind, disfigured, and missing limbs. Getting to know some of their stories was inspiring. – Andrew Kay, Toronto.
The 16th annual ride rolls through northern Israel from October 15-19, 2023. Information and registration is expected to open in March 2023.
About Beit Halochem Canada
Beit Halochem Canada, Aid to Disabled Veterans of Israel is committed to rehabilitating, rebuilding, and enhancing the lives of over 50,000 Israelis disabled in the line of duty or through acts of terror. Beit Halochem Centres in Jerusalem, Tel Aviv, Haifa, Beer Sheva, and the future Ashdod offer individualized therapies, specialized sports rehabilitation training, and cultural arts, and family-oriented activities. Academic and athletic scholarships are available as veterans strive to be active participants in Israeli society.