by Maxine Fischbein
(AJNews) – Get ready for a virtual AND reel good time at the 22nd Annual Beth Tzedec Congregation Jewish Film Festival which takes place November 5 – 23.
Festival Founder and Director Harvey Cyngiser and his committee of 25 had hoped 2022 would mark a return to a full-on in-person experience but, in the end, opted to "err on the side of caution," Cyngiser told AJNews.
"It was the most inclusive choice," said Cyngiser, who personally polled many Film Festival faithful before making the decision to once again go virtual.
"Many of the people I spoke with liked the idea of returning in person but were personally concerned about mixing with hundreds of people indoors at a time when a spike in COVID and seasonal viruses could reasonably be predicted," Cyngiser added, expressing the responsibility he felt to keep those at high risk safe and well-entertained.
While movie fans will no doubt miss the give and take of a real-time in-person gathering, there is much to look forward to this year thanks to a lineup that is stunning in scope and quality.
"We've previewed a long list of films this year, leading to intense conversation and some challenging choices," said Cyngiser. "We ended up with some of the most remarkable feature and documentary films in the history of the festival."
Check your October print edition of Alberta Jewish News for a pull-out feature that includes the full Festival programme and click here for the digital edition.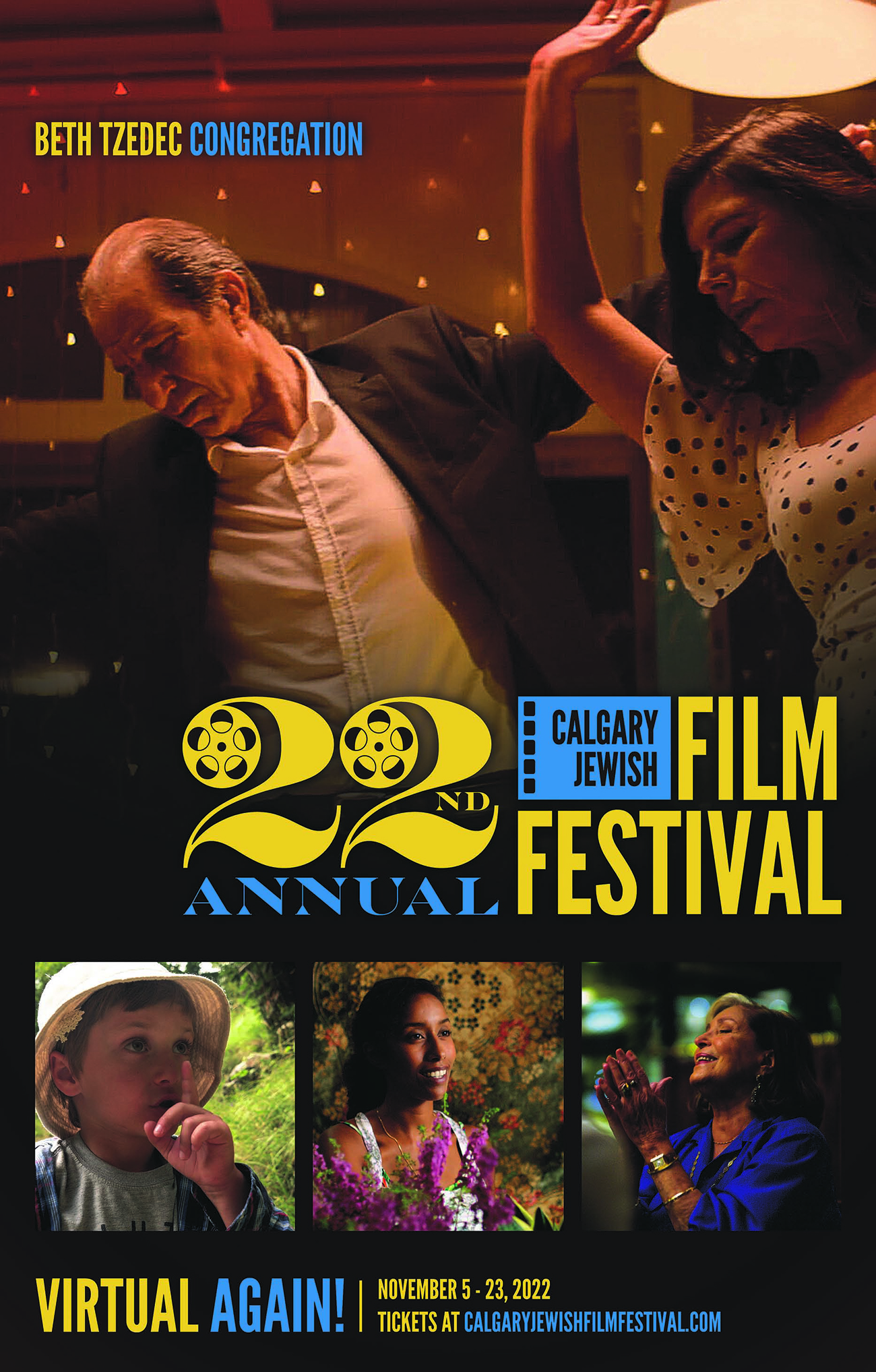 On opening night—Saturday, November 5—the feature film America showcases the considerable talents of Israeli film director Ofir Raul Graizer.  This searing story is put in motion when a swimming coach living in America returns to Tel Aviv under stressful circumstances, reconnecting with his childhood friend and his fiancée—portrayed by Ethiopian-Israeli actress Oshrat Ingedashet, whose breathtaking performance earned her the Best Actress Award at the 2022 Jerusalem International Film Festival.
Graizer's first feature film, The Cakemaker, was Israel's submission for an Academy Award in 2019 and it scooped up seven Ophir Awards—the Israeli equivalent to the Oscars—among them Best Picture, Best Director, Best Script and Best Actress. The Cakemaker was well received at the Calgary Jewish Film Festival prior to the COVID lockdown, and America will, no doubt, be a highlight this year.
A total of 16 movies—seven feature films and nine documentaries— will be screened throughout the festival with a 48 hour viewing window for each, allowing viewers flexibility.
Cyngiser has worked hard to keep the Film Festival affordable and had help in that regard. During the pandemic, some sponsors increased their financial support of the festival. Remarkably, their largesse was unsolicited, Cyngiser said.
Thanks in large part to sponsors, a full access pass is $45 while tickets for individual flicks are $12. Two films will be offered to Alberta viewers free of charge including Reckonings, which will be presented in collaboration with Calgary Jewish Federation on Wednesday, November 9.
Directed by award-winning filmmaker Roberta Grossman—who has spoken at the Beth Tzedec Congregation Jewish Film Festival in the past—Reckonings provides astonishing insights into the unprecedented negotiations entered into by Jewish and German leaders toward reparations for Holocaust survivors following World War II and the Shoah.
The Jewish Film Festival's second gift to Alberta viewers is the November 23 closing night screening of Fiddler's Journey to the Big Screen, an entertaining and insightful documentary by Oscar-nominated filmmaker Daniel Raim that captures "…the humor and drama of director Norman Jewison's quest to recreate the lost world of Jewish life in Tsarist Russia and re-envision the beloved stage hit as a wide-screen epic."
A captivating and feel-good film, Fiddler's Journey provides humorous and poignant insights into the intersection between Jewison's professional and personal journeys.
The Jewish Film Festival has become one of the community's most popular culture events. A key to its success has been Cyngiser's success in building a film selection committee that is diverse in terms of age, experience, community affiliation and point of view.
"It leads to incredibly well-rounded film festival seasons that are well-received by our community and Calgary film lovers in general," Cyngiser told AJNews.
Riley Zipursky, 15—the youngest-ever Film Festival committee member—has impressed fellow volunteers with his enthusiasm and deeply thoughtful commentary throughout this year's film selection process.
Zipursky became a devoted Film Festival attendee at the tender age of 10 when his family returned to Calgary after living in Salt Lake City, Utah.  When he heard Zipursky was interested in playing a direct role in the festival, Cyngiser was pleased to add him to the volunteer roster.
Zipursky told AJNews that he particularly enjoys the opportunity to experience films that do not scream Hollywood.
"It's nice to see the European and Israeli films that you don't get to see too often," Zipursky said.
Film selection discussions are often high-octane.
"It's sort of what you'd expect when you put 20 Jewish people on a Zoom call and ask them to talk about something. There are a lot of opinions," notes Zipursky.
One of his top picks this season is Grossman, which focuses on the life and literature of David Grossman, one of Israel's most influential writers and peace activists.
Notably, the documentary is one of three in this year's lineup that shine a spotlight on Israeli authors.  Films that will be presented in collaboration with the Paperny Family JCC Literary Festival include The Last Chapter of A. B. Yehoshua and The Fourth Window, which respectively explore the times and works of acclaimed Israeli authors A. B. Yehoshua (who sadly passed away earlier this year) and the late Amos Oz.
Zipursky's favorite feature film, Schächten – A Retribution, is an Austrian thriller that sees a young man take justice into his own hands following the acquittal of the Nazi war criminal responsible for the murder of his mother and sister.
Other fabulous films abound at the 22nd Annual Beth Tzedec Congregation Jewish Film Festival.  This year's Dr. Martha Cohen Memorial Screening is the highly evocative feature film Where Life Begins, about a young ultra-Orthodox woman who learns to chart her own path thanks to an encounter that forever changes her life and that of the unlikely friend she makes during her family's seasonal trip from France to Southern Italy to harvest Etrogim for the Sukkot festival.
The journey of women toward wholeness is featured in several other 2022 Jewish Film Festival selections including Rose, by French Director Aurélie Saada, which won the Variety Piazza Grande Award at the 2021 Locarno International Film Festival. The title role is brilliantly acted by iconic French film star Françoise Fabian who portrays an aging Jewish widow as she journeys through loss and grief, ultimately choosing to live her golden years to the fullest.
This year's selection for the Dr. Ralph Gurevitch Tikkun Olam screening, That Orchestra with the Broken Instruments literally tugs at the heartstrings in a celebration of diversity and inclusion as the collective efforts of a conductor, three composers and 100 professional and amateur musicians of various backgrounds and abilities rehearse toward a one-time-only concert in Jerusalem, armed only with broken instruments –a fitting metaphor for life in Israel's capital city.
Film Festival is once again teaming up with the Jewish Historical Society of Southern Alberta to present the 2022 Jay Joffe Memorial Program.  This year's selection, The Levys of Monticello, recounts the little-known story about the Levy family, who bought and preserved the home of American founding father Thomas Jefferson for more than a century, while delving into the antisemitism and racism that Jews and enslaved African Americans –who also play a notable role in the history of Jefferson's home—experienced then and continue to experience today.
Another remarkable documentary is Summer Nights, which won the 2021 Israeli Academy Award for Best Documentary. Director Ohad Milstein captures the wow and wonder of his six-year-old son Alva as they engage in a sweet series of whispered bedtime conversations.  "The resulting film, with its distinctive cinematic style, is a tender, intimate and poetic reflection on the passage of time, aging, death and the relationship between a father and a son."
As always, there is something for everyone at the 22nd Annual Beth Tzedec Congregation Jewish Festival, coming soon to your living room!
On November 9, the 7:00pm screening of Reckonings will be preceded by a brief virtual ceremony commemorating Kristallnacht—the Night of Broken Glass—a series of violent pogroms against Jews that took place throughout Germany and Austria on November 9-10, 1938. The link for the Kristallnacht ceremony (which will begin streaming at 6:45pm) will be posted on the Calgary Jewish Federation website, www.jewishcalgary.org. To access the link for the film, go to www.JewishFilmFestival.com.
For more information about the Beth Tzedec Congregation Jewish Film Festival, or to purchase your all-access pass or individual films, go to www.CalgaryJewishFilmFestival.com.
Maxine Fischbein is a Local Journalism Initiative Reporter.