by Maxine Fischbein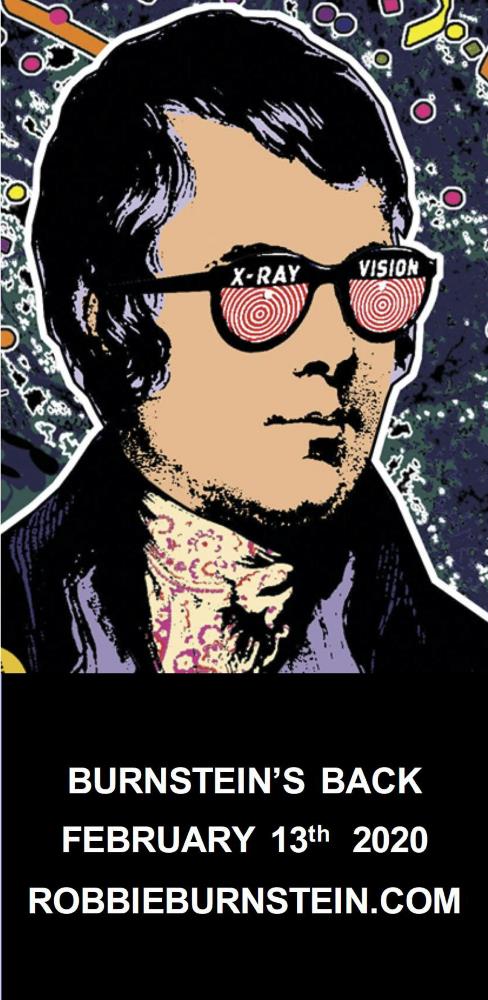 (Calgary) – The Bard is back as Beth Tzedec Synagogue once again rolls out the red carpet for one of Calgary's best loved cultural fusions . . . Robbie Burnstein.
Burnstein originator Leonard Seidman, who built the quirky Scottish-Jewish party into one of Calgary's – and Canada's – biggest Burns Night celebrations is reprising the well-loved event after a three year hiatus, taking Burnstein back to its roots  on February 13, 2020 with an intimate Burns Dinner for 100 lads and lassies.
As usual, the event will include all the iconic features of a traditional Burns Night Supper, including an Address to the Haggis, Toast to the Immortal Robert Burns, Toast to the Lassies, Reply to the Lads, and the always poignant Toast to Absent Friends.
Everything will take place in the pop-up Schnapps and Schmaltz Pub on Beth Tzedec's lower level, the spot where Burnstein was first launched in 2012. While Seidman does not recall the exact source of his inspiration for the popular céilí, he acknowledges that ". . . some whisky may have been involved."  Any way you look at it, the enduring poetry and inspiration of Scottish National Poet Robert Burns – not to mention his preferred libations – are great excuses for a party.
Following the time-honoured piping in of the Haggis by members of the Calgary Police Services Pipe and Drum Band, attendees will enjoy a Highlands-inspired four-course gourmet and kosher dinner featuring prime rib carved at tableside and an array of sides including the ultimate culinary fusion – haggis knishes. The meal will be complemented by fine spirits and wine.  As always, the décor and fashion for the event promise tartan as far as the eye can see.
While black tie is welcome and kilts are most certainly encouraged, anything goes, from plaid jackets to tartan ties, scarves or pantyhose (Yes, that IS a thing, lassies!).  Those preferring to rent their kilts, complete with sporran, socks and other traditional accessories can do so at the Highland Shoppe, early supporters of the Burnstein Dinner who offer discounted rental rates for ticket holders.
While the original intention of Burnstein was to attract a younger crowd with one heck of a party, the event quickly attracted the attention and participation of a diverse cross section of folks within and beyond the Jewish community.  Guests have gravitated to Burnstein from Edmonton, Red Deer and even New York City.  By all accounts, it has been well worth the trip.
Members of the local Scottish community, in particular, have embraced the event, affirming its authenticity and appeal as a Burns Night celebration.  Following the first Burnstein Dinner, Beth Tzedec partnered with other organizations in the community at large in order to raise significant funds for worthwhile causes including Calgary's Prostate Cancer Centre and the PREP Program, a Calgary-based organization supporting children with Down Syndrome and their families.
"The 2020 Burnstein Pub Night will be short on formalities and more about FUNraising than fundraising," promises Seidman.
While there will be no silent or live auction this time around, the evening is the prelude to a much larger 10th Anniversary Burnstein Dinner and fundraiser in 2021.
"The Burnstein Dinner is a great way for Burnstein virgins [those who haven't previously attended the Burns Night Dinner] to experience the fun of an event that's been drawing crowds, first in Scotland and then worldwide, for more than two centuries," says Seidman.
Due to the popularity of Burnstein amongst previous attendees, organizers are expecting a sold-out event.
The Robbie Burnstein Dinner will take place on Thursday February 13, 2020 at Beth Tzedec Synagogue, 1325 Glenmore Trail SW.   For tickets and sponsorship information, please go to www.RobbieBurnstein.com. 
 Maxine Fischbein is a Calgary-based freelance writer.  Thanks to Burnstein, she now loves Burns poetry with a side of single-malt whisky and a good cigar. Oy vey . . .