By Deborah Shatz
(AJNews)  –  Calgary B'nai Brith Lodge #816 is pleased to be hosting its signature annual dinner on September 22, onsite at the Beth Tzedec Synagogue, following a two-year hiatus due to COVID-19. A hybrid event is also being offered online for those who want to attend virtually.
The event is guaranteed to be both engaging and entertaining with highly esteemed honourees Mayor Jyoti Gondek, who was sworn in as Calgary Mayor in October 2021, and Ambassador David L. Cohen, who assumed his post as US Ambassador to Canada in December.
Also being honoured at the dinner is Max Lipsman, former Executive Director of Beth Tzedec Congregation (2010 – 2021) and former Director of Camp BB-Riback (1999 – 2010).
Read our article about Max Lipsman here.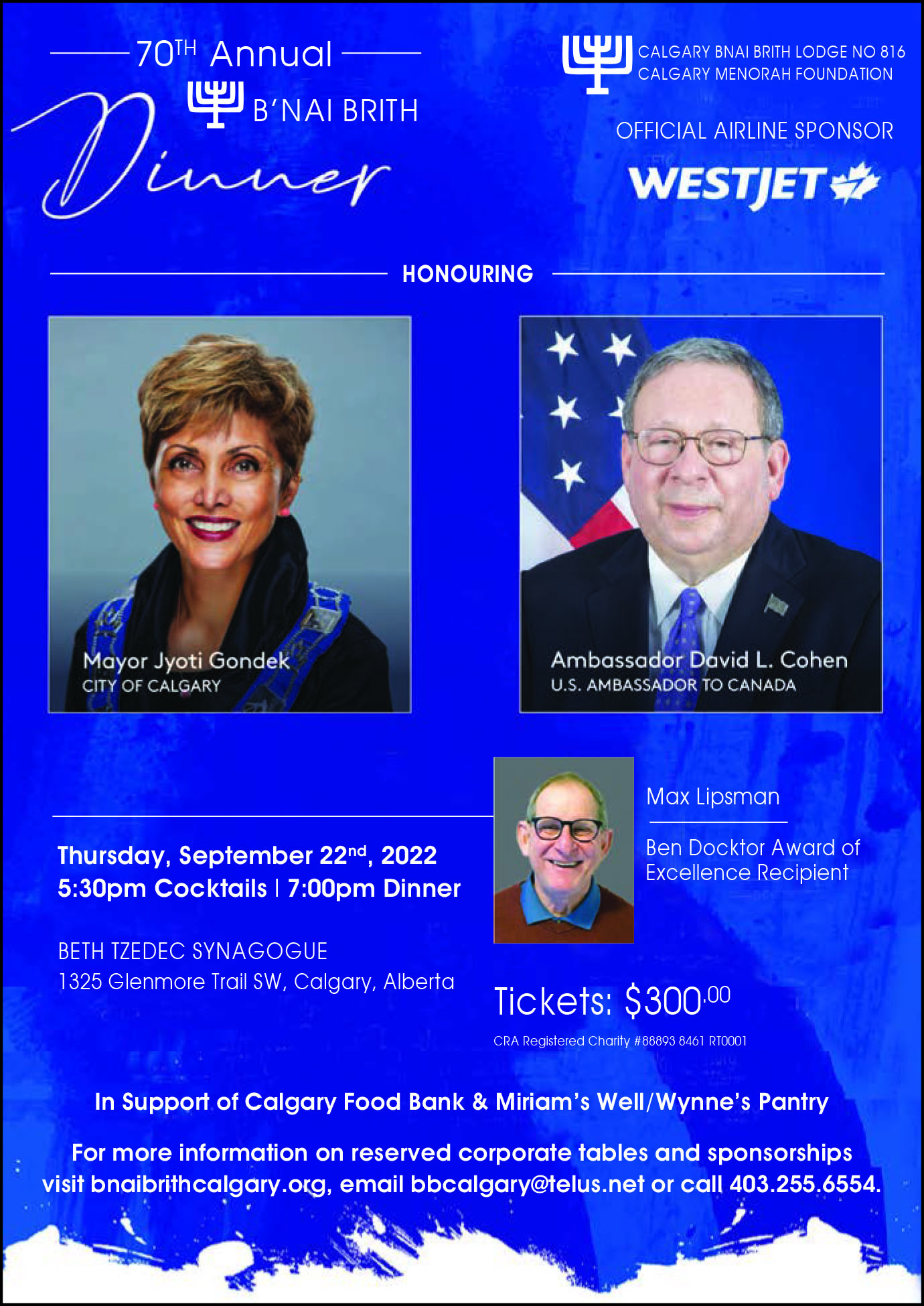 The dinner, emceed by local media celebrity and philanthropist Dave Kelly, is expected to attract a big crowd, says BB Calgary President Darren Bondar.
"We are so pleased to be able to come together and gather once again," says Bondar. "In the spirit of the 100-year history of Calgary B'nai Brith Lodge, the event will be a celebration of community and philanthropy. In addition to hearing from our exceptional honourees, proceeds from the event will be going to the Calgary Food Bank and Miriam's Well/Wynne's Pantry at Jewish Family Service Calgary and will allow us to support many other charities throughout the year."
Much has changed since B'nai Brith was established as an all-male fraternity, notes Bondar. The organization is now egalitarian and an increasing number of women have become active members.
The B'nai Brith Lodge is renowned for paying tribute to distinguished individuals at their annual dinner and this year's honourees are also exceptional.
Over the past eight months Calgary Mayor Jyoti Gondek has demonstrated her considerable leadership skills. Prior to being elected as mayor, she served as city councillor for Ward 3 from 2017 to 2021. She holds a Ph.D. in urban sociology, and an M.A. in organizational sociology.
Many challenges face Calgarians including the economic recovery, climate crisis, lack of affordable housing, truth and reconciliation, and women's participation in the labour force. Mayor Gondek believes that solutions to these issues must be bold, and rooted in economic, social, and environmental resilience.
Throughout her career, Mayor Gondek has been known to be a driven community builder and diversity champion who understands the power of cross-sector partnerships where business, social organizations, and educational institutions are connected to local governments to better serve the people.
Before his appointment as U.S. Ambassador to Canada, David L. Cohen served as Senior Advisor to the CEO at Comcast Corporation as of January 1, 2020.  He was previously Senior Executive Vice President at Comcast, where his portfolio included corporate communications, legal affairs, government and regulatory affairs, public affairs, corporate administration, corporate real estate and security, and community impact.  Cohen also served as the company's first chief diversity officer.
Before starting with Comcast in July 2002, Cohen served as a partner in and Chairman of Ballard Spahr Andrews & Ingersoll, LLP, one of the 100 largest law firms in the U.S. From January 1992 to April 1997, he served as Chief of Staff to the Honorable Edward G. Rendell, the Mayor of the City of Philadelphia.
Cohen grew up in Highland Park, a New Jersey town with a high percentage of Jewish residents. He graduated with a B.A. from Swarthmore College in 1977 and with a J.D. from the University of Pennsylvania Law School summa cum laude in 1981.  Cohen has received numerous honors and recognitions, including Honorary Doctor of Laws degrees from the University of Pennsylvania and Drexel University.  Prior to his appointment to Ottawa, he lived in Philadelphia with his wife.
Over the years, Cohen served on many non-profit boards, including as vice-chairman of the board of the Jewish Federation of Greater Philadelphia.
"Federation involvement is in my DNA," he told the Jewish Exponent of Philadelphia in 2013. "In my family, it would be unthinkable not to be involved in Federation and the Jewish community."
In addition to fine dining and great company, the 70th Annual Calgary B'nai Brith Dinner will include a live auction, silent auction and 50/50 draw.
The 70th Annual B'nai Brith Dinner takes place at Beth Tzedec Synagogue on Thursday, September 22, beginning with cocktails at 5:30 pm followed by dinner at 7 pm.  Tickets are $300 per person for dinner attendees or $180 per person for online access.  A wide variety of sponsorship and program advertising opportunities are available.  For more information or to purchase tickets, visit bnaibrithcalgary.org.